A trusted role for 22 years
Versatile work. Culture and values. Trust on both sides. The family ownership and feeling. All of these have contributed to the fact that Operations Manager Marcus Berry from Teknos UK has been enjoying working for Teknos for 22 years.
"I am proud to tell people that I have worked here for 22 years, entering my 23rd year. I can honestly say that I still love my work and treat it as my hobby which is probably why I am as enthusiastic as I was on my first working day", Marcus says.
But where does that feeling come from after almost 25 years of work? Today, only a handful of people stay working for the same employer for more than ten or even five years.
According to Marcus, there are many reasons for his job satisfaction. One of them is trust.
"I feel that in Teknos the management trusts the employees. I've had the opportunity to work under four different MD's and have been able to develop in my work every year. My responsibilities have grown, my job is self-managed, and the leadership believes in us getting things done. This shows that the leaders trust us and that again, motivates me".
Marcus also likes the Teknos culture, values, family company feeling and the fact that everyone is treated fairly.
"I feel we are all equal here. I can talk to Paula (Teknos CEO) as if she was one of my old friends. I do not believe that it is possible in all large companies. The same applies to all members of the Teknos Management Team".
"Customers on top of the mind"
Marcus has worked in a variety of positions, both in technical support, in the warehouse and with operational tasks. His know-how and knowledge are very much valued by his colleagues.
"There's a 'saying' here at the office that ask Marcus, he will remember!", Marcus says with a grin.
Marcus can also benefit from his experience of different roles in a typical day – if there ever is such – Marcus can design colour charts, handle customer orders, lead a Kaizen workshop, improve occupational health and safety issues, or have a meeting to plan a product portfolio. Marcus finds the diverse work tasks very appealing. However, whatever the task is, the customer always comes first.
"I have a huge drive to ensure that Teknos wins every customer battle and that each of our deliveries leave our warehouse on time. This is a matter of heart to me. Maybe that's why I enjoy Teknos so much: Here we always focus on the customer".
In his spare time, Marcus spends time with his three children, who according to Marcus are just as big Teknos fans as their father.
"I think this is a great workplace. We organize family days, and the work-life balance is good. Ethan, Eva and Orla (My children) have been here with me sometimes, and they really like it".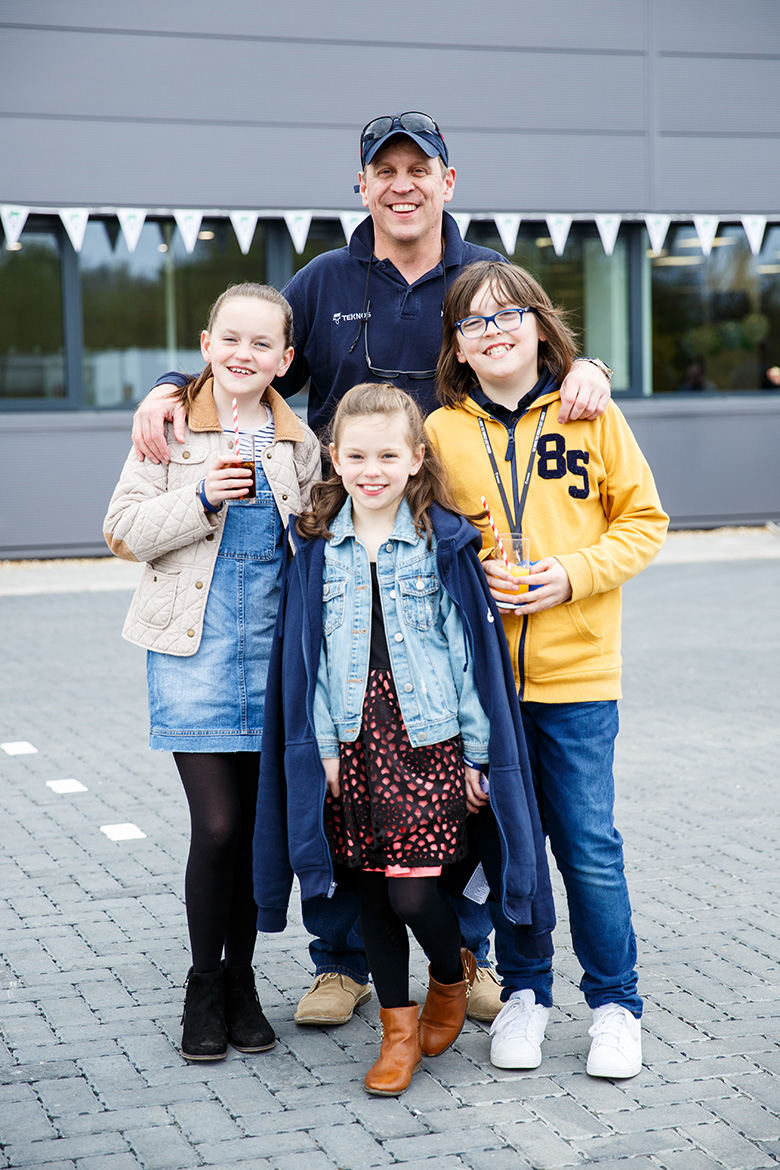 Marcus with his children Eva, Orla and Ethan , who all love Teknos as much as their dad.