The 2018 Teknos Trainee trip
The Trainee trip offered new insights into international business and food for thought about cultural awareness and international connections inside the Teknos family.
This summer the Teknos Trainee trip took place in Alzenau and Fulda at Teknos Germany. We headed to another Teknos country to gain new knowledge on doing international business and to make new international connections inside the Teknos family. The trip also served as a great way to team up and learn from other trainees – after all, it's the teamwork that makes the company strong!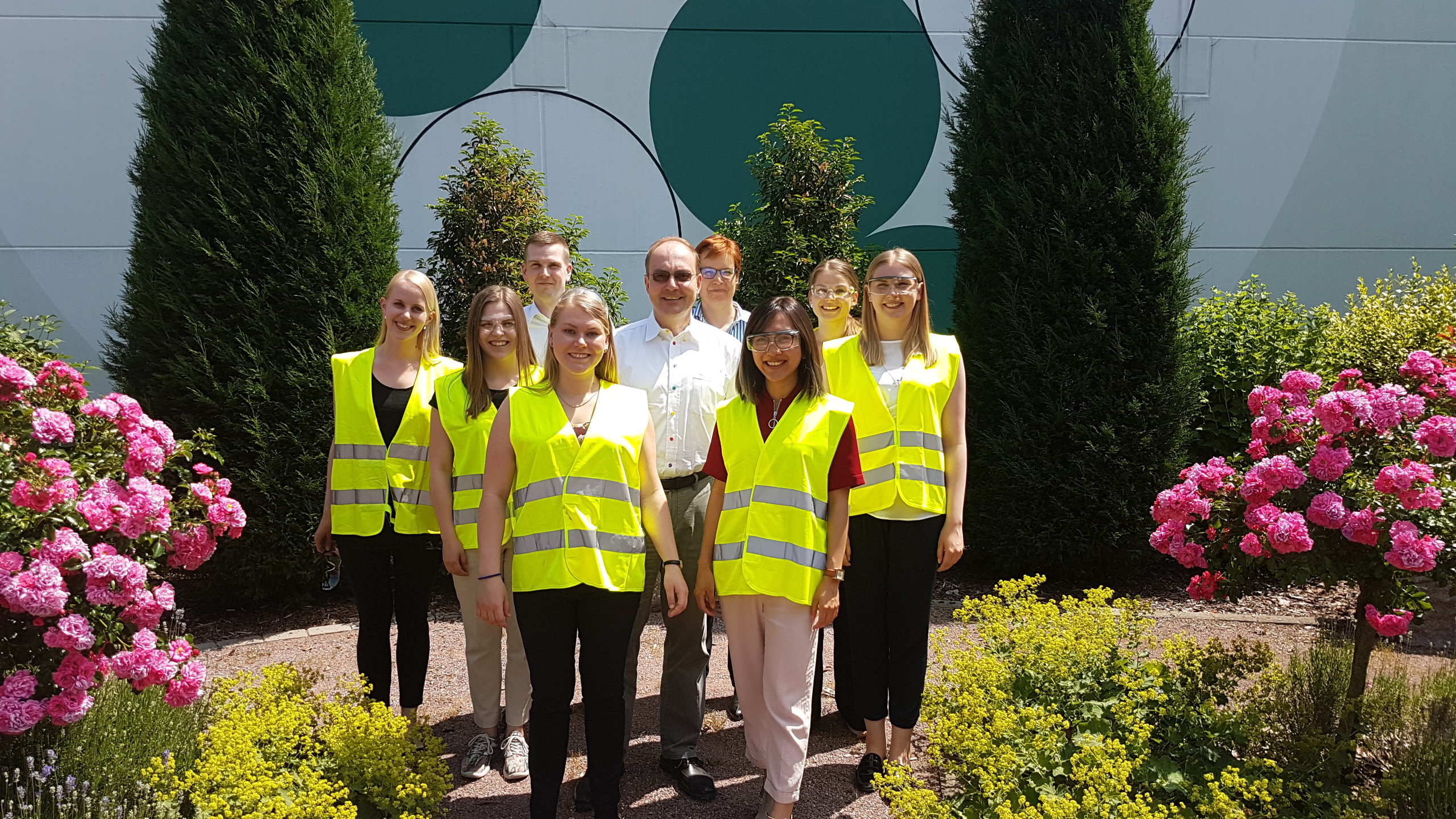 Gaining a holistic view on Teknos and the industry
We started our trip visiting the Teknos office and production facilities in Alzenau. We arrived to Alzenau early in the morning feeling excited about the upcoming day filled with presentations, discussions and tours in R&D and production.
During the first day, Managing Director of Teknos Germany Matthias Lutz presented us the German business environment. We also familiarized ourselves with the wood coatings R&D department and production and received more information about key account management. The agenda was very well built to serve our needs; we have versatile backgrounds, interests and areas of competence, thus it was important to cover different topics. Furthermore, we found it very beneficial to understand the business from various angles – enabling us to think and see the work we do with the eyes of different stakeholders – whether it was a customer, colleague, a future colleague or some other party.
For instance, for Tuulia Kailajärvi, who works in the QEHS department it was especially interesting to see how quality control processes are managed. Since every Teknos site has its own quality control laboratory and every batch is tested, a large amount of information is produced every day. Tuulia's summer project strongly relates to the storing and accessibility of information, making it intriguing for her to learn and see different solutions around the theme.
Most of us trainees have only little previous experience in paint and coatings manufacturing. Thus, the R&D presentations together with production tours on the site increased our understanding of the industry. It also was very interesting to discuss about the development of sustainability in the German market – learning about the level of customer requirements in terms of sustainability as well as how we are aiming to meet these with our solutions. Our R&D trainee Peppi Vilén possessed a high level of technical knowledge already beforehand, but her prior knowledge allowed her to, for example, spot interesting country-specific differences. Other topics and discussions, such as HR work in Germany, made her better acknowledged about the everyday work of her colleagues from other functions. Hence, there were new and more familiar topics for every trainee.
Learning more about the German business landscape
On the second day we drove to Fulda, another German office and factory of Teknos. There we learned about the R&D, production and logistics of metal coatings. In the afternoon, we also had an interesting presentation about HR work in Germany by HR Manager Alexandra Preusker, followed by our input and thoughts on topics such as what makes a good employer for us young employees. We value in an employer, for instance, opportunities to learn, develop and grow with the organization, open and constant communication with supervisors and colleagues as well as flexibility in terms of work schedules and remote work. For our HR trainee Annika Jokinen it was very useful to find out about the similarities and differences between the Finnish and German business environment and HR work. She thinks that gaining a deeper understanding of local businesses and getting to know the local people in different countries is at the core of working in global HR. In the evenings we spent time together in a lovely German town called Seligenstadt, where we also stayed at a hotel at the riverside. It was nice to chat, relax, and find common interests also after work.
Flying home with new knowledge
On the third and last day before flying back to Helsinki, we visited a Teknos reference site, the House of Mobility & Logistics in Frankfurt. It was very interesting to see the Teknos products in use. After visiting the reference site, it was time to head to the airport. We traveled back to Helsinki with new knowledge and know-how on doing international business and the Teknos production and business environment in another country. On top of that, we got a great chance to network with our colleagues from another Teknos country, making the whole Teknos Germany team feel much closer to us. Back at the Helsinki office we had many nice stories (and tax free candies) to be shared!
Tuulia, Tram, Tuulikki, Annika, Maiju and Peppi