WOODEX BIOLEUM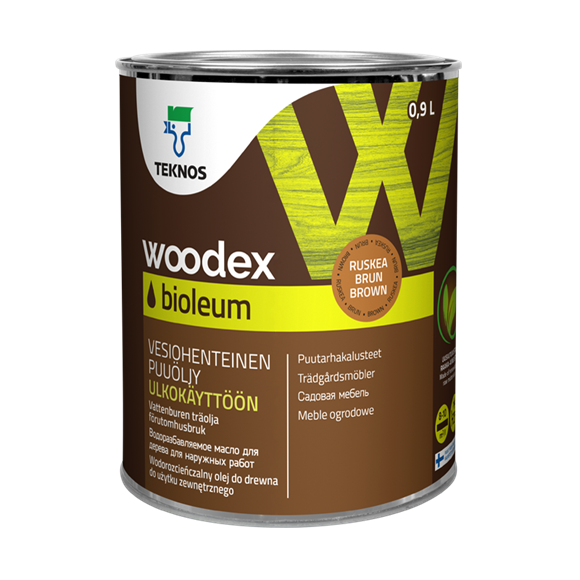 Water-borne, tintable wood oil, which is applied only once. 60% of the total carbon content is bio-based (based on C14 analysis according to EN 16640).
Intended for protection of outdoor deckings and garden furniture. WOODEX BIOLEUM wood oil protects wooden surfaces from moisture, soiling and when tinted from UV radiation of the sun. Reduces cracking of the wooden surfaces and gives a finished appearance.
Surface preparation
Remove from the surface all loose matter, dirt and dust. If the surface has been embedded with dirt or has been previously treated with oil, wash with RENSA TERRACE deck cleaner. Rinse the surfaces thoroughly with water and allow to dry. We recommend that furniture made of exotic wood is subjected to weathering for at least 2 weeks before they are protected. Remove old paint or varnish layers before the treatment.
Application
Stir thoroughly before use. Tinted product must also be stirred during the application, if needed. Treat the surface evenly only once using a brush, sponge or spray. Apply WOODEX BIOLEUM so, that it forms a thin, evenly coloured surface. Higher film thickness causes blotchiness, slows down the drying process and may even flake off in severe atmospheric stress. The possible excess oil is wiped off with a rag after abt. 10 minutes.
Application conditions
The surface to be treated must be dry. The moisture content of the wood is to be below 20%. During the application and drying period the temperature of the ambient air, the surface and the product shall be above +5°C and the relative air humidity below 80%. Application in strong sunlight or in moist weather is to be avoided.
Suitable airless nozzle size 0.009 - 0.015".
| | |
| --- | --- |
| Solids | abt. 28 % by volume |
| Volatile organic compound (VOC) | The product is not included in the EU VOC directive. |
| Tinting system | Teknomix |
| Density | abt. 1 g/ml |
| Practical spreading rate | Planed timber: 10 - 12 m²/l |
| Drying time – touch dry | 12 h |
| Drying time – through-dry | 96 h |
| Thinner | Water. |
| Clean up | Wash the equipment immediately after use with water and RENSA BRUSH brush cleaner. |
| Colours | Clear and brown. |
| Packages | Clear and brown: 0,45 l, 0,9 l. |
| Safety markings | See safety data sheet. NOTE! Because of the danger of spontaneous combustion, any waste from the product, spray mist and soiled rags etc. are to be kept in a fire-proof place in air-tight containers. Immersion in water is also recommended. |
| Approvals & certificates | Finnish Key Flag |