VISA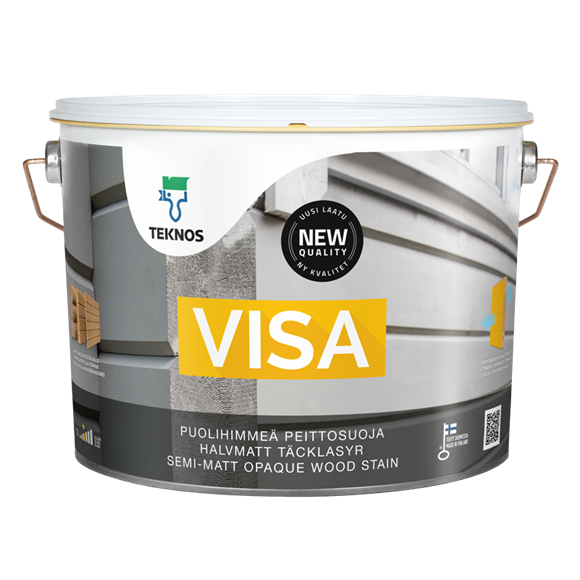 Water-borne opaque wood stain based on an alkyd-reinforced acrylate binder. For outdoor use. Fine composition which gives an opaque protection while leaving the surface texture of the wood visible. Gives a water-resistant but well breathable surface. Finish: semi-matt
To be used for renewed treatment of old, faded wood stain surfaces, and also when a uniform colour is desired on old and new wood stain surfaces. Suitable also for use on new and press-impregnated wood as well as for log surfaces. Typical objects are walls, covering boards, fences, window frames, etc. May also be used for maintenance painting on most old oil and alkyd paints, if the surfaces are in good condition.
Surface preparation
NEW WOODEN SURFACES: Treat the surface as soon as possible. At least the impregnation and priming would be best done in the summer of construction. Remove from the surface all loose matter, dirt, dust and mildew. If needed, use RENSA FACADE facade cleaner. PREVIOUSLY PAINTED/WITH PRIMING OIL TREATED OR OLD WOODEN SURFACES: Change deteriorated wooden parts with new ones. Remove loose matter, loose or poorly adherent paint or priming oil as well as greyed or fluffy layers of wood by e.g. scraping, wire brushing or using an infra-red heater. Avoid unnecessary damaging of the wooden surface. Note, that the adhesion of an old thick paint layer to the substrate may have been weakened, therefore the paint should be removed although the paint film looks intact. The surface of old oil paint coats may be in poor condition: heavily chalked, dusty and brittle. These types of surfaces must be carefully cleaned so, that the new paint adheres properly to the substrate. Some traditional paint types, such as red ochre paint and paraffin oil paint, produce such a brittle and dusty surface, that they can't be maintenance painted with this product. If there is doubt about the adhesion, it must be ensured by test painting. Wash surfaces with RENSA FACADE facade cleaner. Avoid unnecessary wetting of the wooden structures during the washing.
Application
Reserve a sufficient amount of paint in the same vessel for each uniform surface. Colour differences will thus be avoided. Stir thoroughly before use. Primed or previously painted surfaces are top coated 1–2 times depending on the coarseness of the surface, the colour of the substrate and/or the the coverage of the colour. Avoid overly thick paint films on log surfaces.
Application conditions
The surface to be treated has to be dry. The moisture content of the wood is to be below 20%. During the application and drying period the temperature of the ambient air, the surface and the product shall be above +5°C and the relative air humidity below 80%. Avoid application in direct sunlight.
Storage
Must be stored tightly closed and kept cool. Must not freeze.
If the product is applied by airless spray, the surface is to be finished by a brush. Recommended airless spray nozzle is 0.015–0.021".
| | |
| --- | --- |
| Solids | abt. 31 % by volume |
| Volatile organic compound (VOC) | EU VOC limit value (kat A/e): 130 g/l. The product's VOC: max. 130 g/l. |
| Gloss | Semi-matt |
| Tinting system | Teknomix |
| Density | abt. 1.2 g/ml |
| Practical spreading rate | Sawn timber: 5 - 7 m²/l. Planed timber: 8 - 10 m²/l. |
| Drying time - overcoatable | 2 h |
| Thinner | Water. |
| Clean up | Warm water and RENSA BRUSH brush cleaner. Wash the equipment immediately after use. |
| Packages | Base paints 1 and 3: 0.9 l, 2.7 l, 9 l, 18 l. |
| Safety markings | See safety data sheet. |
| Approvals & certificates | Finnish Key Flag |
| Gloss value | 23-27 |