TIMANTTI W
TIMANTTI W
Moisture sealer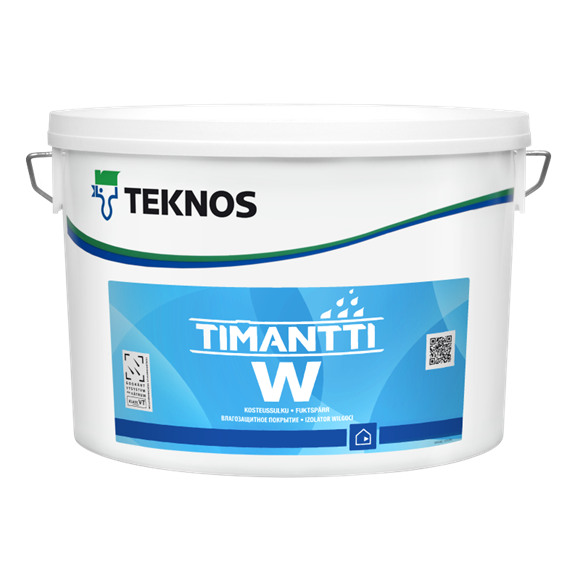 Moisture sealer
Water-borne
Water-borne acrylate based moisture sealer that forms a steam-proof film. The sealer is together with TIMANTTI 20 included in a coating system for wet rooms, approved by the Swedish Måleribranschens Våtrumskontroll (MVK).
Intended for use as a moisture barrier on walls and ceilings in moist internal areas and wet rooms that are painted with a top coat of the TIMANTTI series. The substrate can be filler or concrete, different building boards, glass fibre wall fabric glued with adhesive for moist areas, etc.
Technical data sheet
Safety data sheet
Other product specific documents
Surface preparation
Clean new surfaces from dust and dirt. Wash previously painted surfaces with RENSA SUPER paint cleaner. Plastic wallpaper and ceramic tiles are all removed. Matt down hard or gloss surfaces by sanding and thereafter remove the dust. Smooth down the uneven surface with SILORA LW stopper for moist areas. Thereafter sand down the surface and remove the dust.
Application
Before use stir TIMANTTI W thoroughly. Apply by brush or roller. Apply the first coat with sealer diluted with water in the ratio of 1 : 1. The second coat is applied with undiluted sealer after a drying time of 1 - 2 hours. Glass fibre wall coverings are glued with TIMANTTI W moisture sealer and thereafter primed once wet-on-wet with undiluted TIMANTTI W moisture sealer. After a drying time of about 4 hours, top coating can be done with top coats of the TIMANTTI series. Must be overcoated within 12 hours.
Application conditions
The surface to be painted must be dry. During the application and drying period the temperature of the ambient air, the surface and the paint shall be above +10 °C and the relative air humidity below 80 %. Good ventilation during the application and drying period quickens the drying process.
Storage
Must be stored tightly closed and kept cool. MUST NOT FREEZE.
| | |
| --- | --- |
| Solids | abt. 40 % by volume |
| Volatile organic compound (VOC) | EU VOC limit value (kat A/i): 140 g/l. The product's VOC: max. 140 g/l. |
| Density | abt. 1 g/ml |
| Drying time – dust free | 2 h |
| Drying time - overcoatable | 4 h. Must be overcoated within 12 hours. |
| Thinner | Water. |
| Clean up | Wash the equipment immediately after use with warm water and RENSA BRUSH brush cleaner. |
| Colours | Transparent green. |
| Packages | 0,9 l, 2,7 l, 9 l. |
| Safety markings | See Safety Data Sheet. |
| Approvals & certificates | Måleribranschens Våtrumskontroll (MVK) (Sweden),Finnish Key Flag |