TEKNOSILOX 3351
TEKNOSILOX 3351
High-solid polysiloxane paint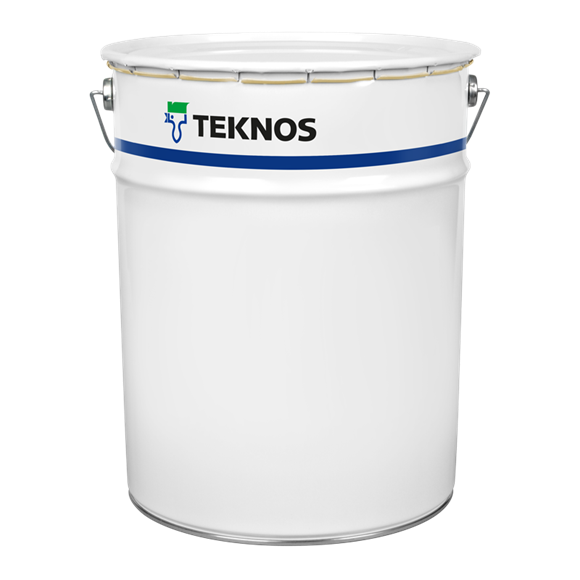 Chemical resistant
Corrosion protective
2-component
Solvent-borne
Topcoat
TEKNOSILOX 3351 is a low-solvent polysiloxane coating.
TEKNOSILOX 3351 is mainly used as a topcoat for primered steel constructions, tanks and bridges, where a long durability time of the coating system is required.
Excellent weather-fastness. Results in a surface which is resistant against acids, chemical spills and splashes, humidity and moisture. Outstanding corrosion resistance, high abrasion resistance.
Surface preparation
Remove from the surface any contaminants that might be detrimental to surface preparation and coating. Remove also water-soluble salts by using appropriate methods. The surface should be prepared as follows: STEEL SURFACES: Remove mill scale and rust by blast cleaning to preparation grade Sa 2½ (standard ISO 8501-1). Roughening the surface of thin-plate improves the adhesion of the paint to the substrate. ZINC SURFACES: Hot-dip-galvanized steel structures that are exposed to atmospheric corrosion can be painted if the surfaces are sweep blast-cleaned (SaS) till matt all over. Suitable cleaning agents are, e.g. aluminium oxide and natural sand. It is not recommended to paint galvanized objects that are subjected to immersion strain. It is recommended that new zinc-coated thin-plate structures are treated with sweep blast-cleaning (SaS). OLD PAINTED SURFACES SUITABLE FOR OVERCOATING: Any impurities that might be detrimental to the application of paint (e.g. grease and salts) are to be removed. The surface must be dry and clean. Old, painted surfaces that have exceeded the maximum overcoating time are to be roughened as well. Damaged parts are prepared in accordance with the requirements of the substrate and the maintenance coating.
| | |
| --- | --- |
| Solids | abt. 92 % by volume |
| Weight solids | abt. 96 % by weight |
| Volatile organic compound (VOC) | abt. 60 g/l |
| Volatile organic compound (VOC) | during the curing reaction, small amounts of alcohol are produced |
| Pot life | 4 h (+23 °C) |
| Mixing ratio | 5:1 by volume (comp. A : comp. B) |
| Hardener | Comp. B: TEKNOSILOX HARDENER 7471 |
| Gloss | Gloss |
| Drying time – dust free | after 2 h |
| Drying time – touch dry | after 4 h |
| Drying time – through-dry | after 24 h |
| Drying time – forced drying | 60°C / 1h |
| Drying time - overcoatable | after 12 h by +5°C / after 4 h by +23°C |
| Thinner | TEKNOSOLV 6750 |
| Clean up | TEKNOSOLV 6750 |