TEKNOFLOOR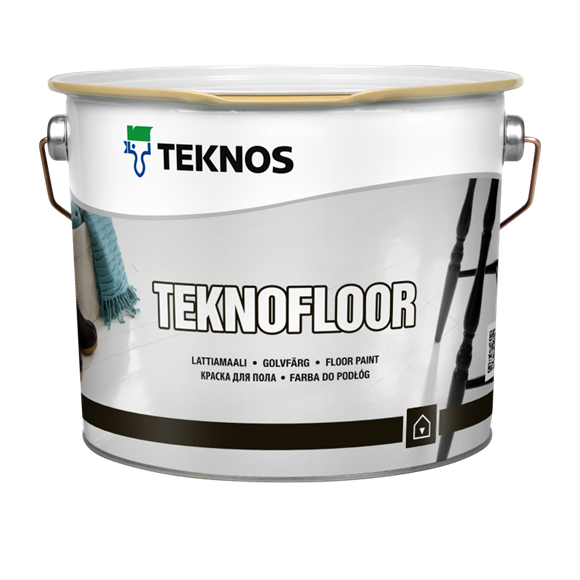 Wear resistant
Solvent-borne
Solvent-based urethane alkyd paint for interior floors. The paint produces a gloss surface that is easy to keep clean.
Suitable for new and previously with alkyd paints painted floors of concrete and wood, when the surfaces are affected by normal household strains. TEKNOFLOOR 2K Concrete Paint is recommended to be used when painting floors that will be subjected to strong action by water or chemicals, or to heavy abrasion.
Surface preparation
UNCOATED CONCRETE FLOORS are to be at least one month old. Clean the surfaces from dense laitance by etching with RENSA ETCHING Etching liquid and allow the surfaces to dry. Brittle and powdery surfaces must always be cleaned by grinding. Remove oil and grease with solvent TEKNOSOLV 1621. Brush the floor or clean with vacuum-cleaner to remove the dust. Prime the surface with paint diluted by 20% with TEKNOSOLV 1621 and finish with one coat of undiluted paint. UNPAINTED WOODEN FLOORS: Clean the floors from grease, dirt and dust. Fill dents and cracks with SILORA A Carpentry Filler. Prime with paint diluted by 10% with TEKNOSOLV 1621 and finish with one coat of undiluted paint. PREVIOUSLY PAINTED FLOORS: Scrape or sand off all loose paint. Matt down old paint coats by sanding. Clean the surfaces from grease, dirt and dust. Prime bare spots with diluted paint and finish with a full coat of undiluted paint.
Application
Stir thoroughly before use.
Application conditions
The surface to be treated must be dry. During the application and drying period the temperature of the ambient air, the surface and the product shall be above +10°C and the relative air humidity below 80%.
Maintenance
The painted surface reaches its final hardness and washability within 3 - 4 weeks. Rough handling and washing is to be avoided during this period. Stained surfaces can be cleaned with a moist cleaning cloth or mop. Use a neutral detergent. Very dirty surfaces can later be cleaned with a slightly alkaline universal washing detergent.
Suitable airless nozzle size 0.013 - 0.017"
| | |
| --- | --- |
| Solids | abt. 50 % by volume |
| Volatile organic compound (VOC) | EU VOC limit value (kat A/i): 500 g/l. The product's VOC: max. 500 g/l. |
| Gloss | Gloss |
| Tinting system | Teknomix |
| Density | abt. 1.2 g/ml |
| Practical spreading rate | 7 - 9 m²/l depending on the absorbency of the substrate . |
| Drying time – dust free | 1 h |
| Drying time – fit for light traffic | 10 h |
| Drying time - overcoatable | The following day |
| Thinner | TEKNOSOLV 1621 (solvent naphtha). |
| Clean up | TEKNOSOLV 1621 (solvent naphtha). |
| Colours | Base paints 1 (white) and 3, which can be tinted to obtain the shades in Interior Colour Card. Ready-made shade: TM-114. |
| Packages | Base paints 1 and 3 and ready-made shade: 0.9 l, 2.7 l, 9 l. |
| Safety markings | See safety data sheet. NOTE! Because of the danger of spontaneous combustion, any waste from the product, spray mist and soiled rags etc. are to be kept in a fire-proof place in air-tight containers. Immersion in water is also recommended. |
| Approvals & certificates | CE marking,Finnish Key Flag |
| Gloss value | 65-85 |