TEKNOFLOOR STRIPE
TEKNOFLOOR STRIPE
Line marking paint for sport courts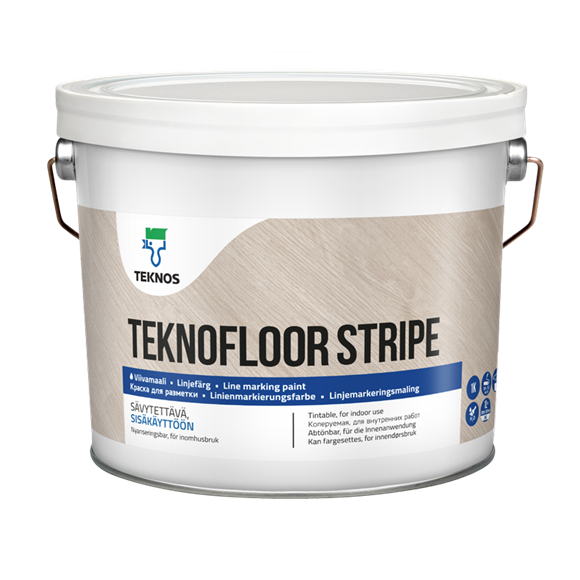 Water-borne acrylate paint for line marking in indoor sport courts.
TEKNOFLOOR STRIPE is suitable for painting of line markings for indoor sport courts. Paint is applied on a primer lacquer or between top coats. Suitable topcoats are KALLE PRO and OPAL parquet lacquers.
Technical data sheet
Safety data sheet
Product colour chart
Surface preparation
Wooden surface to be treated is cleaned from dirt and dust.
Application
Before use stir the paint thoroughly. The paint can be diluted with water, if required, but dilution may impair the coverage of the paint. Apply by roller, brush, sponge or spray. Paint can be applied twice, if needed. Lines can be applied on a primer lacquer or between topcoats. If the lines are applied between topcoats the first topcoat layer needs to be intersanded with grit n:o 120-150 and vacuum-cleaned before painting the lines. If the lines are marked with a masking tape, the chosen tape must not leave any glue residues. It's recommended to remove the masking tape immediately after the application.
Application conditions
The surface to be painted has to be dry. The temperature of the air, the surface and the paint shall be +18 - +25°C and the relative air humidity 35 - 65% during the application and drying period.
Storage
Storage time: in unopened containers, above +1°C, for 2 years. MUST NOT FREEZE.
| | |
| --- | --- |
| Solids | abt. 38 % by volume |
| Volatile organic compound (VOC) | EU VOC limit value (kat A/i): 140 g/l. The product's VOC: max. 140 g/l. |
| Gloss | Semi-matt |
| Tinting system | Teknomix |
| Density | abt. 1.3 g/ml |
| Practical spreading rate | One coat: 10 - 12 m²/l / abt. 200 m/50 mm line width. |
| Drying time – dust free | 1 h |
| Drying time - overcoatable | 2 h (overvarnishable and overcoatable) |
| Thinner | Water |
| Clean up | Wash the equipment immediately after use with water and RENSA BRUSH brush cleaner. |
| Packages | Base paint 1 and 3: 2,7 l. |
| Safety markings | See Safety Data Sheet. |
| Approvals & certificates | Finnish Key Flag |
| Gloss value | 17-23 |