TEKNOFLOOR AQUA 110F
TEKNOFLOOR AQUA 110F
Concrete paint and varnish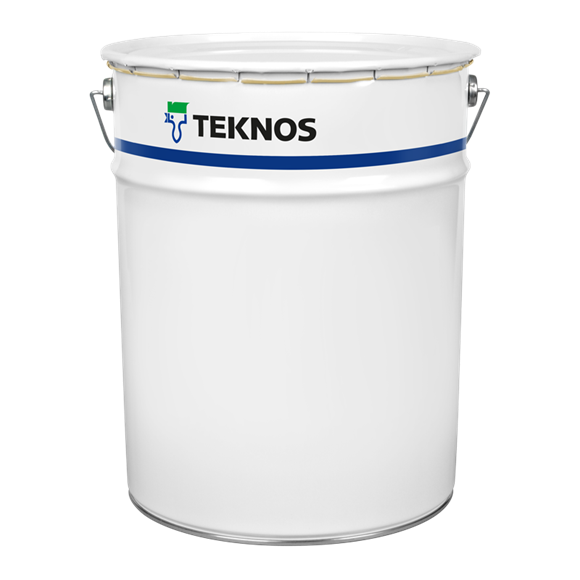 2-component
Water-borne
Primer
Topcoat
TEKNOFLOOR AQUA 110F Concrete Paint is a water-based, two-pack epoxy paint. It provides a glossy, hard, flexible and abrasion resistant film.
TEKNOFLOOR AQUA 110F is used on concrete floors. Other areas of use are walls in humid conditions and industrial areas, i.e. surfaces that require a durable, dense and easy-to-clean coating. The paint can also be applied to cement plaster, brick and hard construction board surfaces. Examples of applications are saunas, wash rooms, cellars etc.
TEKNOFLOOR AQUA 110F has a good abrasion resistance. It withstands water, petrol, oil, grease, even strong lye solutions, splashes of solvents and temporary action by weak acids. TEKNOFLOOR AQUA 110F does not impart taste or odour to foodstuffs. It dries fast, so as well the priming and top coating can be done in one working day. The product has CE approval for protection of concrete structures. The product has been classified to Group M1 in Emission Classification of building materials. TEKNOFLOOR AQUA 110F is suitable for use in food preparation and packaging environments (Smithers Rapra, Certificate Number GC0068). Water-vapour permeability of TEKNOFLOOR AQUA 110F concrete paint fulfils the requirement of standard EN ISO 7783-1 class I, sD < 5 m.
Technical data sheet
Safety data sheet
Other product specific documents
| | |
| --- | --- |
| Solids | abt. 45 % by volume |
| Total mass of solids | abt. 650 g/l |
| Volatile organic compound (VOC) | abt. 20 g/l |
| Pot life | 1h 30 min. (+23 °C) |
| Mixing ratio | 1:1 by volume (comp. A : comp. B) |
| Hardener | Comp. B: TEKNOFLOOR AQUA HARDENER 110H |
| Gloss | Gloss |
| Tinting system | Teknomix |
| Drying time – dust free | after 1 h |
| Drying time – fit for light traffic | after 4 h |
| Drying time – fully cured | after 7 d |
| Thinner | Water |
| Clean up | Water and synthetic washing agent |
| Approvals & certificates | CE marking,M1 classification,Smithers Rapra |
| Gloss value | 90- |