SAKU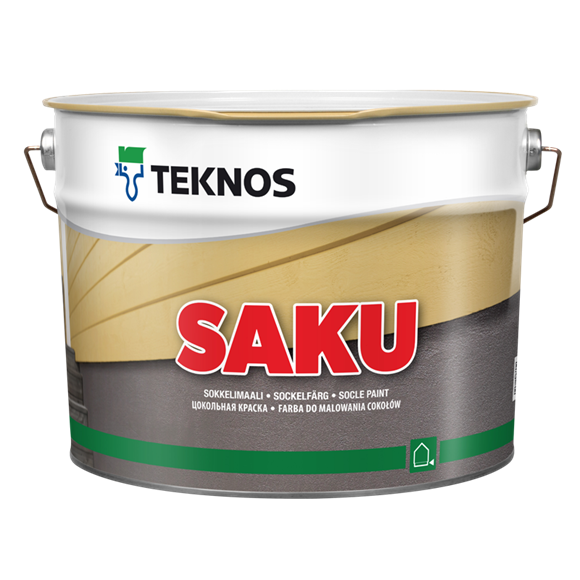 SAKU is a dispersion paint for concrete surfaces. Intended for painting socles and concrete buttresses. The paint has good resistance against the alkalinity of concrete and being "breathing" it allows moisture to escape from the concrete.
Surface preparation
Concrete surfaces: Remove all dirt and old, flaking paint coats. Remove calcium salts by washing the surface with RENSA ETCHING Etching Liquid (diluted with water 1 : 2). After etching rinse the surface with water and let it dry. Do not paint the concrete until the seepage of calcium salts from the concrete has ceased. If the salt formation continues, e.g. due to inadequate damp-proofing, painting is not recommended. Metal parts: Clean galvanized surfaces from dirt and grease. Wire-brush rusty areas andvprime them with FERREX AQUA. Prime clean and solid mineral surfaces with SAKU socle paint. For strongly absorbent surfaces dilute the paint 5-10% by volyme with clean water.
Application
Reserve a sufficient amount of paint in the same vessel for each uniform surface. Colour differences will thus be avoided. Stir the paint thoroughly before use. Top coating with undiluted SAKU socle paint. Apply by brush, roller or airless spray. Suitable nozzle for airless spray is 0.017 - 0.021".
Application conditions
The temperature of the ambient air, the surface and the paint shall be at least +5 °C. Application can be done in damp weather, but this will lengthen the drying time.
| | |
| --- | --- |
| Solids | abt. 38 % by volume |
| Volatile organic compound (VOC) | EU VOC limit value (kat A/c): 40 g/l. The product´s VOC: max. 40 g/l. |
| Gloss | Matt |
| Tinting system | Teknomix |
| Density | abt. 1.3 g/ml |
| Practical spreading rate | 3 - 6 m²/l |
| Drying time – touch dry | 30 min |
| Drying time - overcoatable | 2 h |
| Thinner | Water. |
| Clean up | Warm water and RENSA BRUSH brush cleaner. Wash the equipment immediately after use. Wash away any splashes or stains of paint at once before they get dry. |
| Packages | Base paints 1 and 3: 0,9 L, 2,7 L, 9 L. |
| Safety markings | See safety data sheet. |
| Approvals & certificates | CE marking |