GAP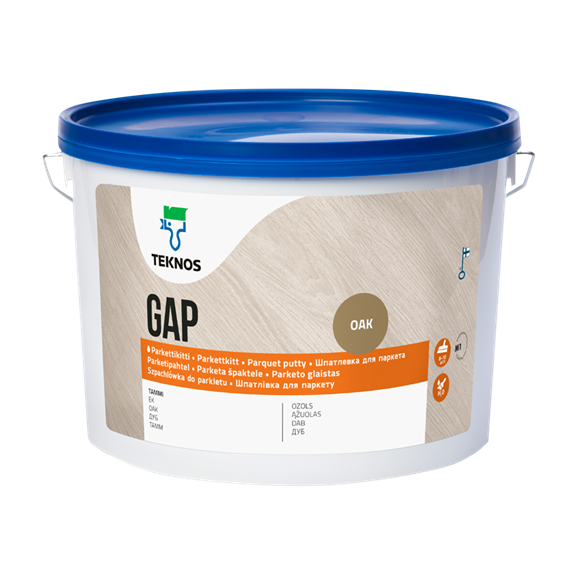 Water-borne, ready to use putty for parquet and wooden floors.
For filling gaps in parquet and wooden floors before sanding and applying water-borne primer or topcoat.
Technical data sheet
Safety data sheet
Surface preparation
The wood surface must be dry, well sanded and free from sanding dust and other dirt.
Application
Mix the putty in the container with a drill paddle and pour the required amount of putty on the floor. Thin with a primer lacquer, if too thick. If too thin, add some sanding dust. Spread the putty with a steel trowel using crosswise strokes. Repeat if needed.
Application conditions
The temperature of the ambient air, the surface and the putty shall be +18 - 24°C and relative air humidity 40 - 60% during the application and drying period. The moisture content of the wood should be 7 ±2 % by weight.
Storage
Storage time: in unopened containers, above +1°C, for 1 year. MUST NOT FREEZE.
| | |
| --- | --- |
| Solids | abt. 62 % by volume |
| Volatile organic compound (VOC) | The product is not included in the EU VOC directive. |
| Density | abt. 1.5 g/ml |
| Clean up | Wash the equipment immediately after use with water and RENSA BRUSH brush cleaner. |
| Packages | Birch and oak: 1 l, 10 l. |
| Safety markings | See Safety Data Sheet. |
| Approvals & certificates | M1 classification,Finnish Key Flag |