EMAPUR MARINA
EMAPUR MARINA
Polyurethane enamel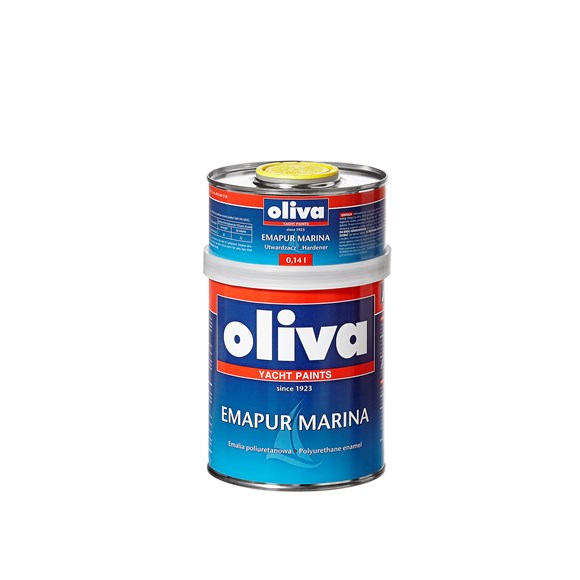 UV resistant
Water resistant
2-component
Solvent-borne
Enamel
Polyurethane, two component enamel. The hardener is an aliphatic isocyanate resin.
For final painting of areas of yachts and ships above the waterline.
High decorative, gloss coating, good adhesive to substrate, tough and flexible. Resistant to weathering, sun radiation, sanitary, fresh and sea water, salt and alkali solutions, thinned acid solutions, oil, fuel oil, diesel and some thinners (gasoline, xylene). Coating in white colors shows a reflectivity of solar radiation above 70%.
Technical data sheet
Safety data sheet
Surface preparation
Coating of epoxy primer BOSMAN dry, salt-, dust- and grease-free. Then it is recommended to wash all surface with water with addition of OLIVA CLEANER, and next rinse with clean water.
Application
Airless spray, brush, roller, after diluting – air spray. Airless spray parameter - nozzle size: 0,33 - 0,43 mm, nozzle pressure: 10 - 15 MPa.
Application conditions
Minimum surface temperature: -5°C (surface frost- and ice-free) and at least 3 °C higher than dew point, relative air humidity below 80%, good ventilation
| | |
| --- | --- |
| Solids | abt. 56 % by volume |
| Volatile organic compound (VOC) | abt. 420 g/l |
| Pot life | 2 h (+23 °C) |
| Mixing ratio | 100:22 by volume (comp. A : comp. B) |
| Hardener | Comp. B: EMAPUR MARINA UTWARDZACZ |
| Gloss | Gloss |
| Tinting system | Teknotint |
| Drying time – dust free | after 3 h |
| Drying time – touch dry | after 8 h |
| Drying time - overcoatable | after 8 h |
| Thinner | Not recommended. When necessary (for example – thickening product) use TEKNOSOLV 433. |
| Packages | Base: 0,6 l Hardener: 0,14 l |
| Safety markings | See Safety Data Sheet |