DRYWOOD WOODSTAIN VV SG
DRYWOOD WOODSTAIN VV SG
Water-borne primer / intermediate / topcoat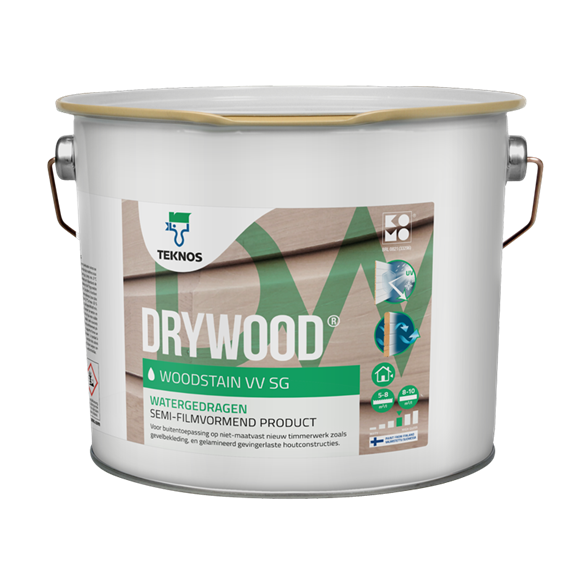 Low-temperature curing
Water resistant
Water-borne
Intermediate
Primer
Topcoat
Wood stain
DRYWOOD WOODSTAIN VV SG is a water-borne low-filmbuilding product for non-dimensional stable applications such as exterior wood constructions, wood sidings or cladding and wooden sheds.
DRYWOOD Woodstain VV can be applied by all conventional spraying systems - both hand spraying and automated spraying systems - and by vacuumcoater, brush or roller. DRYWOOD Woodstain VV will typically be applied as a primer, intermediate and topcoat on substrates such as softwood, Accoya and modified wood. All softwood and non-durable hardwood for exterior use should be treated with a wood preservative. It is recommended that Accoya intended for outdoor use is treated before priming with Drywood Improstain. Exterior durability of coating systems including DRYWOOD Woodstain VV is typically documented according to BRL0821.
DRYWOOD WOODSTAIN VV SG gives excellent colouration of the wood with translucent colours. For semi-opaque colours, the wood structure is less visible. The product has good penetration into the wood, good adhesion on natural wood species, and forms a thin film layer in two or more layers. The product is water-repellent and does not chalk.
Surface preparation
The wooden surface must be dry, carefully sanded and cleaned from dust and other impurities.
Application
Stir thoroughly before use.
Application conditions
The product should be used above +8°C with maximum 70% RH. Typical use is 70-80 g/m²/ 60-70 g/m² / 20-30 g/m² on planed wood and 120-130 g/m² / 70-80 g/m² / 20-30 g/m² on sanded/sawn wood
Storage
Shelf-life minimum 6 months in unopened and closed packaging. Keep containers tightly closed after use. Must not freeze.
| | |
| --- | --- |
| Solids | abt. 25 % by volume |
| Volatile organic compound (VOC) | abt. 14 g/l |
| Gloss | Semi-gloss |
| Tinting system | Teknocolor |
| Theoretical spreading rate | Approx. 10 m²/l at100 g/m² wet film thickness. |
| Density | abt. 1.07 g/ml |
| Drying time – through-dry | Minimum 48 h. |
| Drying time - overcoatable | Approx. 2 h |
| Thinner | The product is delivered ready for use. |
| Clean up | Water. |
| Colours | Available in almost any translucent and semi-opaque colour. |
| Packages | Available in a range of standard pack sizes. |
| Safety markings | See safety data sheet. |
| Approvals & certificates | KOMO Certificate BRL 0821 (33296) |