DRYWOOD VERF VOOR HOUT NOVA SG
DRYWOOD VERF VOOR HOUT NOVA SG
Water-borne hybrid primer, intermediate and topcoat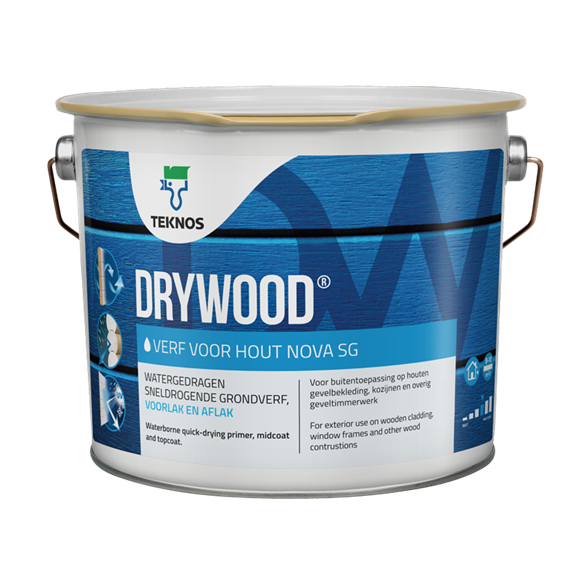 Special adhesion
UV resistant
Water-borne
Intermediate
Primer
Topcoat
DRYWOOD VERF VOOR HOUT SG, a water-borne hybrid paint for wooden surfaces outdoors with high durability. DRYWOOD VERF VOOR HOUT SG has a semi-gloss surface that retains its appearance, colour and gloss for a very long time.
DRYWOOD VERF VOOR HOUT SG is suitable for new and previously painted wooden surfaces, e.g. cladding, doors, windows, etc. On log structures we recommend a first layer TEKNOL AQUA 1411-01. All softwood and non-durable hardwood for exterior use should be treated with a wood preservative. DRYWOOD VERF VOOR HOUT SG is available in opaque shades or can be supplied in bases for on-site tinting. DRYWOOD VERF VOOR HOUT SG is a robust and easy to use primer, intermediate and topcoat optimised for high demands on filling and hiding power, flow and levelling and is typically used for exterior windows, doors, cladding, logs, weather boards, dorms etc.
Surface preparation
The surface to be treated must be clean, sanded and dry, free of dust and grease. Remove loose old paint layers down to clean wood. Wood construction, wood joints and glazing system have to be free of defects. Repair wood in exterior applications with DRYWOOD 2 component epoxy.
Application
Stir thoroughly before use. Apply DRYWOOD EASYPRIMER or DRYWOOD VERF VOOR HOUT NOVA SG on bare wood.
Application conditions
Use above 8°C and max. 70 % R.H. Avoid application in direct sunlight.
Storage
Minimum 12 months in dry and cool conditions. Must not freeze. An opened container is to be carefully closed after use.
| | |
| --- | --- |
| Solids | abt. 40 % by volume |
| Volatile organic compound (VOC) | EU VOC limit value (kat A/d): 130 g/l. The product's VOC: max. 130 g/l. |
| Gloss | Semi-gloss |
| Tinting system | Teknomix |
| Density | abt. 1.2 g/ml |
| Practical spreading rate | approx. 9 m²/l at 35 µm dry film thickness |
| Drying time – dust free | 30 min. |
| Drying time – touch dry | 1.5 h |
| Drying time - overcoatable | 4 h |
| Thinner | Water. |
| Clean up | Wash the equipment immediately after use with detergent and warm water. |
| Colours | Base 1 and base 3 (white and opaque colours). |
| Packages | 1 l, 2.5 l. |
| Safety markings | See safety data sheet. |