BOSMAN 1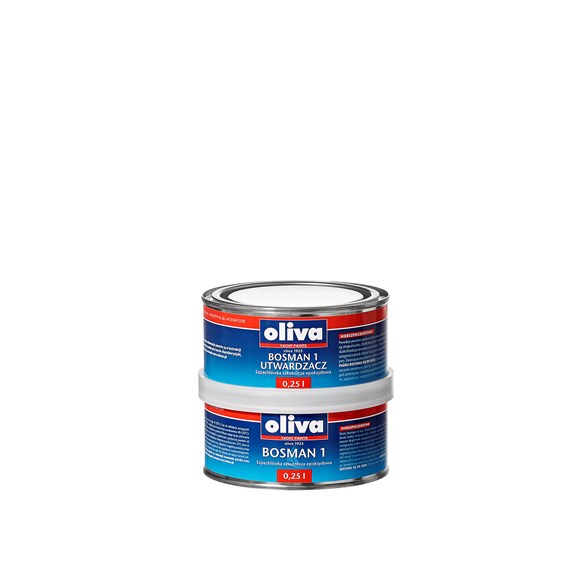 Two component, 100% solids thixotropic epoxy filler.
For repairing of ceramic, cast iron and steel surfaces and also epoxy- and glass-polyester laminates.
Can be applied up to 4 mm. Fully cured coating is water resistant.
Surface preparation
Epoxy or polyester laminates roughened with abrasive paper and dust-free surface. Steel or cast iron surfaces primed with ALU STEEL PRIMER 2002 diluted 20-30% with 564 Thinner. Dry, rust-, grease- and dust-free surface. Ceramic surfaces primed with WOOD PRIMER 12 diluted 20% with Thinner 564. Dry, rust-, grease- and dust-free free surface.
Application
Steel trowel, putty knife or spatula. After cure it is recommended to wet or dry polish with 80-200 abrasive paper.
Application conditions
Minimum surface temperature: +10°C and at least 3°C higher than dew point, relative air humidity below 80%, good ventilation.
| | |
| --- | --- |
| Solids | abt. 100 % by volume |
| Volatile organic compound (VOC) | abt. 8 g/l |
| Pot life | 1 h (+23 °C) |
| Mixing ratio | 1:1 by volume (comp. A : comp. B) |
| Hardener | Comp. B: BOSMAN 1 UTWARDZACZ |
| Drying time – dust free | after 8 h |
| Drying time – touch dry | after 14 h |
| Drying time - overcoatable | after 14 h |
| Thinner | Not recommended |
| Clean up | TEKNOSOLV 9506 |
| Packages | 2 x 0,25 l |
| Safety markings | See Safety Data Sheet |