ANTIFOULING VSE
ANTIFOULING VSE
Antifouling paint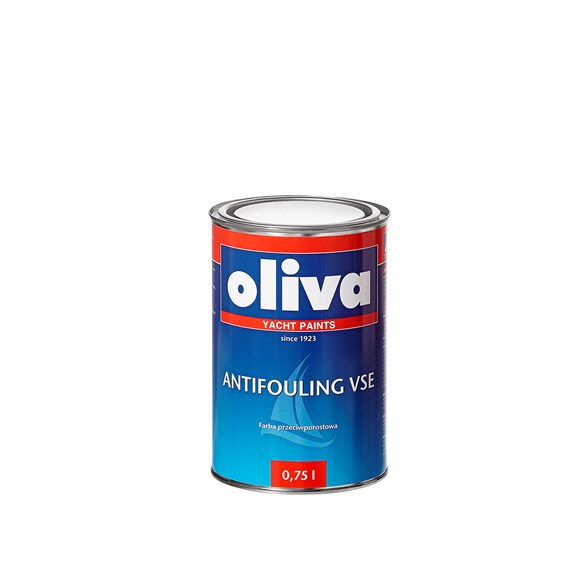 Antifouling
Water resistant
Solvent-borne
Polyvinyl antifouling tixotropic topcoat, tin-free vinyl, containing copper compounds and organic biocide.
Used as antifouling finishing coat for underwater parts of sailboats, vessels, yachts exploited in all climatic zones and also for underwater parts of hydrotechnical, coastal constructions.
ANTIFOULING VSE forms well adhered to the substrate , flexible coating which reduces the hydrodynamic drag of a vessel due to the reduction of friction. Resistant to water and marine atmosphere. Direct contact with a steel surface causes pitting corrosion.
Technical data sheet
Safety data sheet
Surface preparation
It is recommended to wash surface with water with addition of OLIVA CLEANER and then rinse with fresh water. Coat of vinyl or epoxy anticorrosive paint, dry and free of any contamination. Glass-polyester laminates, roughened with abrasive paper No. 200, dry and free of any contamination. Old coat of antifouling paint, dry and free of any contamination; corroded areas cleaned and covered with anticorrosive paint to the required film thickness; old coat of antifouling paint in poor condition additionally sealed with suitable anticorrosive paint. Before painting with ANTIFOULING VSE it is recommended to prime the surface with OPTIMAL paint.
Application
Airless spray, brush (beside 018 colour), roller (for small areas only). In order to reach recommended film thickness in one coat airless spray must be used. Airless spray parameter: nozzle size - 0,43 - 0,53 mm, nozzle pressure - 15 - 20 MPa.
Application conditions
Minimum surface temperature: -5°C (surface frost- and ice-free) and at least 3 °C higher than dew point, good ventilation.
| | |
| --- | --- |
| Solids | abt. 52 % by volume |
| Volatile organic compound (VOC) | abt. 410 g/l |
| Drying time – dust free | after 1 h |
| Drying time – touch dry | after 3,5 h |
| Drying time - overcoatable | after 12 h |
| Thinner | Not recommended. When necessary (for example – thickening product) use TEKNOSOLV 1639. |
| Clean up | TEKNOSOLV 1639 |
| Packages | 0,75 l |
| Safety markings | See Safety Data Sheet. NOTE! Contains biocides. Antifoulings should only be wet sanded. Never dry sand or burn-off old antifoulings.During application and drying of the coating flammable and health threatening substances are emitted. It is important to avoid inhaling the fumes of the product and contact with the eyes and skin. Use only in well ventilated rooms |