Trainees' mid-summer catch-up
Teknos trainees' traineeship is almost at its halfway now. Some of the trainees started already during March and April and the rest of them during May. How has the summer been for these young professionals? How has Teknos Family treated them? Let's hear their thoughts from the last three months.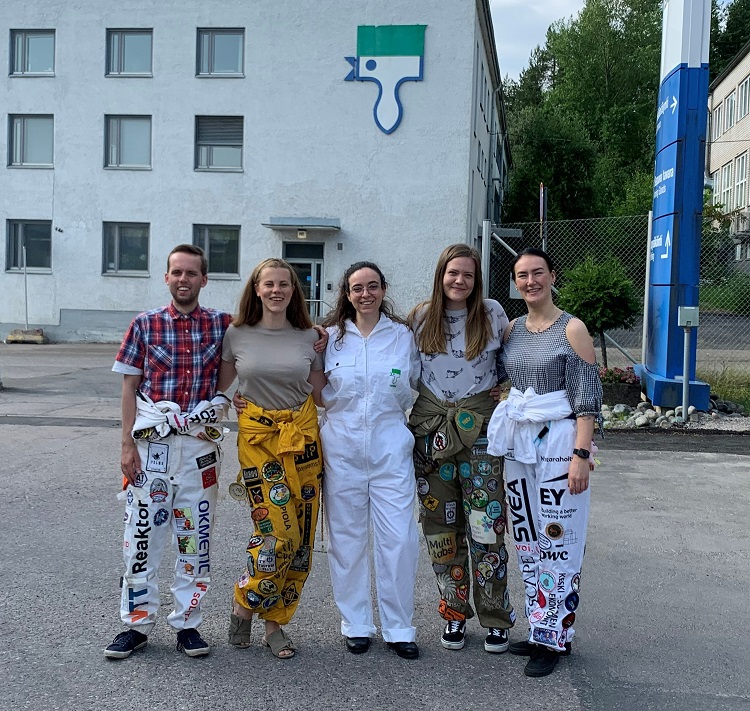 Jarkko, Sanni, Christina, Paula, and Merikke


Jarkko / procurement

I've been enjoying my summer traineeship so far. I've been given a lot of responsibility related to the projects I've been working on, which feels great! However, even in summer season, there's always someone to ask help if unsure on how to proceed. My goal is to get all the different projects up and running in July so after the holidays we can proceed with these with my whole team. 

I've learned a ton of new stuff and practices during my traineeship from different projects. Among all, I've been conducting a tendering process for the company and working with supplier communications related to supply chain sustainability. Working with these, I feel I have learned to express many different business concepts better in written form, which feels especially rewarding.  

I look forward to finishing my primary project related to supplier data analysis software in August when my team returns from the holidays. I'm also looking forward to seeing what other trainees have achieved during their traineeships! 

Paula / QEHS
 
So far, my traineeship has gone well, and the weeks have gone by so fast! I have had the opportunity to have an impact on our work, such as the way we assess our environmental impacts and different safety related practices, which has been really rewarding. And most importantly, it's nice to look back and already see how much I have already learned at this point. 

Right now, I'm preparing training materials related to a new, group level risk and opportunity management model we have, as well as analysing the results of interviews I've held with our local process owners about the stage of our process modelling and the tool we use for quality management.  

Lately, I've had a lot of time to really focus on these projects as it's the holiday season. It's been rewarding to see them taking big steps. On the other hand, I already look forward to August and getting to spend more time at the office with all the colleagues! 

 
Merikke / Communications
This summer has been an amazing and unforgettable one for me, especially in terms of my career development and acquirement of new skills. Namely, this has been my first summer working in a business field that corresponds to my university studies.

My time has been flying fast with various topics related to communication at Teknos. I have been mostly doing a lot of content creation for our internal and external purposes. These tasks have included, for instance, writing employee stories, editing, and filming videos for various needs, creation of different social media posts, and participating to company events to write stories about. I have also been substituting one of our marketing specialists during her holidays by handling new sales leads. So, I have been perfectly able to specialize in the tasks that are closest to my own interests.

I am very happy and honored to have been chosen to this position in which to grow and take these various responsibilities. I have also loved the fact that we have been able to work flexibly from home and from the office according to our very own wishes and needs. This Autumn, we plan to start new influencer program for the company, which I am excitedly looking forward to.
One thing that I have noticed and which I love about communications is the ability to work so closely connected with other business departments. This is extremely interesting since I get to understand the business very broadly. As an example, during just these three months now, I have been closely cooperating with marketing, HR, HSQE, and a lot more!

Christina / HSEQ
My summer traineeship has been exciting and fulfilling. Through the projects assigned to me, I am unlocking my potential and contributing to Teknos safer workplace. My team makes me feel included and appreciated as our discussions are open, honest, and educational. Furthermore, I was encouraged to be proactive by my line manager, which is something that made me particularly happy as that is already a trait of my personality.  

My main project is to design an online course around Teknos safety culture. Through this process, I learned to use an e-learning tool and deepen my understanding of personal responsibility when it comes to safety. Moreover, I started to learn about chemical safety and personal protective equipment (PPE) as those categories are related to my other task; the creation of personal protective equipment guidelines for sales, technical service, and warehouses. To make this happen, I research reliable sources for information, consult the local HSEQ professionals for guidance, contact various manufacturers and visit Teknos paint shops and factories. 

Also, I felt proud to play a small role in the incident learning program. Where I hosted some of the incident learning meetings for key personnel in Teknos sales and warehouse countries. The purpose of the incident learning program is to make sure all our incidents are reported in a timely manner, investigated thoroughly, and that we share and implement learnings at all our sites to stop incidents from repeating.  

Additionally, I collected terminology vastly used in Teknos Health and Safety documents, and with the help of the local HSEQ professionals, the Health and Safety glossary was launched, now available on the HSEQ page in Teknos' intranet. While this research was on the way, I had the chance to visualize in a document map the influences of all Teknos HSEQ documents. 

Lastly, Merikke Pasanen, the communications trainee, and I collaborated to produce safety clips meant to be played on the info screens of all Teknos locations and strengthen Teknos' safety culture.  

I really feel lucky to work here and do what I love. To promote safety!


Sanni / HR
I have enjoyed my trainee period very much. As an employer, Teknos has offered everything they promised – lots of responsibility, versatile tasks and a warmly welcoming family culture. During my traineeship I have been a part of a project that enables the company to take a new HRIS into use. I have been working closely with training related topics, but also been a part of planning and aligning system features and testing the system. 

Working in a project environment has given me hands-on experience in time management, problem solving and communication in addition to many other skills. I have also been able to tailor my job description according to my interests and so I've also been taking on tasks related to internal communication and event planning. I am excited to see what the rest of my traineeship is going to offer and looking forward to the future!