Wooden Flooring – Unfinished or Pre-finished
Wooden flooring has an elegant and natural beauty, it creates a sense of warmth and can easily match almost every kind of interior design and décor. The best part is hardwood flooring, you can choose to have your flooring prefinished or unfinished depending on your preferences. Each option will come with its own unique benefits, and remember all hardwood flooring, even the most damage-resistant types, requires coats of protective finish. Without it, floors will quickly begin to show signs of wear and tear, scratches, dents, and colour changes. Additionally, a properly applied finish before or after the installation is able to bring out the depth of wood's true beauty and character by emphasising its natural grains. The question, then, is when to apply it. Most manufacturers offer the option of prefinished flooring or unfinished flooring delivered in its natural state to be finished after installation.
The difference between unfinished and pre-finished hardwood flooring is in the name: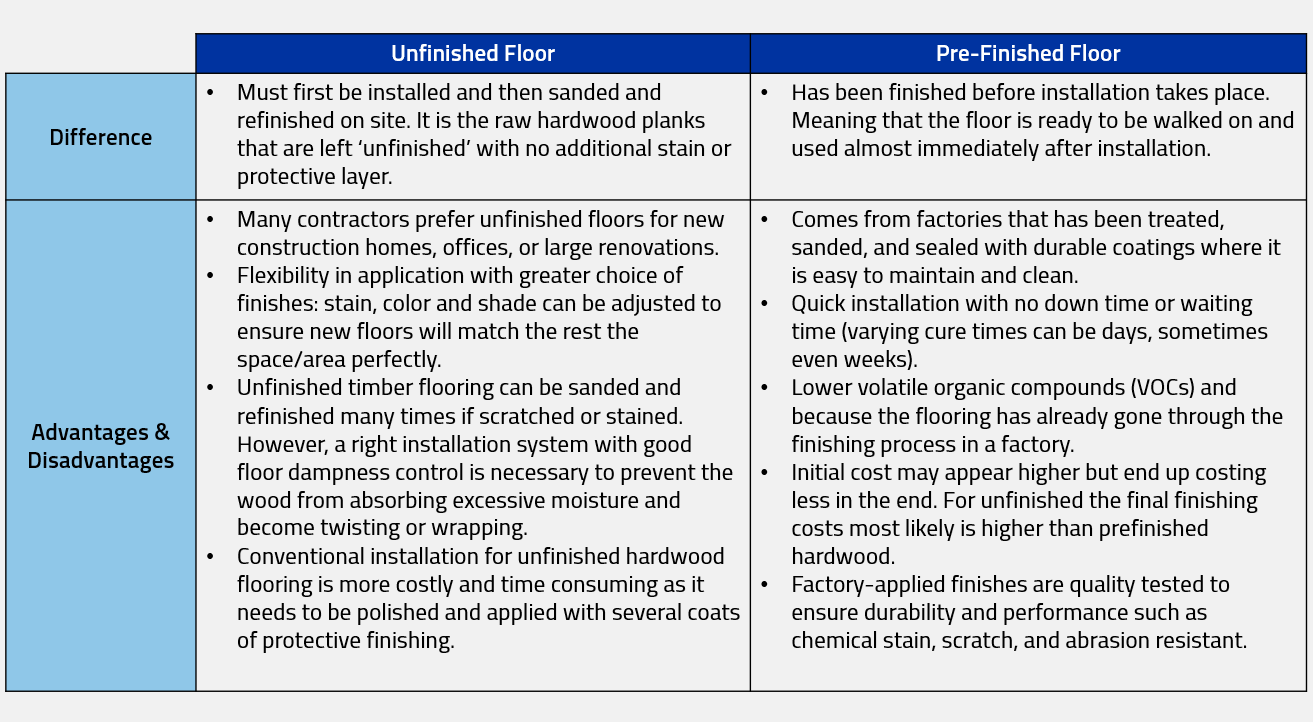 Engineered wood flooring looks very much like solid hardwood, but its construction features a relatively thin layer of solid hardwood veneer (approximately 3-5mm) to a core of premium-quality plywood or particleboard that gives very good stability, and it is mostly sold in prefinished form. - It is designed with tongue and groove interlocking system to make the fitting simple and neat, and can be installed quickly by a floating system with an underlay moisture barrier protection. The completed onsite job has no dust (due to sanding), lower VOC, no odour and ready to walk immediately.

Solid Wood Flooring Engineered Wood Flooring
Teknos Coating Solution for Engineered Wood Flooring
Teknos Malaysia offers a customised coating solution for engineered wood flooring. Manufacturers can rely on our large product portfolio of primers, fillers, sealers, and topcoats to obtain almost any kind of build-up options. Our range of products includes Hydro UV or 100% UV curing, open or closed pores, matte to gloss and from economy, standard to premium.
To make the selection easier, Teknos has pre-defined several systems that meet the typical requirement from customers, these include the number of coating line roller, abrasion and scratch resistant level, haptics, optical effects, and target costs.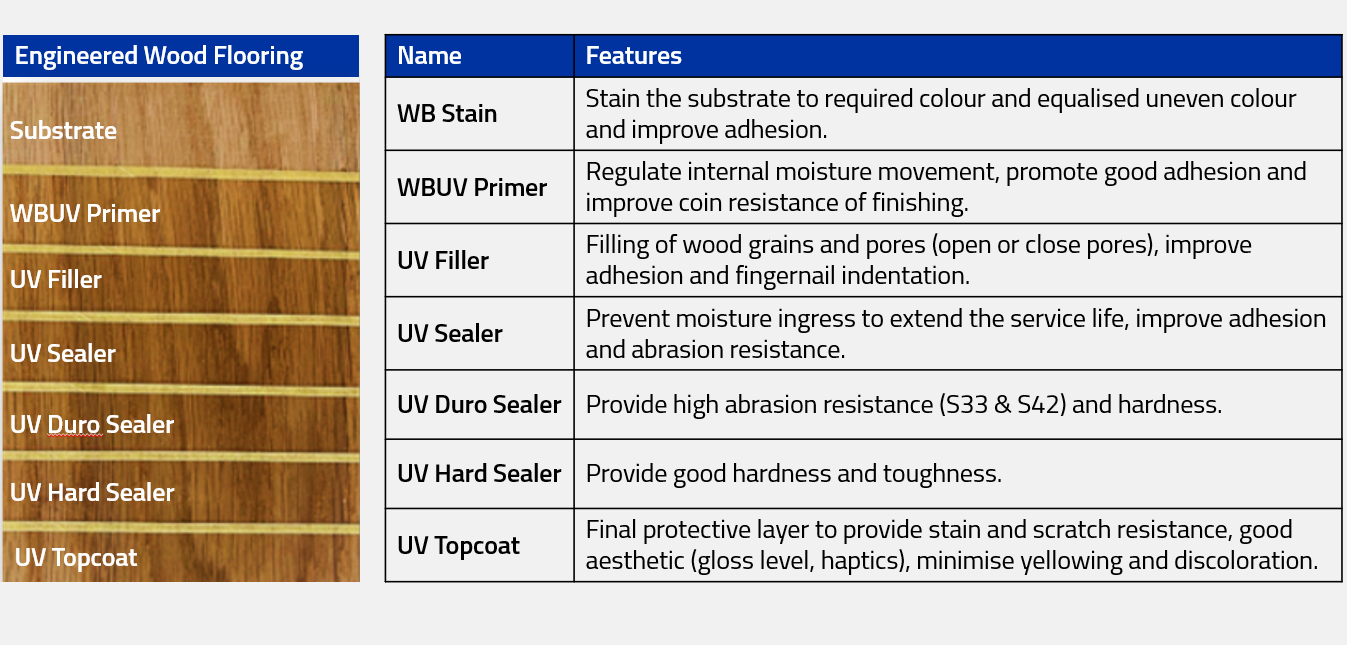 General Requirements of Wood Flooring
Residential Area: Low Traffic
High-quality tailor-made or standard build-up system that offers both aesthetic and protective layers to accommodate for daily low traffic movement. Teknos has the option of open and closed pores at various degrees of gloss level that simulate the natural wood appearance.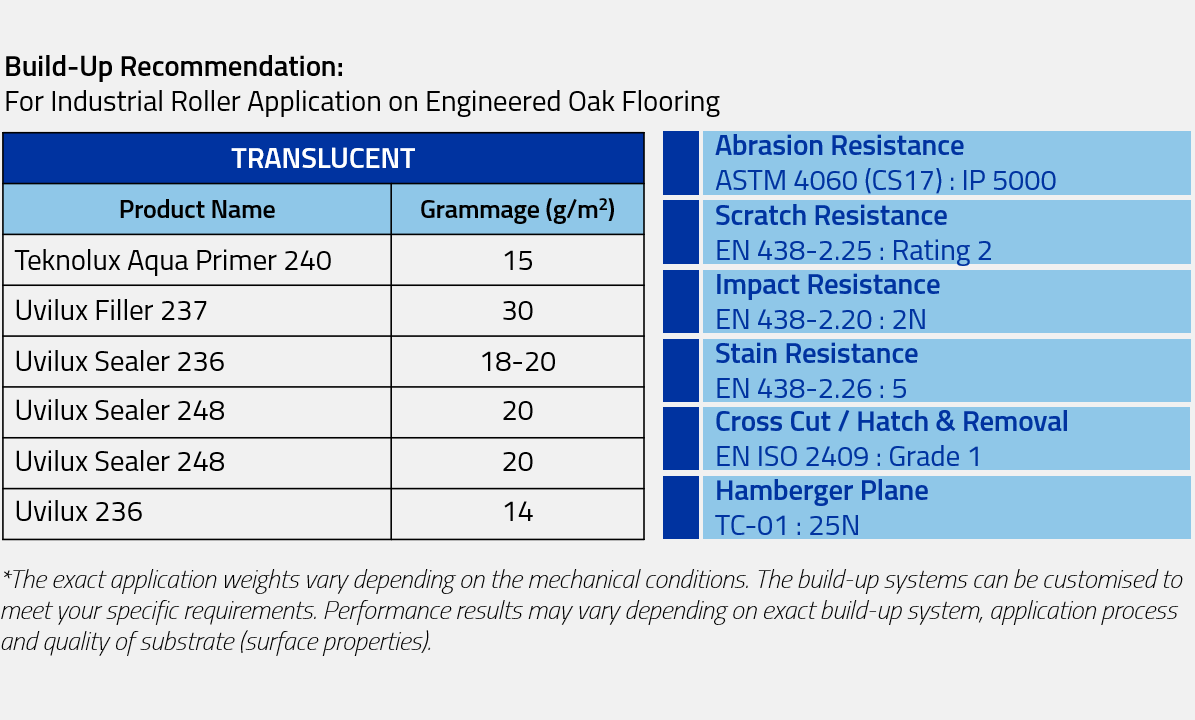 Commercial Area: Medium and High Traffic
Commercial and business areas such as the hotel lobby, restaurant, retail showroom and corporate office are subjected to higher frequency and heavier traffic movement. Teknos high performance coating system provides necessary protective layers to withstand the higher traffic, reduce wear and tear and maintain original beauty of the commercial floor. The better performance and product life can be directly translated into less maintenance work and cost saving in the long term.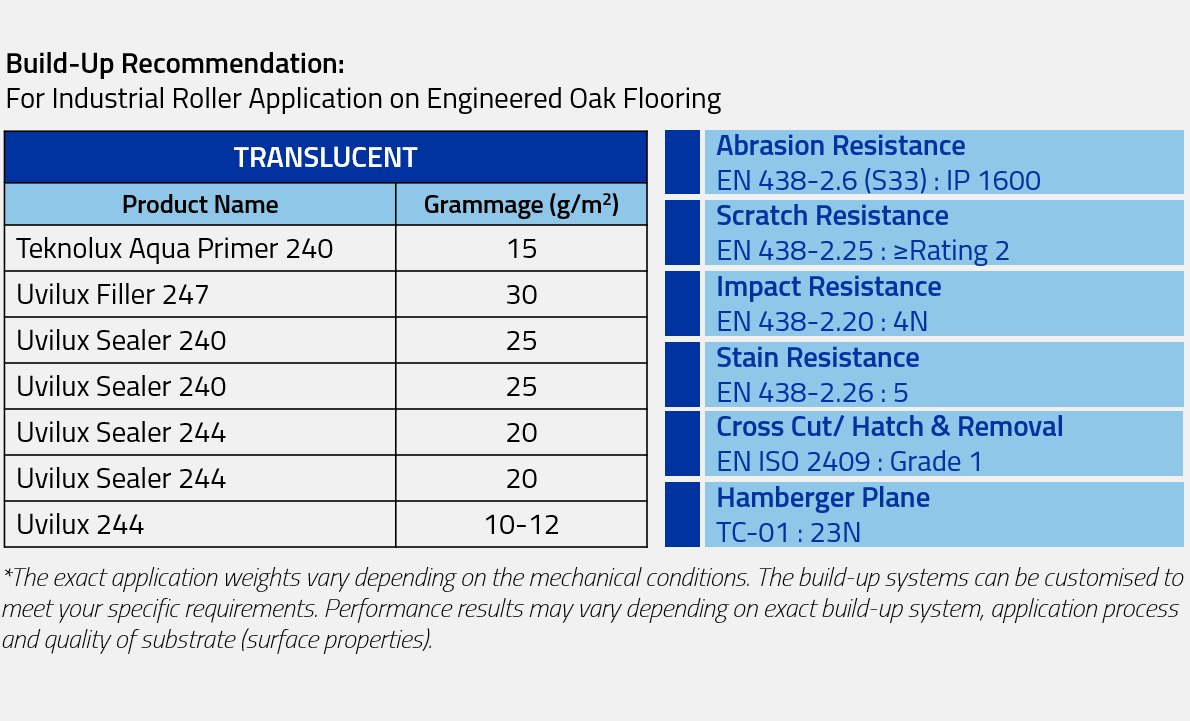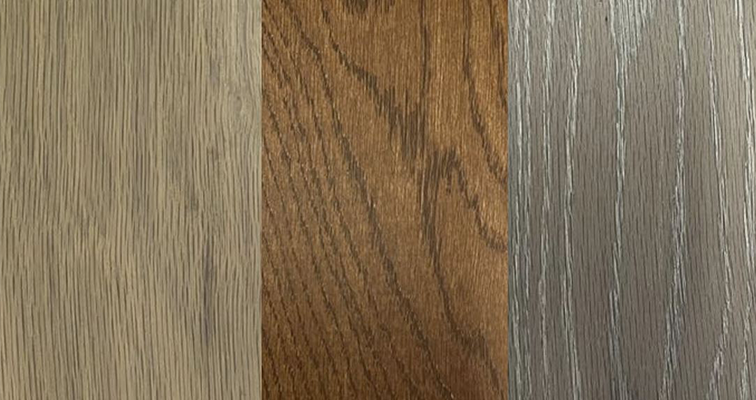 Engineered Wood Flooring Coated with Teknos Products
Also, check out our new Uvilux Putty 1465-10/20, one-component pigmented UV Putty that offers the option for clear (transparent) and pigmented dark-coloured (opaque) application. Ideal for filling wood imperfections, such as knots, crack damages, roughness and timber joints. on solid hardwood flooring. Processing is very fast. UVILUX Putty can be cured with gallium and mercury lamps as well as 365 and 395 nm UV LED lamps. Two different product qualities will be available with a deep-curing property of max 6 mm or even max 12 mm, respectively. Combined curing with mercury and gallium lamps will allow for line speeds of up to 100 m/min for the transparent UVILUX Putty 1465.
Kindly consult our Teknos Sales Representative to obtain more details about Teknos coating solutions for wooden flooring which suit your production process and requirement.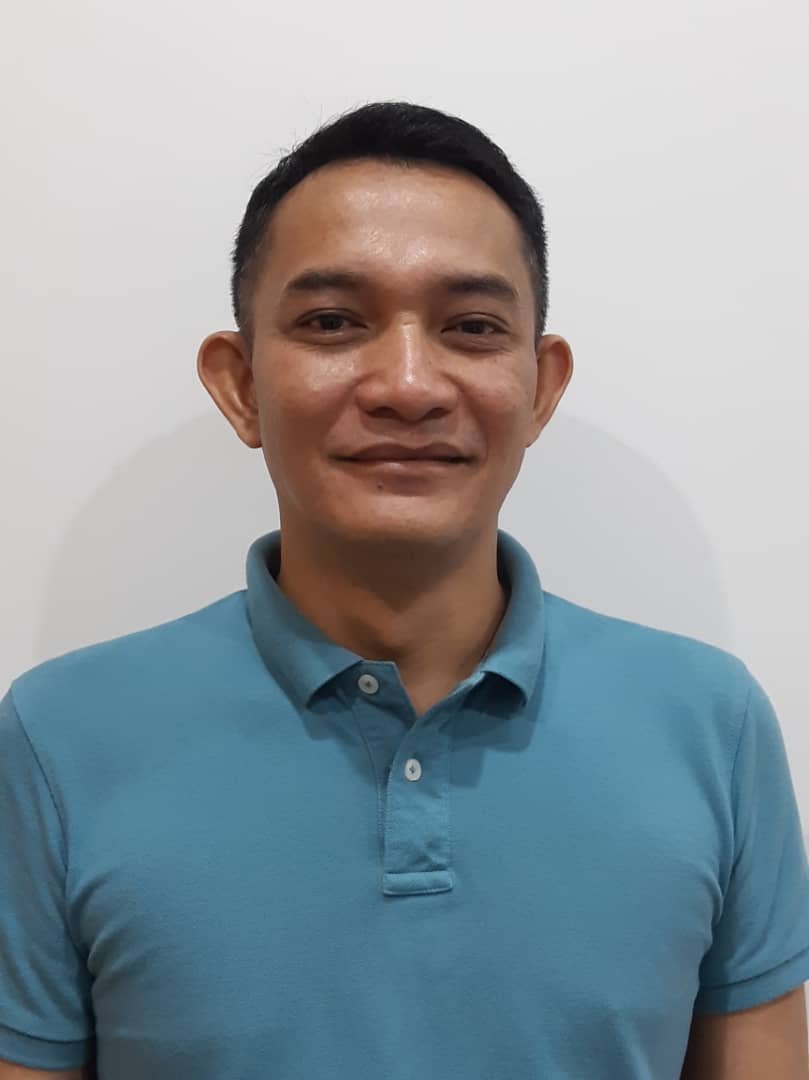 Ask for more information
Naguwib Ab. Samad
Sales Manager, Flat Panels & Flooring
naguwib.abdsamad@teknos.com