Safety protection inside and out
Teknos solutions for fire-retardant coating of wood

Cladding
Teknos FR facade is designed as a fire-retardant system for opaque coatings both indoors and outdoors - and thus perfect for cladding. The most important element is the special fire-retardant primer TEKNOSAFE 2407. When subjected to heat, it foams up to form an insulating layer of microporous carbon foam which isolates the construction element.
Conventional salt-based fire protection impregnations cause the fire-retardant substance to wash off over time. TEKNOSAFE 2407 on the other hand is clearly less vulnerable to weathering which gives it a much more durable fire-retardant effect.

Teknos FR facade system
Primer with TEKNOSAFE 2407 (film layer thickness 350 g/m²)
Intermediate treatment (in the factory) with NORDICA ECO 3330
Final treatment (on the construction site) with NORDICA EKO HOUSE PAINT.
Teknos FR facade is tested and classified in accordance with internationally recognised testing methods.
EXT (outdoor use) according to NT Fire 054 (CEN / TS 15912 / EN 16755)
SP Fire 105
B-s1,d0 according to EN 13501-1
K110 and K210 according to EN 13501-2
This innovative Teknos solution is already used in many commercial and industrial buildings, but has also been used for a flagship project, 'Treet' in Bergen, the tallest timber apartment building in the world. TEKNOSAFE 2407 protects the weathered glulam construction elements; its construction impressively spans 14 floors.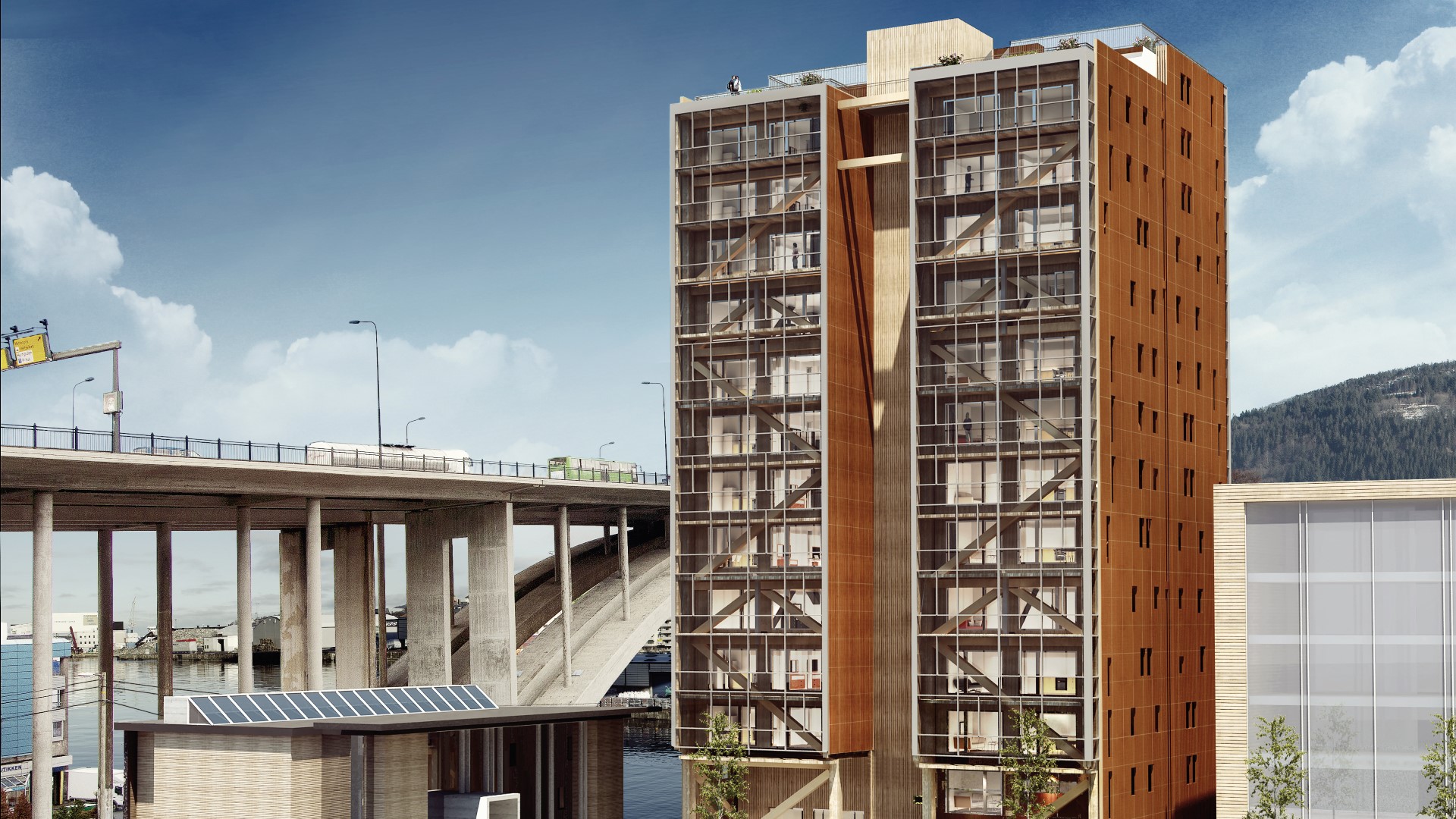 Natural wooden surfaces inside
Teknos provides the fire-retardant system FR Panel for unweathered surfaces. Typical applications include interior wall and ceiling cladding, corridors, stairwells, etc. These are based on the fire-retardant clear coat TEKNOSAFE 2467-00. When subjected to heat, it foams up to form an insulating layer of microporous carbon foam which isolates the construction element.
Application is possible with or without additional clear coat:
200 g/m² TEKNOSAFE 2467-00
200 g/m² TEKNOSAFE 2467-00 plus up to 100 g/m² TEKNOCLEAR AQUA 1331-01.
Both coating systems meet the classification B-s1,d0 on wood surfaces of class D-s2,d0. Detailed information on fire protection classes, substrates and processing is available on request.
Teknos FR Panel is a state-of-the-art coating solution, which opens new windows of opportunity for architects and building contractors. This fire-retardant system allows indoor application for natural wood surfaces subject to strict fire regulations. A prime example is the attractive foyer in the AccorHotels Arena in Paris. For 6,000 square metres of ceiling were 75,000 running metres of oak slats treated with TEKNOSAFE 2467 - a perfect entrance for one of the largest indoor arenas in the world.


NEW: Special solution for unweathered fibreboards
Teknos has developed another solution for the opaque coating of unweat
hered fibreboards, which will be available soon. TEKNOSAFE 2457 is a fire-retardant primer specifically for fibreboards. The durability of opaque fibreboards can be increased in the event of fire with the new primer, in order to comply with fire regulations.
The new primer has already been tested for specific specifications and retains a fire-retardant effect of DRF class INT1 and INT2 according to CEN/TS 15912. A system recommendation and classification of the overall coating application including clear coat is in the pipeline and will be available soon. In the case of specific enquiries and tenders our Teknos fire protection experts will be pleased to help.

Temporary protection of salt-impregnated wood
Another kind of solution is TEKNOL 1830-00. This industrial primer is specifically developed for wood, pre-treated with fire-retardant salt - still a widespread method. TEKNOL 1830-00 has no fire-retardant effect itself, but is used to protect the pre-treated wood temporarily, until it receives its final coat in the factory or on the construction side. Surfaces primed with TEKNOL 1830-00 can be coated with dispersion, alkyd or oil paints.