Coatings for roads and parking lots
The amount of traffic is rising sharply, as is the average size and weight of the trucks. The roads and highways are subject to more wear than ever. As a result, increasing demands are placed towards the performance, quality and environmental requirements for road markings.
Now, let's move to the sunny side of the street. The evolving needs provide continuous challenges to innovative product development, and that is one of Teknos' core strengths and value-adding advantages.
The advancing equipment technology provides new opportunities to further improve the essential features of road marking products. Today, we have even more ways to utilize the fine-tuned properties of our high-quality solutions. Parking lots present a typical example of a situation where clear and durable marking colours are used on concrete. Innovations such as new colouring options can make these products perfectly suitable for new kind of purposes. The surface still is asphalt or concrete – however, the type of use may be quite different from conventional automotive traffic.
One execution of a bit wider out-of-thebox thinking can be discovered in amusement parks. While the amount of traffic can be as intense as during the most hectic rush hour, the average weight per square meter is considerably lower than on the road. On the other hand, the demands towards attention-raising colours and their durability can be, albeit measured and evaluated in a slightly different manner, just as uncompromising.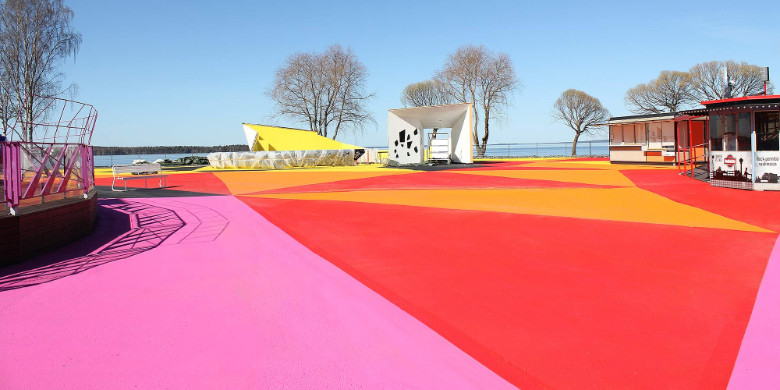 Särkänniemi Adventure Park in Tampere, Finland (above) for example, has made the surroundings of their rides more colourful and appealing with TEKNOROAD 250 road-marking paints. Besides the eye-pleasing appearance, the colourful markings improve safety and comfort by making different areas and the rides themselves more noticeable.
Our history of road marking paints
Teknos has pioneered the development of road-marking paints in Finland. Initially, all road-marking paints were solvent-based. During the years, the systematic product development of Teknos has taken also the quality and properties of road-marking paints further – in the early 1980s, twopack compositions and paints were introduced. Even today, these products are included in the Teknos product range.
In the 1990s Teknos introduced the first water-borne systems onto the market. This development process has led to the solvent free, quick drying, and more durable products we have today.
Teknos line marking products, such as fast-drying, water-borne TEKNOROAD 3059 and TEKNOROAD 3060, have been developed to meet the evolving road-marking challenges. Thus, they are an ideal choice for ensuring safe and easy application on highways, urban streets, courtyards, parking lots and restricted areas.
Teknos has also developed novel new materials, for niche areas, with an emphasis on occupational safety and environmental friendliness.
In close cooperation with contractors and developers of application equipment for road markings, Teknos offers a wide variety of special marking products to meet differing customer requirements. The Teknos selection of road marking and parking lot paints include a wide variety of special colours.
Our specialists will gladly assist you in finding the best possible solution for your needs.