Wrap up of teknos trainee program 2019
As the last few weeks of August have passed by, another summer has come and gone just like that! Some of us trainees are returning to the university to finish up studies, and some of us will continue working on the projects at Teknos. During the final days, we stopped to reflect on what have we learned and what the highlights of this summer were.
Improvement in project management skills
It is challenging to summarize the valuable learning experience that we gained during the summer. However, there is one clear consensus: a significant improvement in project management skills.
"Maybe the main lesson for me has been learning to organize my workdays and tasks better", says Mari Jylhä, HR Trainee.
"Also I have gained valuable experience in running multiple projects at the same time, which is crucial when working for a large global company".
This is something that Procurement Trainee Heidi Saarikko and Business Intelligence Trainee Noora Kuisma agree with.
"We can further all five agree on that we learned a great deal about the paint and coatings industry".
Business is a more complex world
In addition to learning how to multitask and manage time, R&D Trainee Sanna Korhonen states that she has learned how to cope with uncertainty and the fact that no-one can predict the upcoming difficulties associated with a project.
Although the industry was somewhat familiar to Sanna before joining Teknos, she was in for a few surprises.
"At school, the theories seem so simple, and the subjects are discussed separately, whereas in reality the big picture is much more complex", Sanna explains.
Katja Holopainen, working in QEHS, agrees and adds that she learned a lot about different cleaning and microbial analysis methods that can be applied to the coating industry.
For the rest of us trainees, the key takeaways of our trainee period are more business-related.
"Scheduling and resourcing became increasingly important, and thus, mastering these skills can turn out to be a critical success factor also in the future".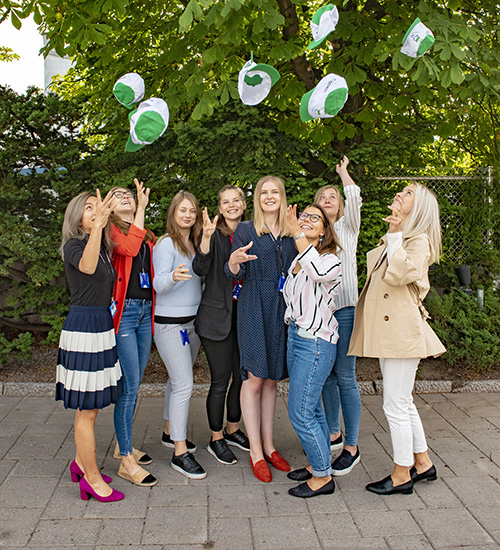 Tram, Mari, Heidi, Annika, Maiju, Sanna, Katja and Noora. The trainees 2019 and the trainees who continued working for Teknos after their traineeship in 2018.
Confidence has grown
Noora says that she has learned valuable people skills, gained a lot of confidence to work with global commercial executives, and got a feel on what it is like to work in her area of expertise.
The experience for Noora at Teknos has clarified the fact that she wants to pursue a career within business analytics in the future.
Also Heidi is of the opinion that one of the essential skills that she learned during the summer was people skills and prioritizing. Although she has worked with long-lasting, large projects in the past, the intensity that she got to experience first-hand with her project was new.
"Telling the truth, I feel I have learned a lot about MS Office! But my summer has not been just sitting in front of the computer", Mari adds.
Summer highlights
For all of us, one of the highlights has been to work in a global company with international colleagues.
"I have attended global meetings, workshops, and events where I have gotten the chance to meet my international colleagues", Noora says.
Katja is of the same opinion and continues that she was happy to be able to join the European Coating Technology Forum at the beginning of her traineeship. It gave her comprehensive familiarization to the topics related to her project, and she got to know some of the companies and experts working in the same field all around Europe.
"Especially interesting for me has been working with many HR managers both locally and globally, and cooperation with management team, supervisors and other companies", Mari adds.
Valuable learning experience
Learning is of course also a part of the traineeship. And with learning always comes challenges, and sometimes mistakes. But there, the company gives an opportunity to improve.
"During my summer, I have also faced challenges. When I once had forgotten to do one task, our Chief Human Resources Officer said to me: "As a trainee you cannot make mistakes, you can only improve. I think that is the best part of the trainee program at Teknos: you can own challenging tasks concerning topics you are interested in, but there are always professionals around, ready to help you".
"On the other hand, at Teknos mistakes are also allowed", Mari says.
"Here trainees are treated the same way as other employees, and we do get to bear a lot of responsibility from our projects", Heidi continues.
"It was nice to see that my opinions, thoughts, and conclusions about the project were considered, and I was encouraged to give my comments throughout the project", Sanna summarizes.
The best thing is that our minds have been blown away by the great atmosphere and amazing colleagues.
"The highlight of my summer at Teknos has been the people. I know this sounds cliché, and saying it sounds cliché makes it even more cliché, but it is the truth", Noora sums up.
Heidi adds: "Everybody was so welcoming, kind and helpful since day one, which made me feel like I was genuinely a part of the Teknos family."
// Heidi, Noora, Katja, Mari & Sanna
Take a look at our other blog post Trainee projects tailored to interests to read about our backgrounds and projects during the summer.
Also, don't forget to check Teknos Instragram account @teknoscareers!