The 2019 Teknos Trainee trip
We trainees, Heidi, Katja, Mari, Noora and Sanna, got to visit the Teknos offices and facilities in Riga, Tartu and Tallinn with our Group HR Manager Arttu Lindroos in the end of June. We had waited for the trip a lot, because we had heard that every summer a trainee trip takes place in some of the Teknos offices abroad. The trip offered us new insights of different operations in other Teknos locations and of the importance and advantages of local operators. The trip served as an opportunity for us trainees to get to know each other and our colleagues abroad. It opened our perspectives outside our own projects and topics and enabled us to see Teknos as a truly international company.
Day 1 – Getting to know Teknos' business in Latvia
The first location we visited in Riga, was the Teknos office and warehouse, where we had a presentation of Teknos Latvia and a tour in their new and fresh office and facilities. Our hostesses, Managing Director of Latvia Vika Saveljeva and Office Manager Ieva Rozmianeca, presented the history of Teknos Latvia and explained some cultural characteristics of the Baltic countries and how operating in Latvia differs from for instance Finland.
In Latvia the co-operation with distributors is very important. After seeing the Teknos office, we visited a showroom and workshop of one of the biggest distributors, Krasu centrs. They have worked with Teknos for a long time and know our products well. The visit was especially interesting for Noora Kuisma, who is doing her traineeship in a Business Intelligence project and had visited the brand-new showroom already earlier this summer, when it was still under construction.
In the evening Vika and Ieva had organized a guided tour in the old town of Riga with a local guide, who told us about the history of Riga and Latvia and introduced us the important buildings and events that took place in the old town. After the tour, we enjoyed a lovely dinner and got to know the Teknos family a bit better.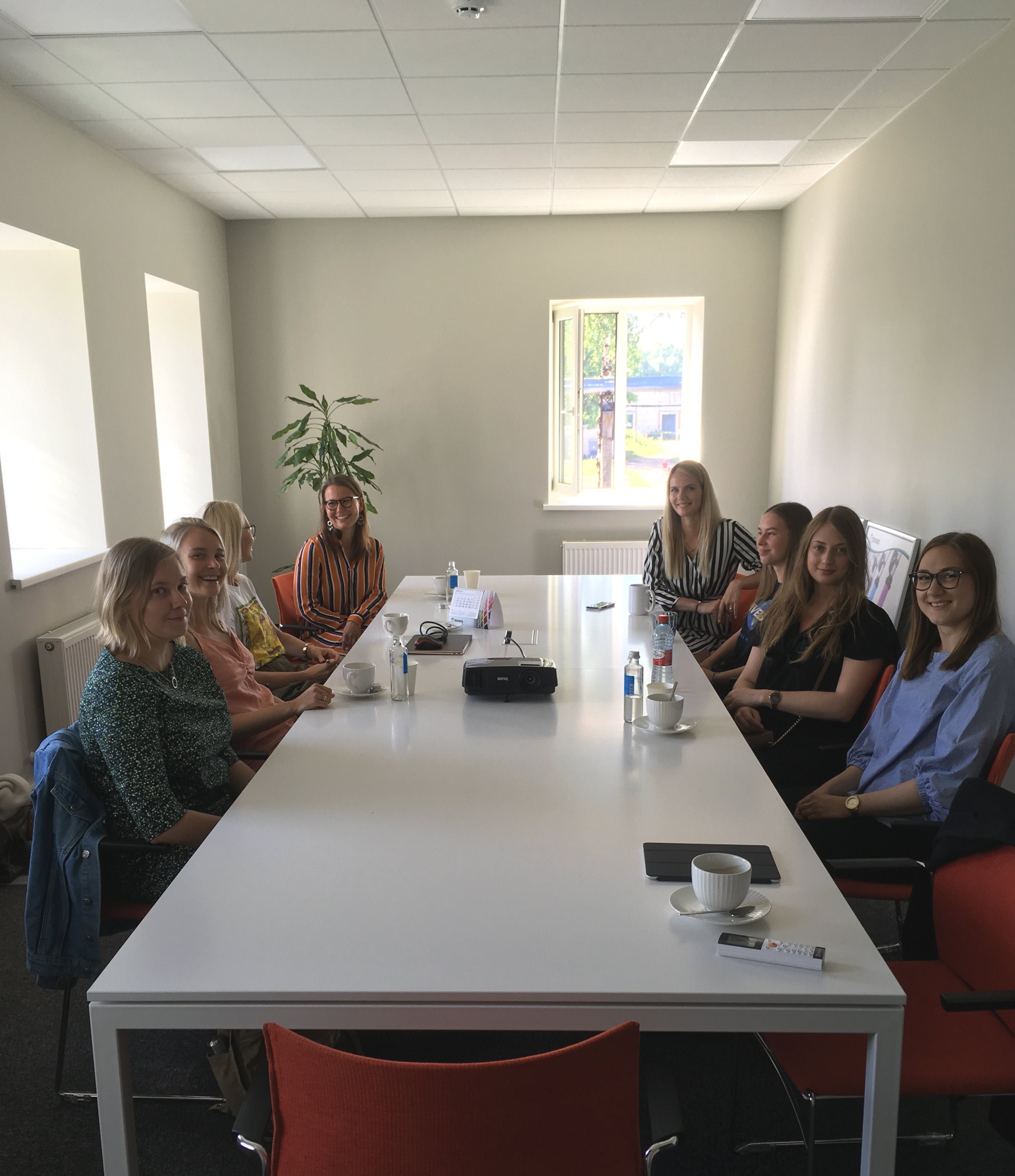 Vika and Ieva introducing Teknos Latvia to trainees.
Day 2 – From Latvia to Estonia
On Wednesday we woke up early to get ready for a long day. We jumped to our rental cars and started our way to Tartu, Estonia. After a three and half -hour drive we arrived to Teknos Tartu office, where cheerful Technical Service Manager Marek Reppo was waiting for us. We got a tour around the office after which Marek took us to one of Teknos' customers in Tartu, Lasita Aken AS. The company is the oldest industrial wooden window manufacturer in Estonia. Lasita Aken's presentation and a tour around their production facilities offered an interesting glimpse of Teknos' products in use and of modern production lines with a lot of automation. Especially Mari, HR Trainee, was interested in hearing about local labour law and recruiting-related matters. We even got positive feedback for being so active and our tour lasted longer than expected. We all had many questions and got really good information during the whole trip.
Our way continued towards Teknos' office and warehouse in Estonia, where we arrived around four o'clock in the afternoon. Managing Director Marko Kübarsepp introduced their cosy office and warehouse to us. They even have a sauna in there!
Like every trip, we also had fun accidents during this trip. Our persistent attitudes were highly presented when we were trying to find a parking area for our rental cars in harbour in Estonia. After almost two hours, we finally found the place – thanks to our smooth teamwork.
Time flew during the trainee trip and it was time to leave the Baltic countries. We took an evening ferry to travel back home. Eventually, we came back from our trip with unforgettable memories and new knowledge to broaden our picture of international business at Teknos.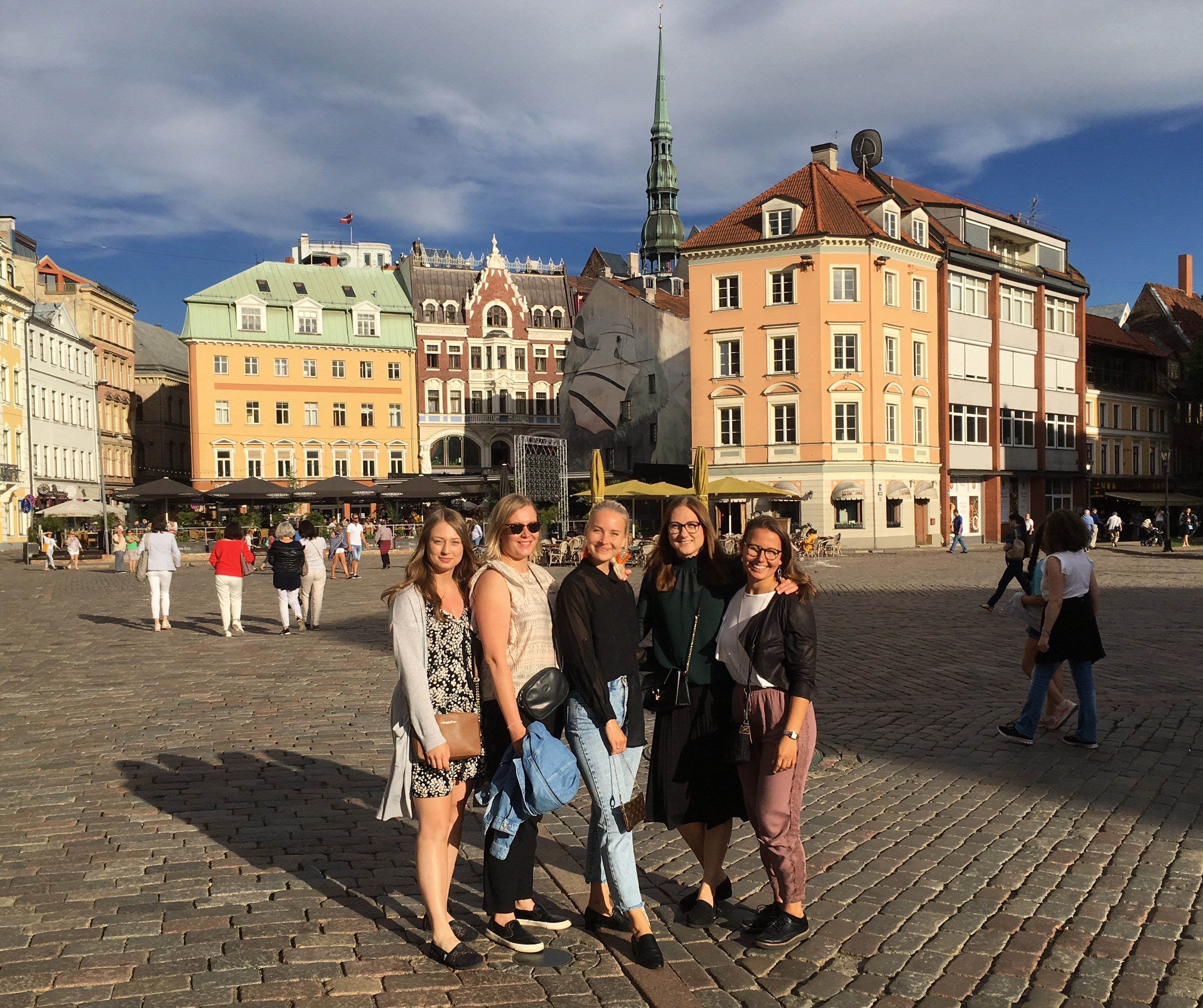 Heidi (left), Katja, Noora, Mari and Sanna's first evening in Riga.