Trainee Program opened doors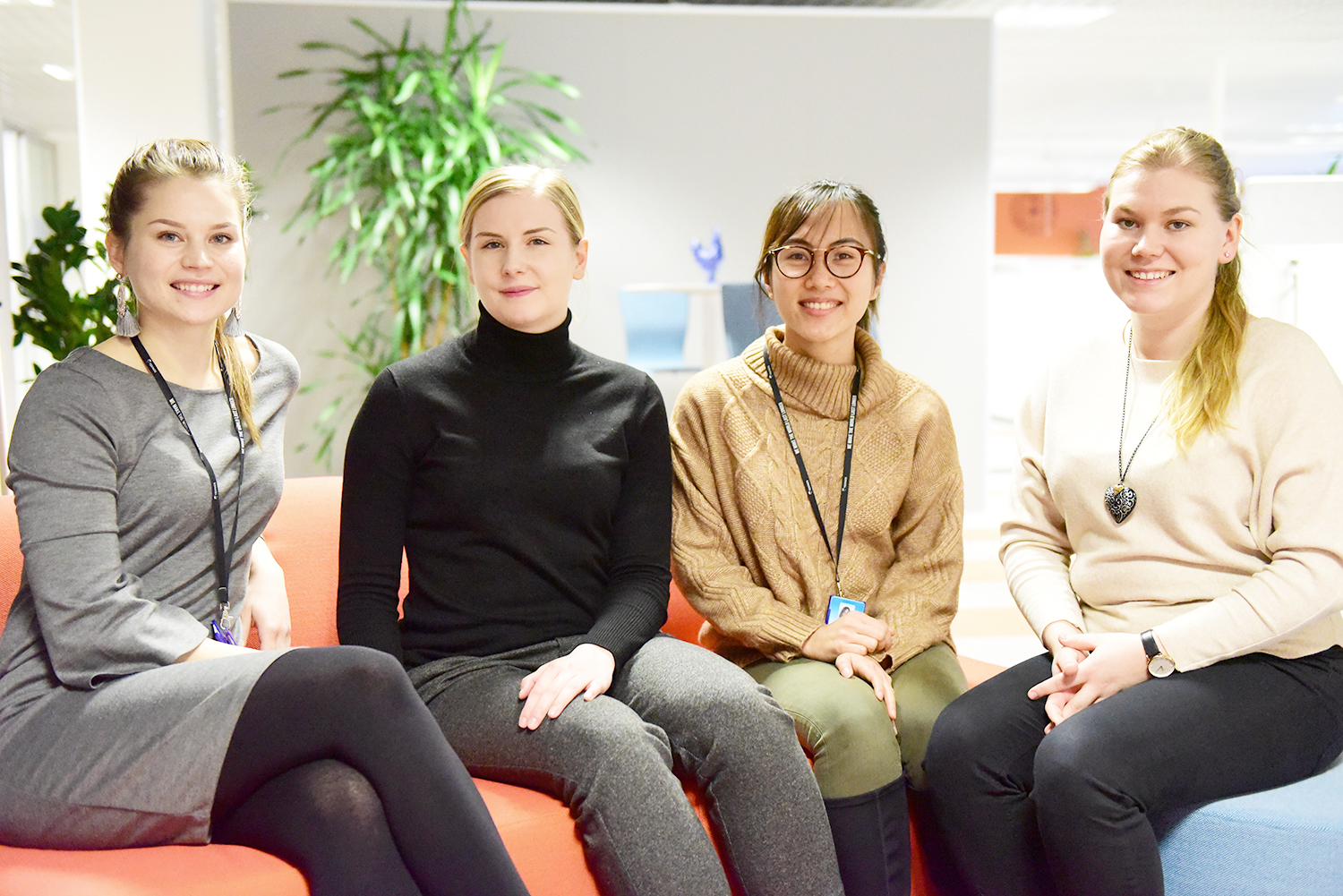 Teknos trainees Annika, Maiju, Tram and Peppi, all have continued to work at Teknos after the Trainee Program.
Our Global Trainee Program for 2019 was launched last week, and we look forward for new talents to join the company for spring and summer 2019. Six students participated in the Trainee Program last year, and four of them - Maiju, Annika, Tram and Peppi - have continued their work at Teknos, either with writing their thesis or as full or part-time workers.
"Overall in my opinion the Trainee Program was very successful. The concept was well-thought and included also international aspects", Maiju says.
Tram was happy that her views and thoughts were valued from day one.
"From the beginning, even as trainee, I felt that my opinion was valued, and that I could have an impact to the company success".
After the Trainee Program Annika was appointed as HRD Specialist, and Tram continued to work with sustainability matters part-time along with writing her thesis. In January, Tram had the opportunity to join the company full-time as Sustainability Specialist. Maiju participated in another trainee program, but returned to Teknos this January to write her thesis on transfer pricing and to work as a part of the group finance team. Peppi has continued her studies in Fibre and Polymer Engineering and is now writing her thesis/diploma to Teknos.
All of them say that the job profiles were matched to their interests and skills.
"I really liked the fact that at Teknos people come before tasks – your job profile is tailored to your interest and skills and you have the opportunity to influence it", Annika says.
Reasons to stay within the company were various.
"Teknos is a good mixture of a company that is not too small or too big. It's a global company, but the family-like atmosphere shines through. Also, I find it interesting that the company serves both B2B and B2C clients, so I can learn something from both fields", Tram says.
Peppi adds that she likes the way the company looks into the future.
"The company invests in research and development, work environment and people. This is something which I value highly, alongside with the opportunities to develop career wise; the tasks are diverse and there are opportunities for people both in the beginning of their careers for highly skilled professionals or something between.
Finally, Annika and Maiju provide some hints for students or graduates interested in applying for the program:
"Be yourself and be honest what kind of tasks you would be really interested in, as the company will also consider your interests and skills and may tailor the trainee position to them. Also, remember to clarify why you would like to join the company".
In addition to the Global Group Level Trainee Program Teknos offers other Trainee and internship positions in its operating countries such as Denmark and Germany. Keep an eye on our LinkedIn site for all our job opportunities or visit the local Teknos website.