Peppi's, Tuulia's and Tuulikki's summer at Teknos
"Our summer at Teknos has been inspiring and motivating. It has included a great variety of different tasks from planning and conceptualization to highly concrete and practical execution. Our trainee periods lasted from 3 to 4 months". Peppi worked in Powder Coatings R&D, Tuulia in group QEHS and Tuulikki in Teknos Finland Marketing.
In this blog post, we will discuss what we have done during our summer and how our backgrounds have supported to success in the work we have been doing. Furthermore, we give our tips for anyone thinking of applying to the Teknos trainee program.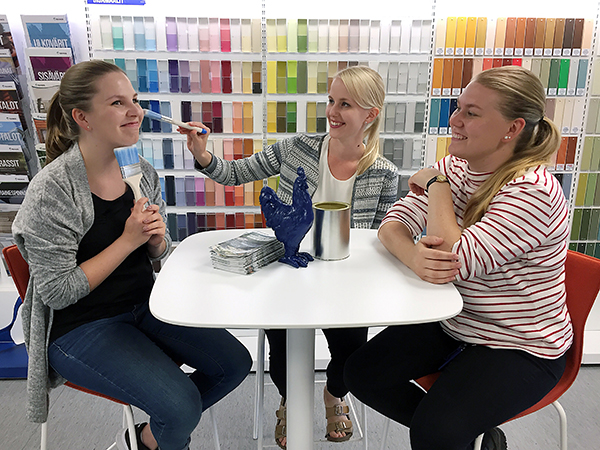 Left to right: Tuulia, Tuulikki, Peppi
Our projects during the summer
"During my trainee period I have done many different and interesting projects including testing mechanical, wear and chemical resistance for our basic powder products, and doing experiments on how different fillers and extenders used affect our products' surface energy, adhesion, fluidization and powder properties. Among these tests, I have made some supporting literature researches.", Peppi Vilén, R&D Trainee.
"I started my summer with studying requirements engineering by reading a lot of academic texts, books and international standards. Requirements engineering means the process of collecting, developing, and analysing needs and requirements for some specific project. Based on the literature I created a framework of requirements engineering at Teknos that could be utilized in all future projects. The main project of my trainee period is to create an extensive requirements document for a new QEHS software that could be given to the software developers to help explain what Teknos wants. So, during the summer I interviewed over 30 people and collected their needs, analysed them and generated a list of requirements as a result.", Tuulia Kailajärvi, QEHS Trainee.
"During the summer I completed a wide range of tasks and projects around the themes of b2c and b2b marketing, consumer behaviour and colour design. My strong educational background in business combined with current studies in design was very practical for developing idea and concept proposals of colour, interior and exterior design. I found it especially interesting to take a deeper look into the Finnish market and consumer behaviour on it. During the three months' time, I had three different market study projects, but also separate tasks ranging from social media communication to content creation and even some graphic designer work. In other words, I sometimes had the chance to be a "one-stop-shop" in marketing, which I like.", Tuulikki Peltonen, Marketing Trainee.
Deepening our knowledge through work
"This summer has been a nice peek into real laboratory and research work. I feel I have obtained very good basic knowledge for working in a laboratory and reporting results from my studies, and the summer has given me valuable routine for different test methods and sample preparations and lots of confidence for working independently. I had worked before with colourants and it was great to get to know a new area from paint industry. Powder coating as a technique was totally new for me, but chemistry was familiar, and it has been super interesting to deepen the knowledge from my studies and previous summer works. I have been given many meaningful and interesting projects, which has given me a good perspective to powder coatings and working at Teknos.", Peppi tells.
"Information system professionals can work in very versatile positions and it has been a bit uncluear for me what the daily work could really be. This trainee period has absolutely deepened my understanding on different career options and made it certain, that I'm on the right field. It has also been rewarding to see the theories that I've learned in the university in practise in a real-life business setting.", Tuulia shares.
"I have been pleased to learn more about paints and coatings, both the actual products as well as the service design elements of the market. During the summer, my interest in interior and exterior surface, material and colour design deepened even more. I was happy to notice that my educational combo is very good. I have a good basis to think challenges and opportunities from a business analytical perspective, but more and more also in very practical terms – how a certain solution would bring beautiful visual and functional qualities for the user. In general, the summer at Teknos also gave me more insights on doing international business.", Tuulikki comments.
Our advice for future applicants
"I want to say that bring out your interests and your strengths in your application and think what you have to offer for Teknos. The trainee positions are not fixed, and projects will be adjusted towards your interests if you are the person they are looking for. It is a great feeling to work for a growing company which invests in its future.", Peppi advices.
"I would say to anybody who considers applying for Teknos: go for it! The general atmosphere at Teknos is open and family-like and all employees are appreciated. Being yourself and bringing out your skills in the application process will get you far.", Tuulia encourages.
"Before applying, think what motivates you and what you would like to achieve with your dream job. Be bold to tell others about your motivation – it will usually help you forward. And challenge yourself to build up the skills set you need to be a top professional in the path you choose. By thinking big enough and taking concrete actions you might land your dream job or at least closer to it.", Tuulikki says.
Want to discover more about work-life at Teknos? Take a sneak peek inside the company on Instagram @teknoscareers!
-Tuulia, Tuulikki & Peppi