Say hello to our 2021 Trainees
A total of nine new Teknos trainees started between March-June in our fourth official Teknos Trainee Program. This year hundreds of young adults applied for the traineeship. The Global Trainee Program is targeted towards recent graduates and master's students to provide them with an opportunity to experience working in the chemical industry at Teknos.

The paid traineeship lasts for approximately 4-6 months during which our trainees will have the opportunity to work in various projects in different business units such as HR, Procurement, ICT, Customer Experience Management (CEM) and more.
Find out more about our trainees below and follow along on their summer at our LinkedIn and Instagram accounts.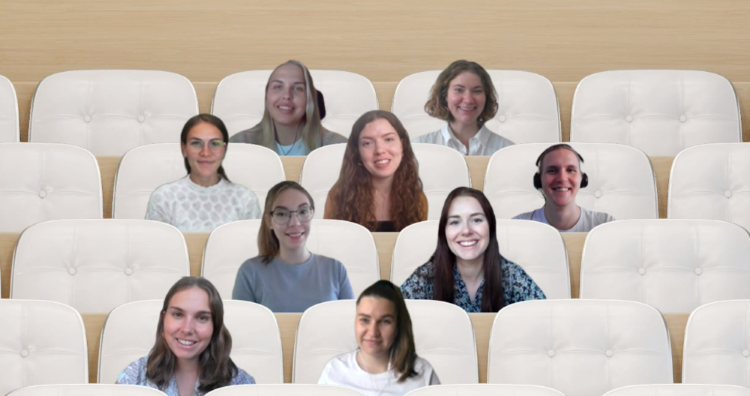 Sofia (upper left), Taika, Emma, Petra, Simo, Saga, Daniella, Sara and Tanja.
Sofia Kousa, Group Marketing and Communications Trainee
"I'm currently completing two master's degrees: one majoring in marketing and another majoring in software engineering. This summer I am working in the Group Marketing and Communications team. My main projects revolve around social media and digital customer experience. I am very happy to have started at Teknos and I am excited for the challenges and learning opportunities that the summer will bring!"

Taika Sipponen, CEM Trainee
"I'm studying at LUT University and currently completing my master's degree in economics and business administration and bachelor's degree in environmental technology. I joined the CEM organization and I'm part of the service development program. This traineeship is a great opportunity for me, and I am excited to combine my knowledge of both business and technology in practice. I'm looking forward to new challenges and working with amazing professionals."

Tanja Honkala, CEM Trainee
"I'm currently doing my Master's studies at Aalto University School of Engineering with a major in International Design Business Management. In addition, I have also some previous background from energy- and environmental technology. This summer I will be working with two different service development projects focusing on sustainability, and I'm very much looking forward to all the challenges and learnings these projects will bring. I'm sure we have a great summer ahead!"

Sara Kähkönen, Procurement Trainee
"Hi, I am proud and excited to join Teknos-family as a procurement trainee. I am currently doing my master's degree in Turku School of Economics and majoring in supply chain management. I appreciate the opportunity to start my trainee program in a family company with ambitious growth plan and genuine focus on sustainability development. I am looking forward to deepening my knowledge in strategic procurement. Also, I will get to practise my project management skills since I will be working with my own projects. I am happy to spend my summer at Teknos."

Simo Määränen, Group Product Management Trainee
"Hello! A happy new Teknos family member here. I am studying industrial engineering and management in LUT University, and I just finished my bachelor's studies and am starting my master's program of global management of innovation and technology in the fall. My position in Teknos is called product management trainee and I'm working on group level, which means in a very international environment. Product management can be a very broad title, but the main projects that I will be focusing on are process development and project coordination. I feel enthusiastic about the upcoming summer and am ready to challenge myself and collect new experiences."

Saga Korkeaniemi, Digital Services Trainee
"Hi! I am a Master's student from LUT University currently studying business analytics and supply management. This summer I'm joining the Digital Services team as a trainee. I am looking forward taking on all the challenges Teknos has to offer. I am especially excited about combining my interests in both business and IT and believe that this position will truly test my knowledge and teach me a lot. Most of all I'm excited to work with different people in this inspiring environment."

Emma Tuominen, Teknos Oy HR Trainee
"Hello there! I have joined the Teknos family as an HR Trainee for the Finland's organization. I could not be more excited to be a part of a family company with great organizational culture as well as ambitious goals! I'm a Business Administration student with concentrations in HR and Marketing at Indiana Institute of Technology in the United States. I have just finished my bachelor's degree and I will be starting my master's in the fall. My tasks here at Teknos are mainly related to recruiting and employee well-being. So far, my journey has already been a huge learning experience and I'm looking forward to all the new challenges that will allow me to develop myself and take my skills to the next level!"

Petra Eskelinen, Operations Trainee
"Hi! I am currently a master's student from LUT University studying Business Analytics and I have previously graduated from the University of Kent in UK with a bachelor's degree in International Business. My main project will be developing the reporting and analysis of Teknos Group Operations utilizing a new business intelligence tool. I am excited for the challenge, meeting new people, and I am looking forward to utilizing skills from both of my degrees in practice this summer."

Daniella Haaga, Group HR Trainee
"Hi all! I am a master's student from Turku School of Economics majoring in Management and Organisation, minoring in HR and IT. I am excited to be working as the Group HR Trainee for the next 6 months together with the other above-mentioned trainees. I have already had the chance to work amongst a diverse range of interesting tasks and am looking forward to the following opportunities to grow and develop. During the trainee program, I hope to learn a lot and meet new, amazing people. I am truly looking forward to the new experiences!"