Introducing the teknos trainees for 2019
Five fresh Teknos faces started with us as global trainees during May-June when the third Teknos Trainee Program was launched. More than 300 students or recently graduated young adults applied for the traineeship this year. The Program is targeted at university and polytechnic students and aims to give trainees a first sight into working at Teknos and in the chemical industry.
The paid traineeship lasts for 4–6 months during which our trainees have the opportunity to work with various interesting tasks and projects in different functions including e.g. QEHS, R&D, HR and Business Intelligence. Also, Teknos offers some local traineeship opportunities in different countries alongside with the global trainee program.
"The best feedback we received from last year's trainees was that they felt that they could actually use their study knowledge in the course of their work. This also is the expectation of this year's trainees – that they can really put something they learned at school into practice. We hope that we can support them to really grow their expertise during this summer", says Arttu Lindroos, Group HR Manager.
The trainee program is, of course, not just a great opportunity for the new employees.
"Trainees and all of our summer workers are all a very valuable asset to the company. They come with fresh ideas that help us to develop our processes and procedures. It is always a great mutual learning experience for both the new employees and the organization", Arttu points out.
Read more about the trainees below and follow our Instagram and LinkedIn accounts to see how our employees summer looks like at Teknos.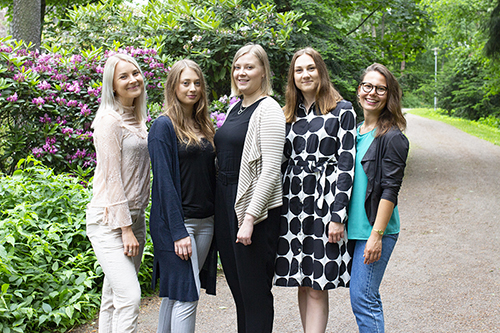 Noora (left), Heidi, Katja, Mari and Sanna are excited to start their Teknos career this summer.
Mari Jylhä, HR trainee
"My name is Mari and I am happy to start as an HR trainee at Teknos. I recently graduated from Jyväskylä University School of Business and Economics, Leadership and Management as my major. I am really interested in the versatile issues of human resources and excited to work with local and group level HR issues at Teknos. My passion in the HR field are especially job satisfaction and work wellbeing, but this trainee role offers a great chance to get a wide picture about the whole field. At Teknos I am expecting to work with professionals from different functions with shared values. I feel inspired about the mission that together we can make the world last longer. The position offers both new challenges and needed support to learn new things and to grow as an HR professional. It is an honor to join to the Teknos family!"
Heidi Saarikko, Procurement trainee
"I am a double degree student majoring in chemical and process engineering at Master's level and Strategic Management at Bachelor's level at Aalto University School of Chemical Engineering and School of Business. This summer I will work as a Procurement Trainee, and I am excited to be able to combine my two degrees and knowledge from previous positions in this role. I am looking forward to having challenging tasks through which I can further develop myself in becoming a Supply Chain Manamagent professional. I cannot wait for the summer and to join Teknos family!"
Katja Holopainen, QEHS trainee
"I am a Master student form University of Oulu where I am studying environmental engineering and majoring in bioprocess engineering. This summer I will be working as QEHS trainee with a Factory Hygiene project. I am excited that I was chosen for the Teknos trainee program as it is a great opportunity to enhance my skills and knowledge within this field. I am very excited to step into this international and colourful environment of Teknos and I am looking forward for this summer and the experiences it will bring."
Sanna Korhonen, R&D trainee
"Hi! I'm studying an engineering degree in formulation chemistry in Lyon, France. Before starting my studies abroad, I completed a bachelor's degree in chemistry at the University of Helsinki. This summer I will be working in the R&D team and I hope my experience abroad will help me integrate in the Teknos team. I am looking forward to testing the knowledge I've gathered in school in practice and learning a lot of new things during the trainee program. I'm very excited to see what kind of challenges this summer will bring!"
Noora Kuisma, Business Intelligence trainee
"I am currently studying my Master's degree at Aalto University School of Business with a major in Information and Service Management. This summer I will be working as a Business Intelligence trainee at Teknos and I am very excited to take on the challenges of the program. I believe this trainee position is a great opportunity for me to test my knowledge in practice, gain relevant experience in working as a part of an international company and most importantly, meet amazing new people. I am proud to be able to start my success story here, and look forward to the summer!"