Introducing THE Teknos Trainees 2018
The Teknos Trainee Program 2018 targeted at university and polytechnic student this year was a great success. Over 600 students around the world showed their interest towards Teknos, which is 10-folded from the first year. From them six future talents were chosen and they all joined Teknos in May.
The paid traineeship lasts for 4–6 months during which the students have the opportunity to work with various interesting tasks and projects in different functions including e.g. finance, R&D, HR and marketing. The Trainee Program aims to give a good understanding of Teknos global business and to serve as a catalyst for the trainees' future careers.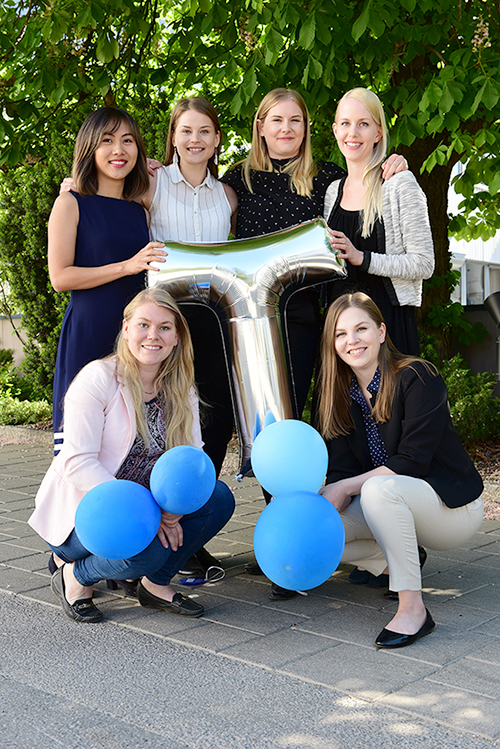 Tram (up left), Annika, Maiju, Tuulikki, Peppi and Tuulia are ready for the challenges and opportunities the Trainee Program offers.
Here are the Teknos trainees and future talents for year 2018:
Tram Nguyen
"I'm a Master's student majoring in Supply Chain Management and Social Responsibility at Hanken School of Economics. Sustainability is a topic close to my heart, and thus it was a natural choice for me to join Teknos as a Corporate Social Responsibility (CSR) Trainee. This summer I'll join the Group Marketing and Communications team to develop a CSR e-learning program. I'm hoping that through this trainee program I'll get opportunities and tools to help me become a professional in CSR. I'm proud to be part of Teknos to work towards a common goal of greater sustainability and looking forward to a summer full of learning".
Annika Jokinen
"The beginning of my story travels from concrete jungle to the heart of Finland. But now it's time to turn a new page. I'm finishing my Master's degree at the Jyväskylä University School of Business and Economics. My major is Leadership and Management and I have a passion for HR which will also be my work field in Teknos. I'm looking forward to the diverse range of interesting assignments and the international environment, which the Teknos Trainee Program offers. During the summer I'm expecting to learn a lot, face challenges and most importantly experience success. I'm more than happy to start a new chapter of my life and join team Teknos!"
Maiju Mansikkamäki
"I am a 23-years-old student of Business Administration at the Turku School of Economics, where I am currently pursuing a Master's degree. As a Finance trainee I expect to be involved in many interesting projects and to get challenged in the diverse tasks in the context of an international company. For me, the Teknos trainee program is a great opportunity to gain insights into the finance function. I am very much looking forward to the summer!"
Tuulikki Peltonen
"I am a business graduate and designer student from Aalto University and very excited to enter the world of colors at Teknos. I will be working in marketing and look very much forward to further develop my skills in projects combining marketing and service design. Teknos was a natural choice for me, since my professional goal is to combine business and design knowledge. I am working very closely with colors, visual perceptions and production requirements in my designer studies. Hence, I find it extremely intriguing when a well-designed product gives us a visually appealing, sustainable and timeless solution".
Peppi Vilén
"I am a 23-year-old Master's degree student from Aalto University studying Fiber and Polymer Engineering. I major in Polymer Engineering and this summer I will be working in the R&D team. The Teknos trainee program is a great opportunity for me to gain experience of working in an international company and I trust it will increase my knowledge as a researcher tremendously. I am looking forward to all the new experiences and challenges which I will come across this summer!".
Tuulia Kailajärvi
"I am a master student in information systems at the Turku School of Economics. During my studies I have worked in variety of different projects. This summer, as Teknos QEHS Trainee, I will join a company-wide project team. The goal for the summer is to determine requirements for a new QEHS information system and create a detailed report of the project. I hope to learn a lot, face challenges, and find ways to overcome them. I am truly excited of the opportunity to join this team and work in an international environment which the Teknos Trainee Program offers."