A sum up of Teknos trainee experience
Summer is supposed to be the time to relax and have some fun after a hectic school year, but it can also be the perfect time for us students to gain work experience and explore career possibilities. Or even better if you can combine both. Meaningful work and blissful time. That's how we, summer trainees, feel at Teknos. We listed three reasons why we think our trainee period has been a success.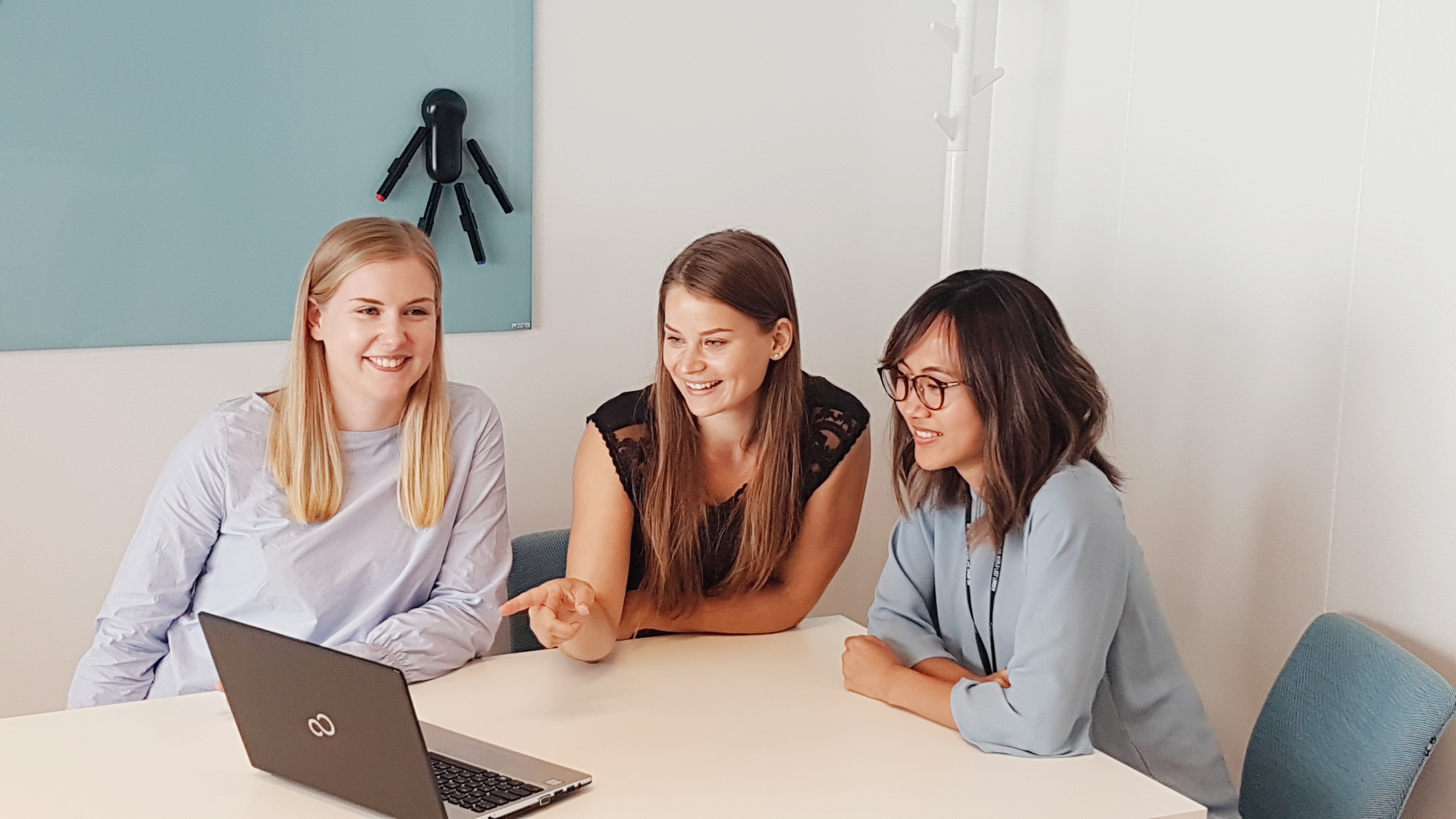 Image (left to right): Maiju, Annika, and Tram
1) The starting point: our expectations and interests were considered
"Long story short: I got what I wished for. In the beginning of the traineeship I was hoping for a learning experience surrounded by international people and interesting work tasks", Annika Jokinen, HR Trainee.
"Students or fresh graduates are hungry to learn and develop skills that help us build our career. At Teknos I am given meaningful projects and tasks that support my career interest and professional development.", Tram Nguyen, CSR Trainee.
"When I started working at Teknos, I had high expectations towards the following four months and my trainee period, even though I was not sure what my exact tasks would be before I started here. Later I have found out that the projects were chosen based on the company needs but my interests were considered as well, which is much more than I ever expected. Indeed, my tasks have been interesting and I have learned a lot", Maiju Mansikkamäki, Finance Trainee.
2) Valuable learning experience
Jumping to an unfamiliar business field, coatings and chemicals, required learning. Annika and Maiju highlight that in order to do well in their own work, the knowledge about the business field is essential.
"As many of my tasks are related to reporting and control, understanding the processes behind the numbers is important", Maiju emphasizes.
New skills and knowledge, ranging from working in an international environment to understanding of global business operations such as acquisitions and strategy implementation, have been valuable gains.
"My traineeship has been a true learning experience – literally. One of my projects this summer was to develop e-learning in Teknos. I got a proper training for the e-learning tools and introduction to the pedagogical side. Most importantly, I got supporting people around me providing help whenever I needed. One thing I learned is that in the end, e-learning courses are teamwork between people from different functions", Annika explains.
"Teknos has recently renewed its strategy with an ambition to grow into a 1 billion EUR company by 2025. The company is going through major improvements. So now it's a very interesting time to join Teknos. I have seen the process of transforming the marketing and communications functions, which I am part of, on a global scale. Efficiency is the main target of this change, but more than this is to offer the possibility for our people to grow into specialization paths that they are most interested in. This is quite a unique experience for me. It's not often that I can be in a situation to witness such a process", Tram shares.
"During the last months I have been involved in the group-wide reporting and control. Teknos operates worldwide and the international aspect is present in the day-to-day work, which is something I also hoped for beforehand. The operating environment, including the recent acquisitions, growth and processes related to them, have given me great learning experiences. This summer I have, for example, been involved in development projects with Qlik and carried out surveys", Maiju adds.
3) Teknos working environment is supportive, friendly and international
"For young professionals, we certainly do not have all the skills and competences needed for the job. That's why on-the-job training and support are something I really appreciate at Teknos. Positive feedback when I do a good job, but also constructive one and guidance from my superiors and colleagues help me learn tremendously", Tram says.
"Teknos is a rare combination of ambitious growth and friendly atmosphere of family-owned company, which makes it a great place to work", Maiju highlights.
"Furthermore, I've enjoyed that the normal day at work, if there even is one, includes exchanging emails and Skype calls with people from different countries with wide range of different work responsibilities. It's been interesting to get to know the ways of working in different countries and learn about different functions and fields and what normal work days of people in those fields consists. After all, that's what my work is also based on in Group HR", Annika comments
"To top it off, I value the relatively low-hierarchy culture and blissful atmosphere here at Teknos considering its size of a global company. We have ambitious targets and work hard to achieve, but also have moments to enjoy some good laugh with the managers and colleagues", Tram adds.
Take a sneak peek into some of our good moments on Instagram @teknoscareers! And don't forget to read the thoughts of the other half of us trainees in the end of the traineeship in the next month.
- Annika, Maiju and Tram

Responsible Summer JobS 2018
Teknos is part of A Responsible Summer Job 2018 campaign in Finland, committed to offering more summer jobs of better quality to young people. The campaign is organized by T-Media and Taloudellinen tiedotustoimisto TAT.