More efficient painting process
Väderstad-Verken is one of Europe's leading producers of machines and tools for drilling and soil cultivation. The company is growing fast.
Väderstad-Verken machines are so popular today that quotas have had to be introduced. Exports are increasing fastest, explained by the efficiency and durability of Väderstad's machines and growing demand for foodstuffs. These factors make the machines particularly attractive, given the everincreasing pressure to increase agricultural production efficiency.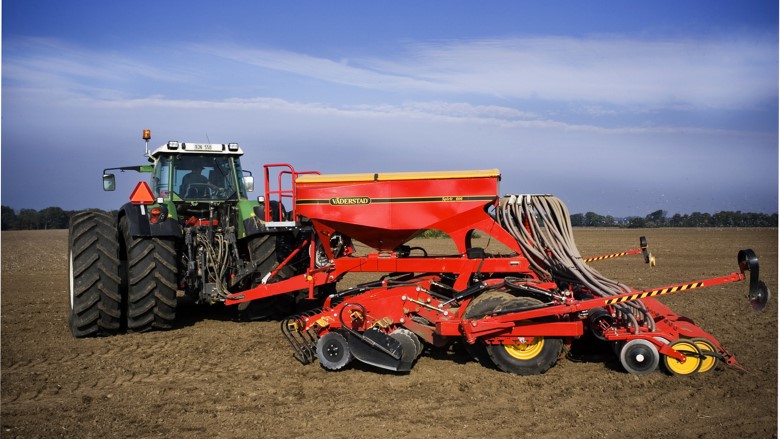 New paint system
Väderstad is investing heavily in R&D and boosting quality. The same goes for surface treatment, where they switched from oxirane to polyurethane in 2007. The result was a qualitative improvement, particularly in terms of colour and gloss durability, this has proved especially welcome to their growing customer base in southern countries, where more hours of sunshine puts a higher strain on tone and gloss.
Today, an one-layer polyurethane is used, painted directly on blasted steel. The product in question is TEKNODUR COMBI 3430- 30, painted in a dry layer of ca 120 µm. The gloss is 75 and two tones are used, red and yellow.
In the painting process, both quality and production capacity have increased.
Pre-treatment process
All items are blasted in a shot blasting machine on the line, and later blown clean in a new box with four robots programmed to carefully remove all remaining blasting sand. The shot blasting machine was reconstructed in summer 2008 to make the pre-treatment process still more efficient. Blasting time has been reduced while the result has improved.
The blow cleaning robots, which are completely new, were installed to improve the efficiency of the process. Previously, blow cleaning of the painting robot had been performed in a separate program, partially manually. Now blow cleaning is more efficient and less time-consuming.
Painting and drying
Painting is now done in two boxes with one robot in each. These boxes also serve as sites for manual painting, if necessary. The painting involves many details, requiring about 120 different robot programmes.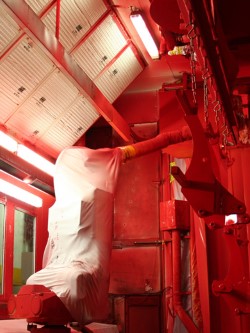 The paint comes in containers and is pumped into steel tanks with stirring and rotary pumping. Painting is performed with high pressure air-assisted electrostatic spraying. The equipment was supplied by Wagner and consists of an electronic 2-K Flexcontrol fed by six Leopards. The cycle time for blasting, painting, force drying and cooling has been reduced from 6.5 minutes to 4 minutes.
Drying begins with a 4-minute flash-off, followed by a 7-step x 4 min conventional oven drying, then a 3-step x 4 min cooling zone using external air. Both the oven and the cooling zone have been totally reconstructed and are designed to provide an optimal drying process that allows for items to move to assembly practically straight from the cooling zone.
With the new equipment, the time spent in the oven has been reduced from 32.5 minutes to 28 minutes, yet yielding a higher item temperature. The higher item temperature, followed by the new cooling zone, results in a significantly more durable paint layer in the assembly workshop, and the cooling zone time has been cut from 20 minutes to 12 minutes.
Overall improvement
The pressure on production at Väderstad demands continuous improvements. In the painting process, both quality and production capacity have increased. The circulation time for painting and drying has been cut by 40 per cent, and a more durable paint layer means easier assembly, with less damage and better overall quality as a result.
Ola Wiberg and Per Nilsson at Väderstad led the reconstruction of the paint shop, which was completed in a very short time.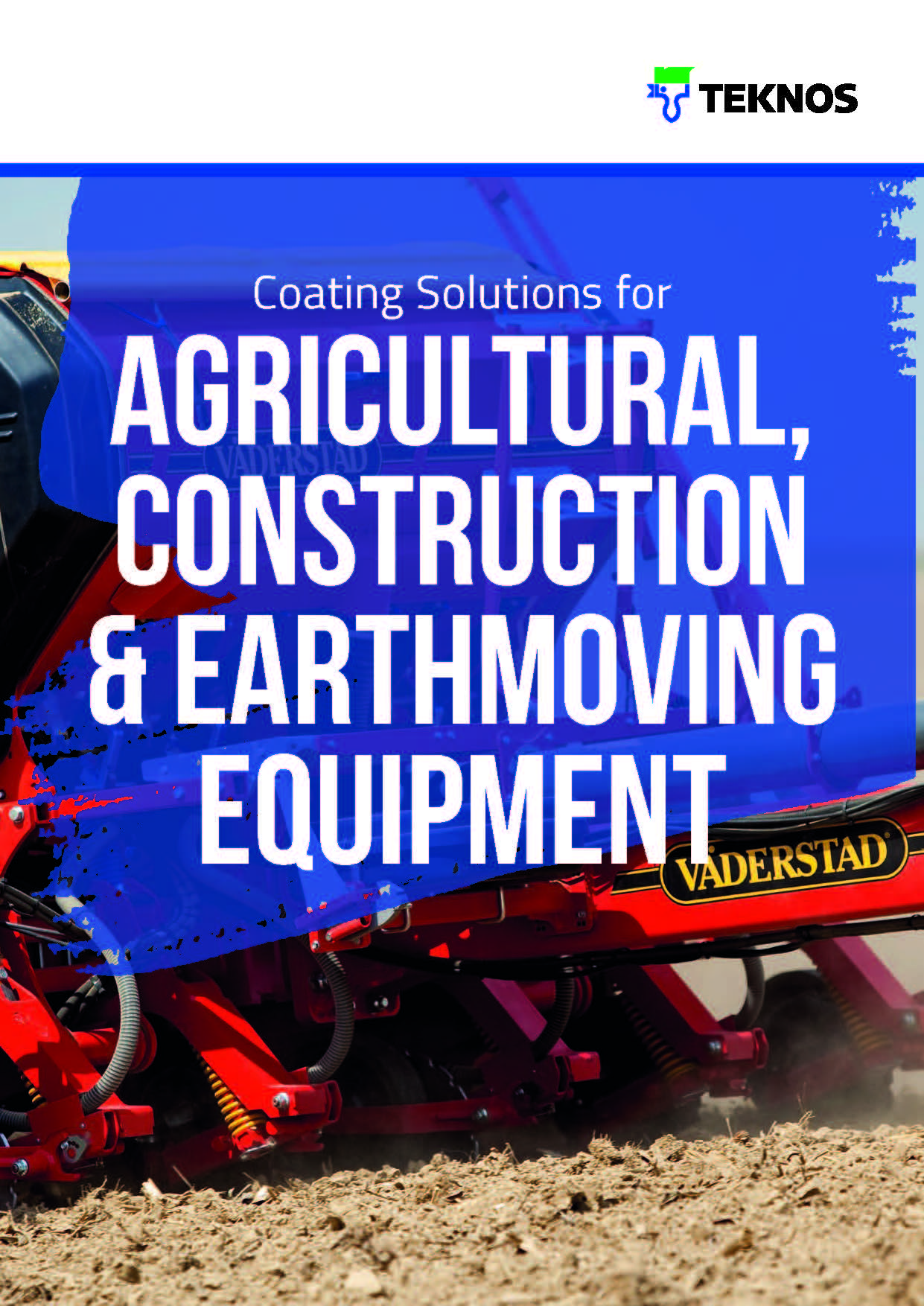 Beyond conventional
Teknos Solutions for Agricultural, Construction and Earthmoving Equipment