Architecturally stunning Central Library protected with Teknos surface treatment expertise
Completed in 2018, the architecturally stunning Central Library Oodi in Helsinki, Finland, combines functionality with ecological thinking. Of particular interest are the impressive timber structures of the facade which were coated in a customised fire-retardant coating system. Overall, Teknos provided an expert service in the design of the different surfaces to meet the architect's wishes, as well as a long-term maintenance plan.

Fire safe wooden architecture with customised surface treatment systems
A public wooden Helsinki Central Library Oodi is rare in its kind. Oodi was designed by ALA Architects, who won the open international architecture competition for the central library in 2013. Teknos' involvement in the central library project began in 2014, when Aalto University studied the suitability of products by different paint manufacturers for the various surfaces of the library.
The architectural firm picked Teknos as one of its partners. Teknos' design services offer customers a holistic service concept with commitment from the get go, and Helsinki Central Library Oodi is a prime example of this. Teknos' products have been used on every floor in Oodi. One of the most visible and impressive surfaces is the facade, which has been treated with a translucent coating system that protects the timber against fire. The timber accents are echoed inside the building on the ground floor ceiling.
Niklas Mahlberg, Head Designer of Oodi, explains: "The design had to take into consideration for example the fire safety, maintainability and appearance of the wood parts, as well as the origin of the wood material. For the cladding boards, key factors included the sawing angle, dimensions, surface treatment and humidity behaviour."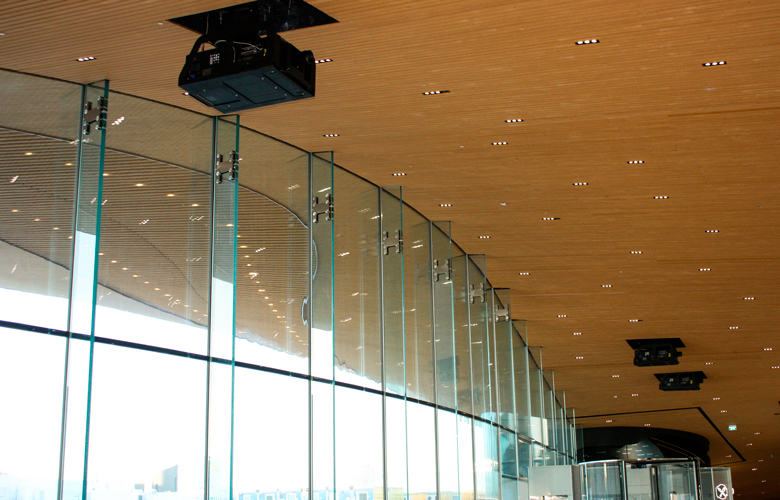 A long-term maintenance plan by Teknos specialists
"Teknos has been actively involved in the planning of Oodi's surface treatment in terms of testing and selection of products, documentation, and life cycle thinking," say Liisa Junninen and Petri Sirviö, technical specialists of the Designer Service. Because of Oodi's uniqueness and visibility, Teknos has focused on this site extensively.
The targeted, customised solutions have required a lot of research and testing under the leadership of Research Manager Jari Salminen. "We have participated in design workshops and on-site meetings along with regular visits to the architectural firm," Liisa and Petri add. "In addition to the surface treatment systems, we have offered a long-term maintenance plan for the surfaces treated with Teknos products."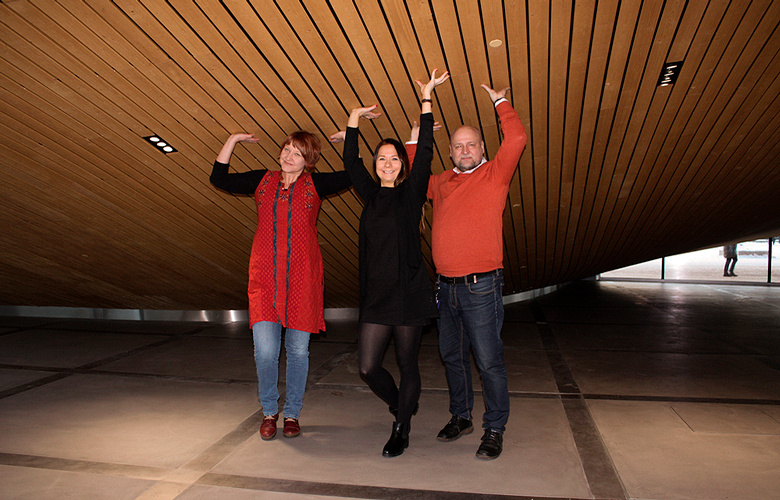 Admiring the fruits of hard work. Hanna Paavilainen (left) was involved in the test painting and the customised colours for Oodi; Liisa Junninen and Petri Sirviö functioned as technical specialists for the architects, the construction firm and fire consultants among others.

All in all, the parties and partners involved in the central library project have been happy with Teknos' solutions and services. Oodi is yet another great example of our unique technical service and collaboration as the whole Teknos.