Showroom ready with Teknos interior paints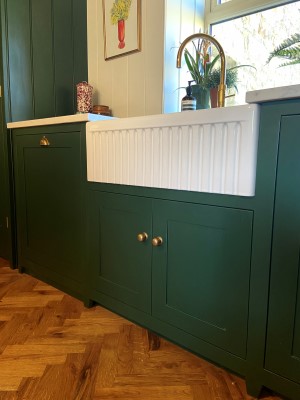 Browson Design & Build Ltd are a small, family-run business specialising in bespoke kitchens, wardrobes, and cabinets.
To enhance their offering to potential clients, they wanted to create a showroom to display examples of the worktops, hardware and paint finishes they offer.
Based on a working farm in the Yorkshire dales, the room needed to be completely transformed.
To do this, Browson Design & Build created an entire kitchen including a built-in larder unit, a variety of different styled cabinets. They even added a boiling water tap and ribbed sink.
To get the perfect finish on the cabinets and wood panelling, Browson Design & Build chose to use their preferred Teknos coating, TEKNOCOAT AQUA 2575.
''It's a great quality product with excellent coverage. Teknos is well known on the market and is a leading UK paint supplier. It's important for us to use top rated and high-quality suppliers therefore Teknos really does fit the bill!''
- Claire, Browson Design & Build Ltd
If you'd like to learn more about Browson Design & Build, you can visit their website here