RENSA ROOF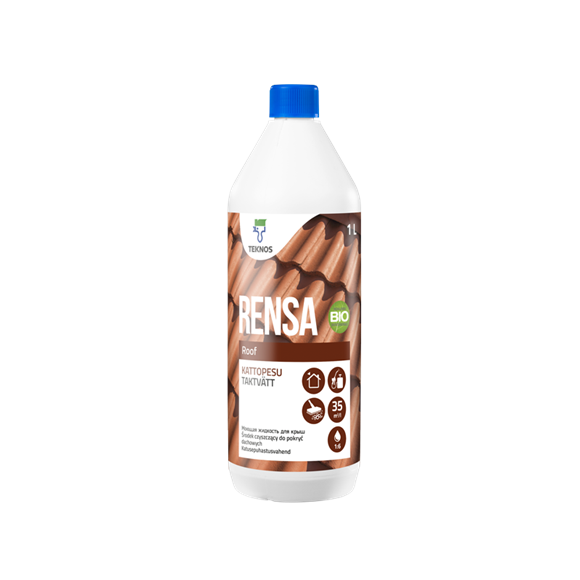 Wood-discoloring fungi resistant (Mold, Blue Stain)
RENSA ROOF is an efficient detergent for washing of tile roofs and previously painted very dirty sheet-iron roofs.
RENSA ROOF is a pretreatment agent for maintenance painting. It is primarily meant for washing old tile roofs before painting with KIRJO TILE paint for tile roofs. It removes very efficiently both dirt and algae as well as lichen growth. RENSA ROOF is also suitable for washing of painted very dirty sheet-iron roofs before maintenance painting. RENSA ROOF is a biodegradable product. It meets the requirements by OECD and by the Detergent regulation of European Parliament and the Council on detergents for biodegradability of all used raw material (OECD 301B, EC 648 / 2004).
Technical data sheet
Safety data sheet
Application
Remove loose dirt, moss and growth from the roof by brushing and/or using a pressure washer. Wet the tile surface with water before applying the detergent. This prevents the detergent from absorbing too much and drying too fast. Apply the detergent to the surface to be cleaned by using e.g. a brush or low-pressure spray (so-called garden spray). Let it act for abt. 20 minutes. Enhance the cleaning effect by brushing strongly. NB! The detergent must not dry on the surface to be cleaned - wet the surface again with the washing fluid, if needed. Rinse the surface thoroughly with a plenty of clean water by using a pressure washer.
| | |
| --- | --- |
| pH | 10 |
| Dilution | For washing of and pre-treating surface to be painted: 1 : 6 (1 litre of detergent to 6 litres of water). For very dirty surfaces: 1 : 3 |
| Thinner | Water. |
| Packages | 1 L, 5 L |
| Safety markings | See Safety Data Sheet. |
| Approvals & certificates | OECD 301B, EC 648 / 2004 |