WOODEX BASE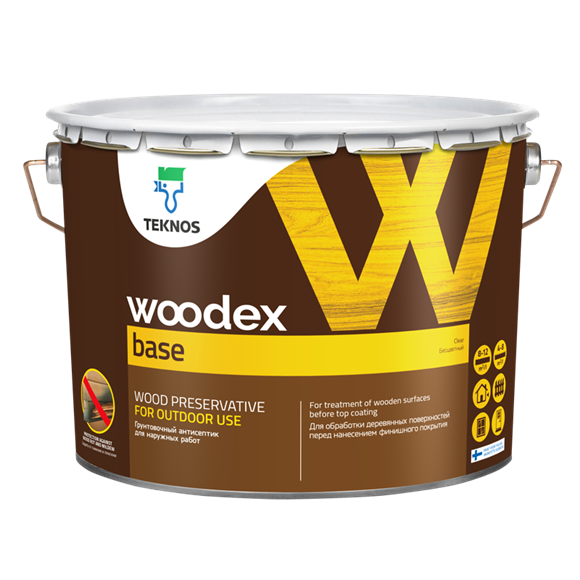 Wood-destroying fungi resistant (Rot)
Wood-discoloring fungi resistant (Mold, Blue Stain)
Solvent-borne
Wood preservative
Solvent-borne priming oil for treatment of wooden surfaces outdoors before top coating is applied. Containts agents that give the wood effective protection against blue stain fungi, mildew and wood rot.
Priming on planked and log surfaces, porches, jetties, garden furniture and similar untreated wooden surfaces. Surfaces primed with WOODEX BASE should be top coated as soon as possible. Suitable top coatings are Teknos´ water- and solvent-borne wood stains, primers, facade paints and furniture paints for wooden surfaces outdoors.
WOODEX BASE is absorbed well into all kinds of wooden surfaces and it is also suitable for oily wood sorts such as oak, teak, mahogany, so-called hardwood etc.
Other product specific documents
Application
Apply WOODEX BASE to a clean and dry surface with a soft brush, by spraying or by dipping. Treat end grain and other porous areas several times.
Application conditions
The surface to be treated must be dry. The moisture of the wood must be below 20 % of the dry weight of the wood. During the application and drying period the temperature of the ambient air, the surface and the priming oil shall be above +5 °C and the relative air humidity below 80 %.
| | |
| --- | --- |
| Solids | abt. 6 % by volume |
| Volatile organic compound (VOC) | The product is not included in the EU VOC directive |
| Density | abt. 0.8 g/ml |
| Clean up | TEKNOSOLV 1621 (solvent naphtha) |
| Safety markings | See Material Safety Data Sheet. |
| Approvals & certificates | Biocidal Products Directive 98/8/EC |