Teknos solutions for garden furniture
Whether pine or eucalyptus, premium or standard, opaque or natural - requirements in the surface treatment of garden furniture are diverse. Teknos also has the right solutions for this segment in its product range.
Terraces and garden are a popular place to relax and rest. It's no wonder that the demand for outdoor furniture is continuing worldwide. Material combinations and composite materials have gained considerable momentum, but wood still plays an important role in this segment. In Northern Europe, domestic softwoods are particularly in demand for outdoor furniture. Hardwoods dominate the rest of Europe and in Asia, primarily varieties such as eucalyptus or acacia.
Demanding requirements
The garden furniture market is fiercely competitive. It is key for manufacturers to produce market-driven quality in efficient processes. Requirements on coatings are demanding here. Today, look and feel play a considerably bigger role in garden furniture than ever. That's why surfaces on a wider range of wood qualities also need to be perfect, smooth and as durable as possible. In addition to this, garden furniture has a high proportion of horizontal surfaces, which are even more exposed to weathering than the wooden surfaces of protected construction elements, for instance. Standing water and UV exposure require a reliable coating to achieve the durability needed.
Fast, cost-effective processes are required in the processing. That means for the coating: Short runs with the fastest drying possible and minimum sanding needs. The processing properties of the coating solution have considerable influence on the competitiveness of the end product.
Teknos offers industrial manufacturers in this segment a wide product range of suitable coating solutions, covering all of the typical requirements. Market conform, practice-tested impregnations, multi-purpose and special primers, fillers, opaque and translucent topcoats for a variety of substrates, surface requirements and processes are available. The most important system recommendations for typical requirements are listed below.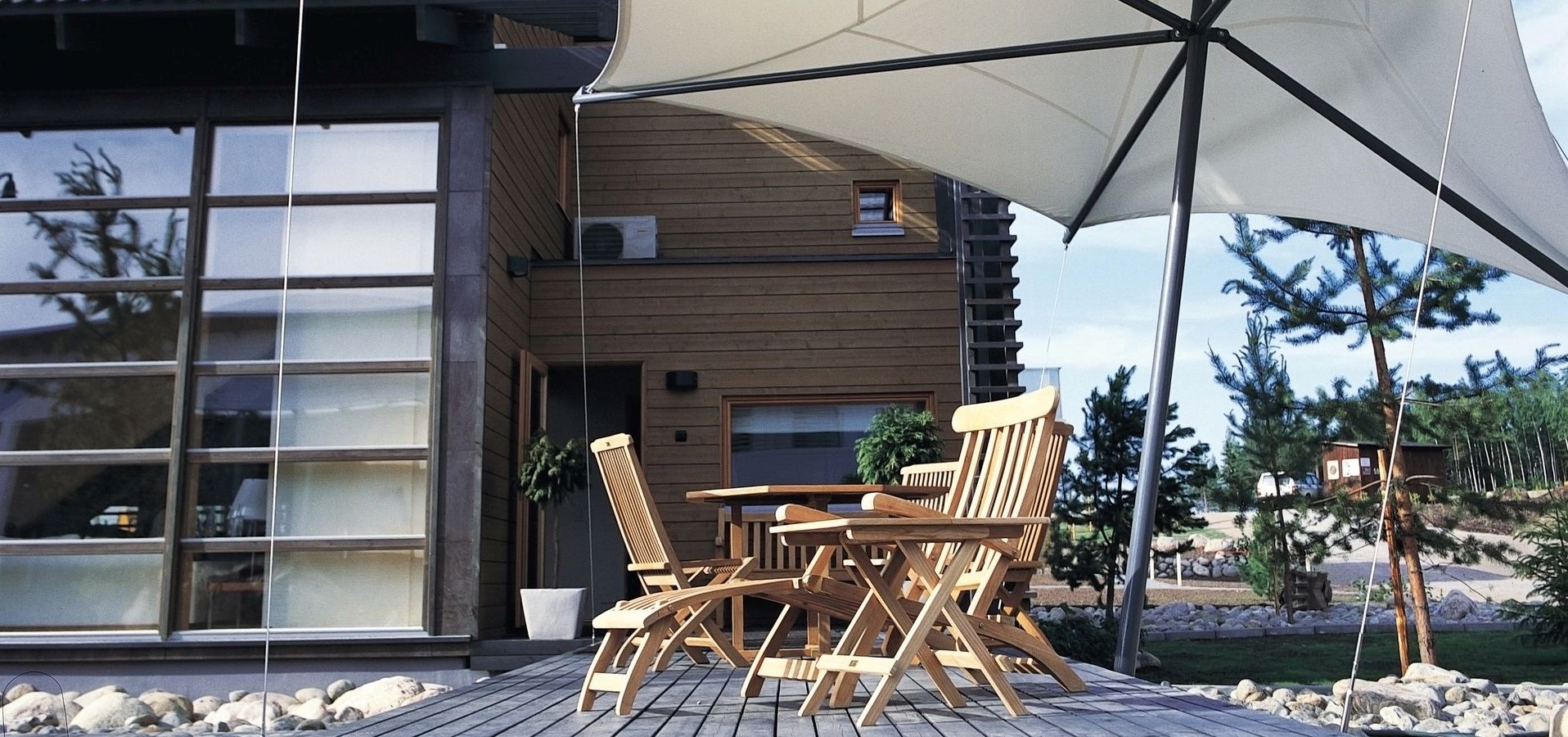 Opaque coating of softwoods
Garden furniture made of pine or other softwoods are primarily produced for the Central and Northern European market. Typical coating is opaque white. This results in two important requirements: Non-durable softwood must be protected from blue stain and wood-destroying fungi, and discolouration from knots and water-soluble wood substances should be prevented. Teknos recommends for this application a four-coat system with impregnation, special primer, primer and topcoat:
Impregnation with TEKNOL AQUA 1410-01. This colourless, water-borne impregnation protects exterior wood effectively from blue stain and wood-destroying fungi. The effectiveness is tested in accordance with EN113/EN152. The product is not pigmented, which means the fungicides penetrate deeply into the wood. The impregnation is suitable for flowcoat and dipping. It dries quickly and enables even egalisation of the colour variation of the wooden substrate.


Priming with ANTISTAIN AQUA 5300-00. The water-borne 2K special primer reliably blocks substances and levels out uneven grain appearences in the wood. It prevents discolouration in softwoods, which is caused by knots and a reaction of the paint to water-soluble substances. The product is free of isocyanates and has a very good pot life for the problem-free flowcoat primer.


Intermediate treatment with TEKNOPRIMER 2949-21. Intermediate treatment with this water-borne flowcoat primer is primarily used to increase the resistance of exposed horizontal surfaces. The primer has excellent filling properties and as a composition with the topcoat achieves a compact, flexible protective layer, which resists physical stresses very well and keeps the existing the film protection from blue stain intact, even for larger surfaces too.


Topcoat TEKNOTOP 2980-00. The water-borne opaque topcoat achieves a high-quality, smooth surface with natural structure. When used as a system with intermediate treatment a flexible layer of paint is formed. This helps to reduce the impairment of the coating from physical stresses.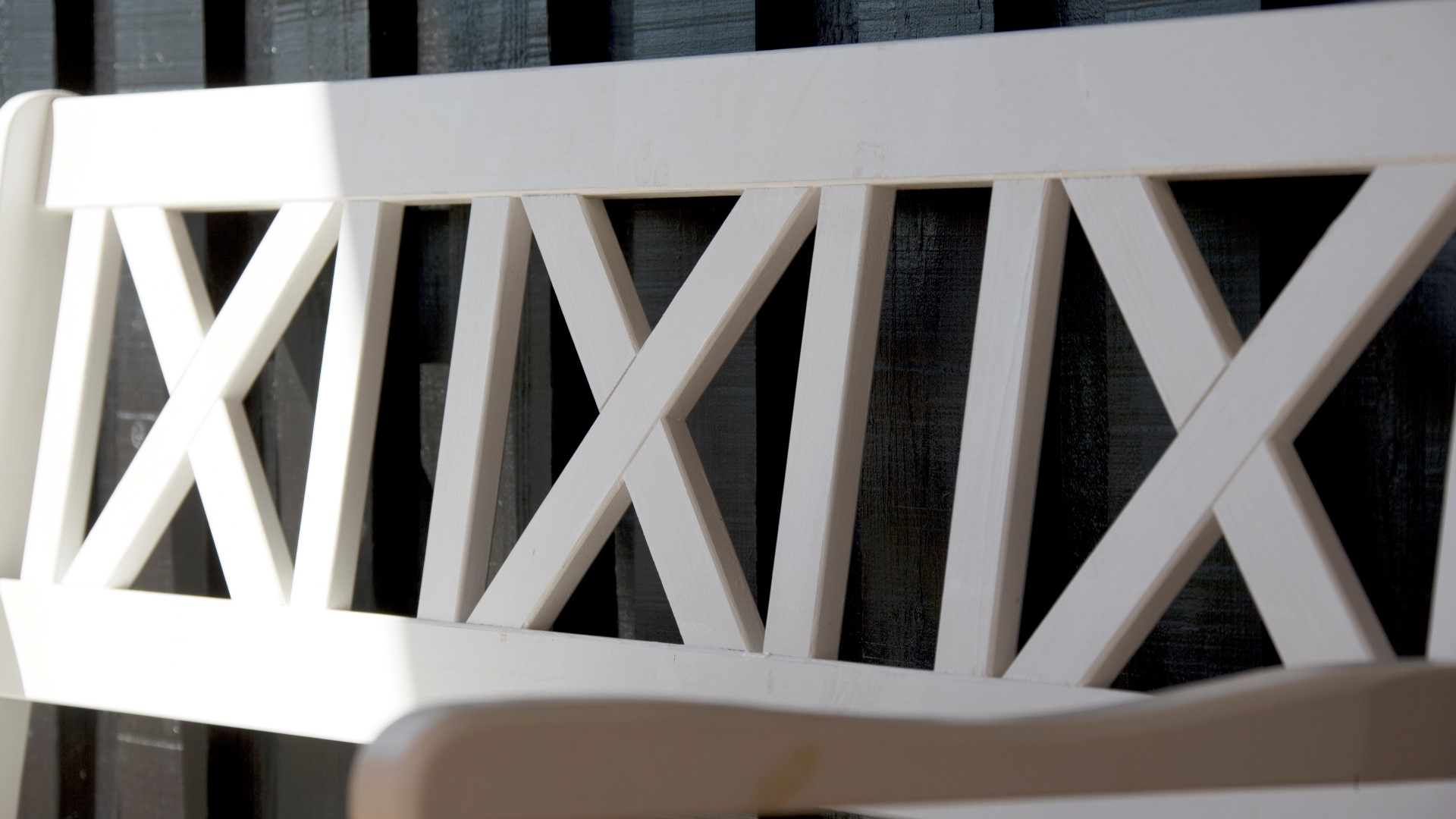 Opaque coating of hardwoods
In many parts of the world hardwoods are predominantly processed for opaque painted garden furniture. In addition to premium woods, light colored, cost-effective wood species such as eucalyptus and acacia are used for the price-sensitive mass market. These woods are not so durable, but from an cost-efficient perspective often do without impregnation. However, a reliable protection against the bleeding of tannins is essential. When coating with water-based coatings, the water-soluble substances are released, bleed into the topcoat and can lead to brownish or yellowish discolouration on white opaque surfaces. So, it's recommended to use a coating system with a suitable special primer:
Primer and intermediate treatment with ANTISTAIN AQUA 2901-52 (2 layers). This special primer is suitable for flowcoat and dipping processes and reduces discolouration of the topcoat. It binds the discolouring substances and locks them in the primer coat to prevent them from bleeding out into the topcoat. This works even with oak, which contains water-soluble tannic acids and is extremely difficult to coat. The primer also has excellent filling properties. It closes pores in the wood and smoothes out the surface. This ensures a consistent surface finish even with woods of varying wood quality. Two coats of the easily sandable special primer enable high-quality surfaces in terms of look and feel on typical garden furniture woods such as eucalyptus and acacia.


Topcoat with AQUATOP 2600-82. This water-borne, easy-to-work opaque topcoat can achieve high-quality, robust sur­faces in almost all colours, as well as gloss grades 20 to 60 in a system with the pre-treatment described. The paint is suitable for all spraying methods (Airless, Airmix, high-speed rotational bells/discs), is block resistant and has excellent expanding and flow properties.
Translucent coating of softwoods and non-durable hardwoods
Wooden garden furniture is largely exposed to UV radiation and needs a reliable UV protection with low-pigmented coating. Without this protection the UV rays break down the lignin into water-soluble components, which then can be washed out and ultimately break up the outer fibre layers and cause the coating to flake. Another requirement is the appearance: Translucent coatings are intended to accentuate the natural grain in the wood. The darker the colour, the more important it is that the translucent coating does not have a milky effect and produce a shadow appearence.
When using softwoods a prior impregnation against blue stain and wood-destroying fungi is also required. This is also recommended for non-durable hardwoods, for example eucalyptus. There is a requirement, depending on the region, to protect the wood from specific insects. An appropriate coating system is below:
Impregnation with TEKNOL AQUA 1410-01. The water-borne impregnation protects against blue stain and wood destroying fungi in accordance with EN113/EN152. To protect against various insects in accordance with EN46-1, EN 49-1 und EN 20-1, treatment with TEKNOL AQUA 1415-01 is recommended as an alternative. On the Asian market a special protection against specific termites is usually required (Coptotermes formosanus) in accordance with GB/T 18261-2000. Impregnation with TEKNOL AQUA 1410-99 achieves this protection.


Priming with TEKNOPRIMER 2949-11. As in the case of opaque coated surfaces, the special primer can increase the durability of exposed horizontal surfaces. When used with the topcoat it achieves a compact, flexible protective layer and keeps the existing film protection against blue stain intact. In the version TEKNOPRIMER 2949-11 the primer is sprayable.


Topcoat with TEKNOTOP 2980-11 (2 coats). The block-resistant topcoat is easy to work and achieves a high-quality, smooth surface. When used in a system with the special primer, this results in a flexible layer of paint, which reduces the impairment of the coating from physical stresses. The application of two coats is recommended for high durability and optimum appearance.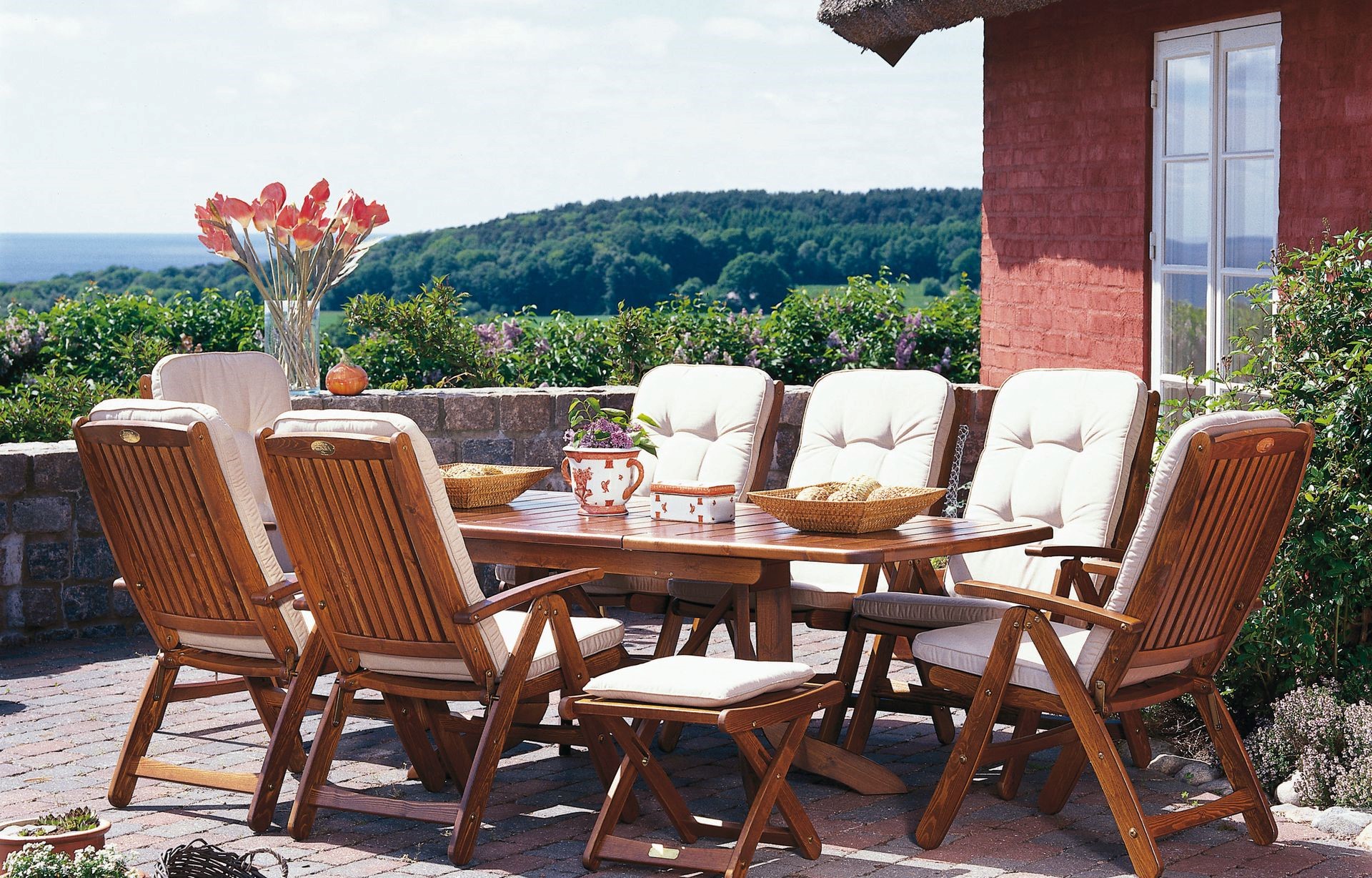 Coating of hardwoods with low film formation
In the case of garden furniture made of durable hardwood there is a requirement to accentuate the natural appearance of the wood as much as possible and leave an untreated effect on the surfaces. The low film formation required for this, however, is not possible with a three-coat system. In these cases we need a coating with low dry substance content, which maintains the original colour of the wood. Treatment is not permanent, but has to be regularly refreshed by the end customer. For this special requirement Teknos recommends:
TEKNOL 1889-11 (2 coats). The waterborne hardwood oil has a low dry content and enables a high coating transparency. This gives a colour balancing effect, which accentuates the surface of the treated wood better. Two coats are recommended for optimal treatment. The product is suitable for flowcoat and dipping.
Support from Teknos
The coatings specified are recommendations for typical requirements. In individual cases the specific requirements in terms of substrate, surface finish to be achieved, process properties and possible special requirements of the respective market shall be taken into consideration. In the choice of the optimum coating solution manufacturers can rely on the support of the Teknos Application specialists. The Teknos experts have many years of experience with a wide range of requirements in many international markets.