Powder coating of heavy components has become more common
Environmental friendliness, shorter processing time, increased capacity, more comfortable working environment, and outstanding surface quality and anticorrosive protection are some of the reasons that make an investment in a powder coating shop tempting.
A few years ago, it was still quite unusual to use powder coating on large and heavy steel components. The curing of the binder and hardener of powder coating requires elevated temperatures and large components require large ovens and a longer time in the oven than usual. Nevertheless, due to its benefits, powder coating of heavy components has become more common.
Zero VOC emissions
Pintakäsittely Rimpioja Oy from Kälviä specialises in wet painting and powder coating of single components and heavy equipment, and fire protection coating of load-bearing steel structures. Established in 1982, this family company started to use powder coating four years ago.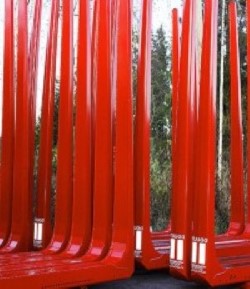 Handling large components is not a problem at Rimpioja's paint shop. Painting heavy equipment is just the tip of the company's expertise. Massive timber bunks that are about three metres high and 2.5 metres wide, and that can weigh as much as 250kg each, can be transferred nimbly from pre-treatment through the powder coating shop into an oven.
"One rail can support around 800kg, and three rails of bunks can fit into an oven at a time," says Veli-Matti Rimpioja, who is responsible for the powder coating shop."Zero VOC emissions and a quick throughput time are clear advantages of powder coating compared to wet painting. We use powder coating on everything that can be powder coated," he continues.
"Quick deliveries are also important to us. Teknos can deliver all the colours of RAL and Rautaruukki that we need, straight off the shelf," adds CEO Hannu Rimpioja.
Largest oven in Finland
Established in 1975, Best-Hall manufactures PVC-covered steel framework halls. About two years ago, Best-Hall transferred from a single-layer epoxy paint system to powder coating. Shot-blast cleaned steel frames are transferred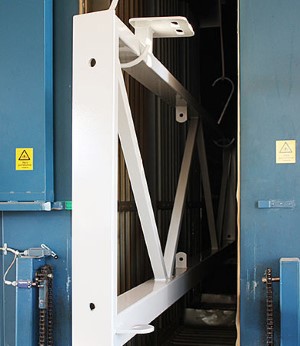 onto a conveyor that takes them into a painting booth. After powder coating, the components are ovened at 190°C for 50 minutes, and after cooling outside for about 15 minutes, they are ready to be packed.
"Environmental pressure was a major factor in transferring to powder coating as we use a lot of paint. Before, half a working day was spent packaging components that had been painted the previous day. Thanks to powder coating, the whole process is now considerably faster," says Production Manager Kari Herronen.
Best-Hall's investment of about 1.5 million in a powder coating shop has turned out to be profitable. Many customers even request that the products they have ordered are powder coated.
"Quality and reliable deliveries have been decisive factors when selecting a paint supplier," states Best-Hall Oy's CEO Leif Fagernäs.
The oven in Best-Hall's powder coating shop is one of the largest ovens in the Nordic countries, and it enables the powder coating of components that weigh as much as a thousand kilogrammes. The exterior surface of the oven feels cool even if the temperature inside the oven is around 200°C. Three air curtains prevent cold air from flowing into the oven as components are transferred outside to cool. In the winter, the heat from the oven can be used for heating buildings, for example.
Complex structures
Relicomp Ltd is specialised in sheet metal technology, and they have a brand new factory in Kurikka. The renovation that was started in the spring of 2014 was completed in August, and there was an opening ceremony for the factory at the end of October.
Both unique components and series of components are manufactured at Relicomp's factory. Creative thinking and ability to solve problems are required for hanging and surface treating components of various shapes and sizes. The size of components painted at Relicomp's factory ranges from small components that are just a couple of centimetres made out of sheet metal, to heavy frames of truck cabins and the fuel tanks of forest machines.
"The tank of a forest machine is a challenging component to manufacture, and it cannot be cleaned by immersion, for example. Powder coating is ideal for the surface treatment of tanks," says Production Manager Jarkko Kulmala.
Relicomp uses environment-friendly phosphate-free pre-treatment that improves the adherence of paint and resistance to corrosion and that requires only a very short period of contact.
Relicomp Ltd is the only Finnish company that uses the advanced incremental sheet forming technology. The incremental sheet forming method (forming without a mould) is most commonly used when manufacturing prototypes and small series of components. Sheet forming enables the implementation of various shapes quickly and cost-efficiently.
Massive steel components
With 50 years' experience, SKS Toijala Works Oy manufactures steel frames and the booms of machines.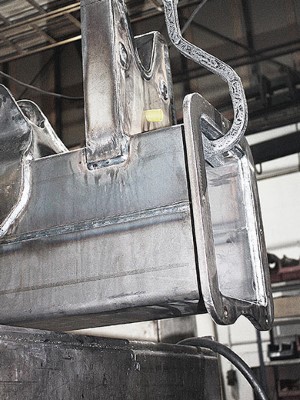 All the work stages of constructing the booms – welding, machining, surface treatment, assembly and testing – are performed at the same workshop using what is known as a "flow line" principle. The lifting capacity at the workshop is as much as 75 tonnes.
"The booms of forest machines are pre-treated using iron phosphating, and the booms are coated with powder coatings. Booms weigh as much as 400–500kg. For hanging the booms, we use hooks that we have made ourselves so they do not leave any marks on the exterior surface of the booms," says Production Manager Mikko Eloranta.
For hanging the booms of forest machines, SKS Toijala Works uses hooks that do not leave any marks on the exterior surface of the booms.
The steel structures of the most massive machines, such as TW LogStacker, are wet painted using Teknos' high solids TEKNODUR COMBI 3430 and TEKNODUR COMBI 3560 polyurethane paints. The lifting capacity of a log stacker is 16–30 tonnes and lifting height is nine metres.
Short throughput time
At peak performance, more than 50 unique tractor safety cabins are manufactured at MSK Cabins' factory each day.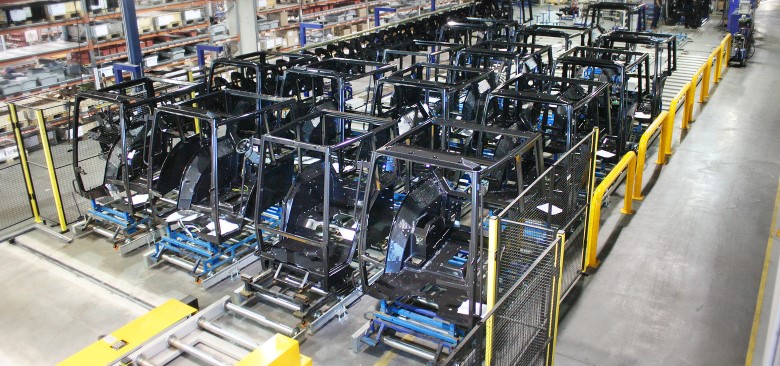 "We have 5–6 different framework models that are prepared on an assembly line as complete safety cabins according to a customer's order. At the assembly line, numbered cabin frames are transferred in the correct order along an automated conveyor line from one assembly point to the next," describes Department Engineer Jarmo Esala.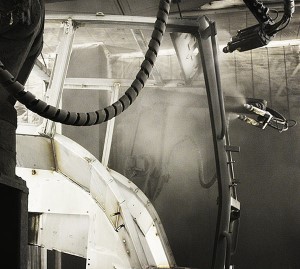 Before assembly, welded frames that weigh around 300kg are pre-treated with a four- phase wash on the line, which includes a two-phase wash, activation, zinc phosphating, and rinsing. The zinc phosphating forms a thin zinc phosphate film on the surface of the metal that withstands corrosion and enhances the adherence of paint.
Located in Ylihärmä, the company has experience of over 60 years in the development and manufacturing of cabins. The transition from Teknos' liquid paints to INFRALIT powder coatings was based on a close and persevering cooperation with the paint manufacturer that has lasted for decades.
"We want to meet our customers' high quality requirements. Therefore, we have been using INFRALIT powder coatings right from the start," says Production Manager Risto Kortelainen.
Thanks to the quick throughput time, powder coating is perfect for the flexible and innovative production process of MSK Cabins.
User-friendly powder coating
Working at a powder coating shop is comfortable as powder coatings are completely solvent-free and they do not contain any volatile organic compounds (VOC). Equipment and clothing can be cleaned easily using a compressed air sprayer. In addition, powder coatings can be recycled efficiently, and powder coating waste can be burnt for energy. Powder coating is a quick, efficient and economical coating method.