Sisu - A hard worker with a glossy surface
The Finnish truck manufacturer Sisu Auto launched its new and impressive Sisu Polar Euro 6 range in the spring of 2014. The frames of Polar trucks are finalised with Teknos' new fully glossy polyurethane paint, TEKNODUR 100. The painting system, which complies with new stricter quality requirements, protects the frame against scratches and gives the surface an impressive gloss.
Annually, hundreds of trucks are manufactured at Sisu Auto's factory in Karjaa. The trucks have been developed especially for the heavy conditions of the North. Skilful professionals in Karjaa turn a pile of steel bars into the frame solution of a truck, which integrates spindles, suspension and axles, hundreds of fasteners and other accessories required in a transportation fleet.
The frame solution is a complex and multidimensional totality, whose surface treatment requires a skilful professional with expertise in painting large, challenging items. Sisu Auto's Åke is one of those skilled professionals.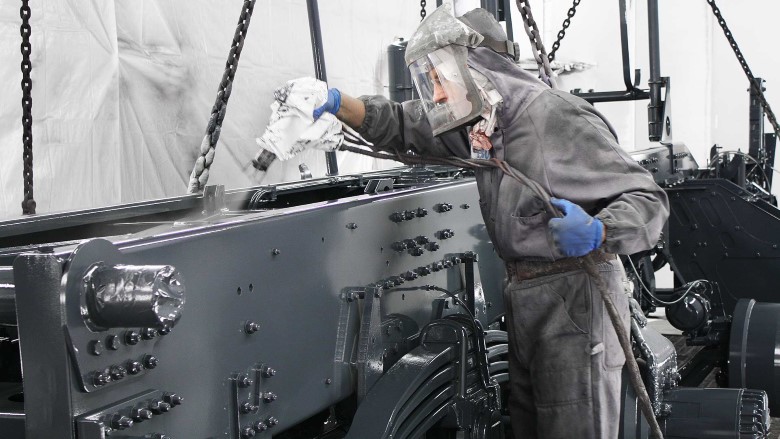 New product range, higher quality requirements
In the spring of 2014 and as a result of development work, Sisu Auto launched the Sisu Polar range that complies with the stricter EURO VI emission norms. The new range includes factory-made trucks for transporting gravel and timber, for road maintenance, transporting machines and pallets, and lifting.
The quality requirements of the vehicle industry are made more demanding especially by the working conditions of heavy-duty vehicles. During its useful life, a truck must be able to withstand hitting rocks, dirt, variable weather conditions, vibration, the high temperatures of exhaust gases, and various cleaning chemicals. The heavier the work, the more Sisu stands out from the crowd.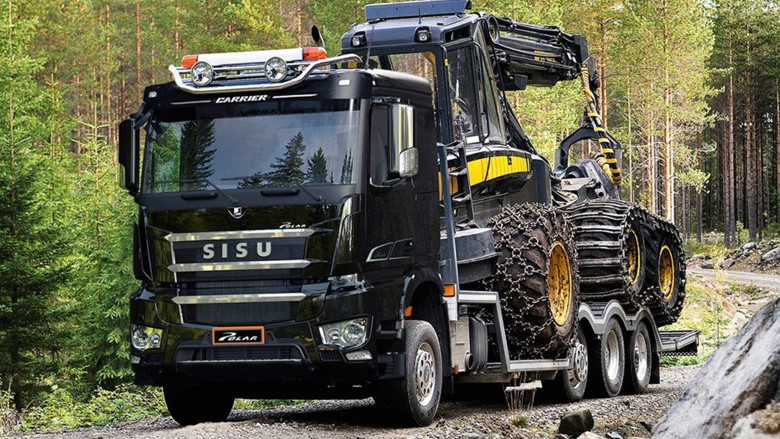 "We want to provide our end customers with more productive working days and shorter workshop servicing periods due to damages caused by stress. Fundamentally, this customer promise also entails a high-quality frame with a surface that endures knocks and retains its gloss", summarises Sisu Auto Trucks Oy's Production Engineer Niko Vierimaa.
Vantage point into product development
The cooperation between Sisu Auto and Teknos has lasted for a long time – powder coating of the steel bars in frames with Teknos' INFRALIT products began almost 30 years ago. Over the decades, the cooperation has developed into a partnership that has enabled the customer to participate closely in product development projects. Niko Vierimaa is content with the cooperation.
"Teknos' expertise is a competitive advantage for us: we can use their technical know-how both in auditing our subcontractors and in developing our own know-how", says Vierimaa.
The development work of a fully glossy industrial polyurethane system to comply with the strict quality requirements of the vehicle industry has been a long project. At the beginning of 2014, a trial painting phase was started in cooperation between Teknos and Sisu Auto.
"This has been a unique opportunity for us to observe a product development process so closely and to view the concrete results that have been achieved. Our cooperation with the Teknos sales department and laboratory has been seamless, as the painting system has been modified to a higher quality level due to the new product range. When the chemist who is responsible for product development acts in our customer interface, he or she receives immediate feedback from a painter on the properties of a product that is being tested. The properties of the new system both during painting and in terms of the end result are a step onto the next level for us", enlightens Vierimaa.
Chemist Antti Karkola, who is responsible for the development of the new painting system at Teknos, is content with the end result of cooperation.
"For paint development, the functionality of cooperation with a test customer is extremely important. We have been able to observe the functionality and properties of the product in practice in Sisu's painting chamber. As for the size and shape of a frame, it is a challenging item to be painted, so any feedback from a painter is of utmost importance", Antti comments on the cooperation with Sisu's Master PainterÅke Lemström.
Ready for use straight from the factory
Each Sisu Polar frame is designed and manufactured with the use of the vehicle in mind. Customers' unique needs and requirements are taken into consideration in the design of vehicles. Once a frame has been assembled and painted, it is time to start installing accessories. Components comprise leading products in truck technology: The cab kit supplied by Daimler AG is modified and new forms typical for Sisu are created for the vehicle. The power source is a new, efficient and very low emission engine that complies with Euro VI standards. The equipment of a truck continues with the installation of a transmission and an electrical system. Once completed, a customer will receive a fully-equipped and ready-to-use vehicle.