TEKNOSEAL 4040-00
TEKNOSEAL 4040-00
V-joint sealer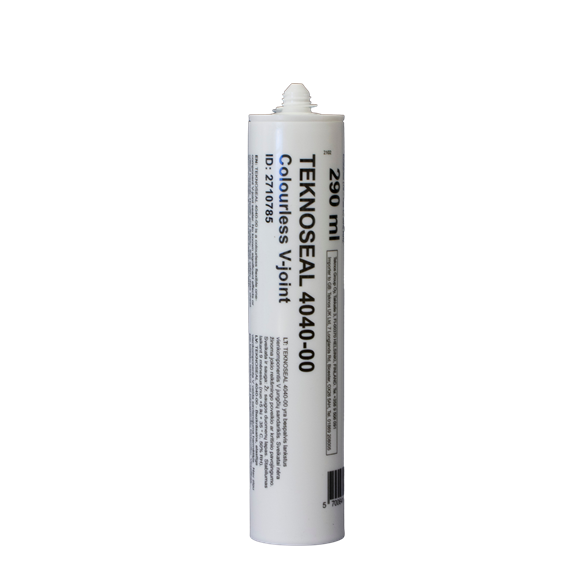 Ancillary products
Sealer
Elastic one-component clear V-joint sealer. For the sealing of V-joints in wood and wood/aluminium windows and doors against moisture ingress in exterior use.
Low odour formulation with good ageing and weather resistance as well as good UV resistance. Maximum movement tolerance is 25% and the volume loss max. 4%.
Technical data sheet
Safety data sheet
Surface preparation
The substrate must be dry, firm, and free of dust and grease. Using a V-joint filler is no substitution of good joinery praxis with fully gluing of corner joints. Pretreatment is required for wood substrates not meeting Durability Class 3, EN 350:2016. Teknos has a range of preservative products meeting the requirements of EN 599-1, please contact Teknos for further guidance.
Application
The V-joint can be smoothed with water and a suitable tool (e.g., jointing trowel). Remove excess smoothing agent and be sure that excessive water/humidity is complete removed. Recommended application thickness is maximum 2 mm.
Application conditions
Optimum temperature for products and surroundings: +15°C - +40°C Optimum relative air humidity: below 80% Upon ongoing contact to moisture, the joint will get slightly haze. This effect is reversible and disappears once the joint becomes fully dry again. Good ventilation must be provided during application and curing.
Storage
The storage stability is 9 months. Storage temperature +5°C -+35°C at 50% RH.
| | |
| --- | --- |
| Volatile organic compound (VOC) | See safety data sheet. |
| Drying time – fully cured | approx. 24 h at maximum 2 mm application thickness. |
| Colours | Clear. |
| Packages | 290 ml cartridge |
| Safety markings | See safety data sheet. |