TEKNODUR 100 9-12
TEKNODUR 100 9-12
Polyurethane top coat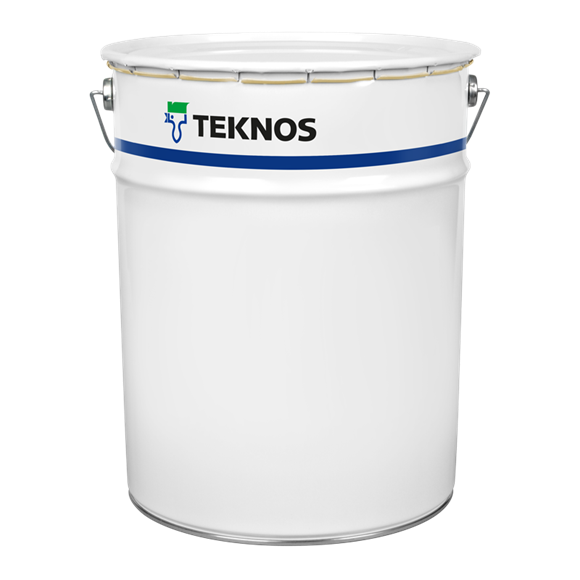 TEKNODUR 100 9-12 is a two-component, full-gloss polyurethane top coat. The hardener is an aliphatic isocyanate resin.
A highly durable topcoat for protective coating systems used on general structural steel constructions in demanding applications, such as transportation industry (trucks, trains, trams etc.), agricultural and construction equipment and steel constructions. TEKNODUR 100 9-12 is recommended to be used with TEKNOPLAST PRIMER 8-00 or TEKNODUR PRIMER 8-00.
TEKNODUR 100 9-12 provides weather resistant top coat with excellent colour and gloss retention as well as excellent levelling and surface finish. The film is impact and scratch resistant and has unlimited overcoatability with itself. TEKNODUR 100 9-12 colours have been checked on RAL-1014 shade primer.
| | |
| --- | --- |
| Solids | abt. 46 % by volume |
| Total mass of solids | abt. 590 g/l |
| Volatile organic compound (VOC) | abt. 490 g/l |
| Pot life | 3 h (+23 °C) |
| Mixing ratio | 7:1 by volume (comp. A : comp. B) |
| Hardener | Comp. B: TEKNODUR HARDENER 7230 |
| Gloss | Full gloss |
| Drying time – dust free | after 1 h |
| Drying time – touch dry | after 8 h |
| Thinner | Standard thinners: TEKNOSOLV 6291 and TEKNOSOLV 1129. |
| Clean up | TEKNOCLEAN 6496 or TEKNOSOLV 9534. |