TEKNOPLAST HS 150
TEKNOPLAST HS 150
Epoxy paint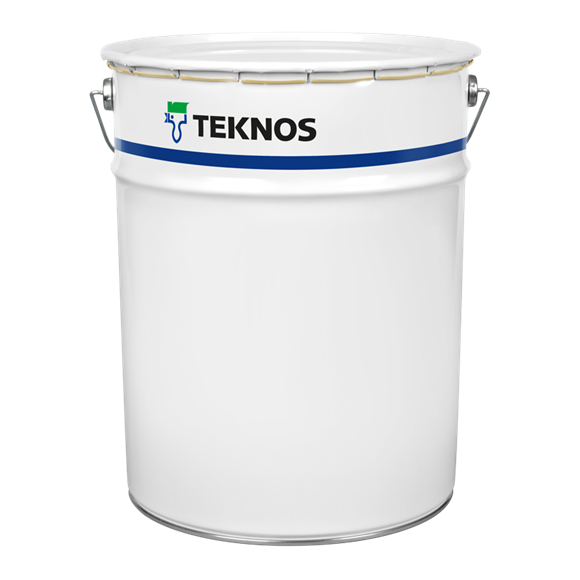 Chemical resistant
Wear resistant
2-component
Primer
Solvent-borne
Topcoat
TEKNOPLAST HS 150 is a low solvent content two-pack epoxy paint.
Intended to be used as a primer and top coat in abrasion and chemical resistant Epoxy Coating Systems K7, K8 and K58 and also in maintenance system K56. The paint has good adhesion onto bare zinc, aluminium, thin-plate and acid-proof steel.
TEKNOPLAST HS 150 produces a thick coating that is resistant to chemicals. It is suitable on internal and external surfaces as well as on subterranean and submerged steel structures. The paint comes up to the specifications of Swedish Standard SSG 1026-TD. TEKNOPLAST HS 150 is used as a steam-proof coating on concrete. The water vapour permeability is determined by the Technical Research Centre of Finland (Research Report No. RAT6640). It is well known that epoxy paints will yellow and chalk. Furthermore it must be noticed that inadequate mixing, incorrect mixing ratio, combustion gases or taking the partially cured paint outside may result in an uneven discolouration. White and light shades (e.g. RAL-9001, RAL-9003, RAL-9010 and RAL-9016) are especially susceptible for yellowing. TEKNOPLAST WINTER HARDENER 7212 (data sheet no. 1317) is to be used when painting at temperatures below +10°C. Using the WINTER hardener will strengthen the yellowing and chalking that is typical for epoxy paints.
Technical data sheet
Safety data sheet
Other product specific documents
| | |
| --- | --- |
| Solids | abt. 70 % by volume |
| Total mass of solids | abt. 1050 g/l |
| Volatile organic compound (VOC) | abt. 300 g/l |
| Pot life | 4 h (+23 °C) |
| Mixing ratio | 4:1 by volume (comp. A : comp. B) |
| Hardener | Comp. B: TEKNOPLAST HARDENER |
| Gloss | Semigloss |
| Tinting system | Teknomix;Teknotint |
| Drying time – dust free | after 30 min |
| Drying time – touch dry | after 5 h |
| Drying time – fully cured | after 7 d |
| Thinner | TEKNOSOLV 9506 |
| Clean up | TEKNOSOLV 9506 or TEKNOSOLV 9530 |
| Approvals & certificates | VTT (Finland),SSG 1026-TD |
| Gloss value | 10-50 |