TEKNOPLAST 90
TEKNOPLAST 90
Epoxy top coat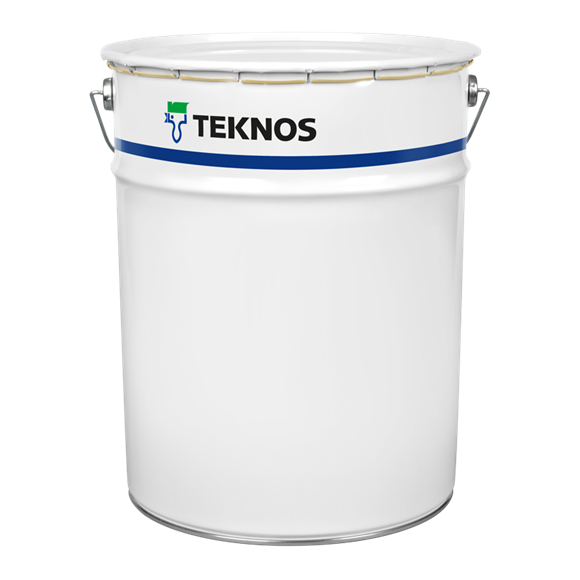 Chemical resistant
Wear resistant
2-component
Solvent-borne
Topcoat
TEKNOPLAST 90 is a gloss, two-pack epoxy top coat.
Used as a top coat in abrasion and chemical resistant Epoxy Coating Systems K18, K19, K22 and K36 and also in maintenance coating systems K46 and K56. The paint has good adhesion to bare zinc, aluminium, thin-plate and acid-proof steel.
TEKNOPLAST 90 is quickly overcoatable and is therefore suited to a fast painting tempo. It is also well suited for application done by twin-feed spray. The paint film withstands heavy abrasion, aqueous solutions of chemicals, oils, grease and solvents. TEKNOPLAST 90 withstands dry heat up to +120°C. Frequent attacks by heat may cause the colour to change. The paint comes up to the specifications set in the Swedish standard SSG 1026-TA. TEKNOPLAST WINTER HARDENER 7212 (data sheet no. 1317) is to be used when painting at temperatures below +10°C. When using the WINTER hardener it will strengthen the yellowing and chalking that is typical for epoxy paints.
Technical data sheet
Safety data sheet
| | |
| --- | --- |
| Solids | abt. 53 % by volume |
| Total mass of solids | abt. 800 g/l |
| Volatile organic compound (VOC) | abt. 430 g/l |
| Pot life | 4 h (+23 °C) |
| Mixing ratio | 4:1 by volume (comp. A : comp. B) |
| Hardener | Comp. B: TEKNOPLAST HARDENER |
| Gloss | Gloss |
| Tinting system | Teknomix;Teknotint |
| Drying time – dust free | after 1 h |
| Drying time – touch dry | after 4 h |
| Thinner | Standard thinner: TEKNOSOLV 9506 |
| Clean up | TEKNOSOLV 9506 or TEKNOSOLV 9530 |
| Approvals & certificates | SSG 1026-TA |