A little bit of luxury on the way up
Mogilevliftmash wanted to improve their appearance and design by using new antique effects and colours. To perform this task they had to find a producer of modern paintwork materials and a reliable business partner. Teknos met their requirements.
Joint Stock Company Mogilevliftmash is the leading Belarusian producer of lift equipment in the CIS countries, located in Mogilev. The enterprise was established in 1967.
The range of the equipment produced by the Mogilev enterprise includes 133 basic lift models: passenger (from 225 kg to 1275 kg), service (from 100 kg to 6300 kg), goods-passenger, hospital and customized lifts, lift equipment and spare parts for the maintenance, replacement and modernisation of old lifts, non-major equipment and consumer goods.
Innovative construction ideas
Mogilevliftmash lifts are the result of innovative construction ideas, implemented in high-quality products. This is enabled by constant development of the technology, technical re-equipment, control of product quality, and the extreme professional competency of the personnel.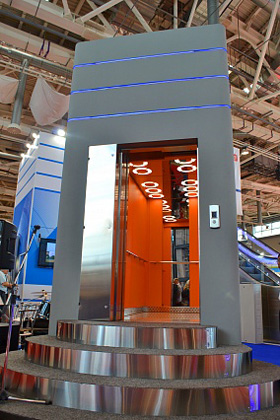 Luxurious appearance and design
The development of market relations has resulted in a toughening of competition among lift equipment producers. In order to increase the competitiveness of its products, Mogilevliftmash decided to improve the appearance and design of their products. To achieve this, they had to find a producer of modern paintwork materials and a reliable business partner. Teknos was identified as such a partner. Teknos' INFRALIT antique effect powder coatings have been successfully used by Mogilevliftmash to paint lifts and lift cabins since 2014.
High quality products and top class service
According to Mr Pavel Degterjov, head of the Material and Technical Supply Department at Mogilevliftmash, the main reason for deciding to cooperate with Teknos was the high quality of its products and services. Teknos antique effect powder coatings satisfy all of Mogilevliftmash's technological and design requirements.
Pavel Degterjov states: "Throughout our cooperation, all issues have been dealt with promptly by Teknos specialists. As an example, this has meant that the curing regimes of the coatings have improved, and now meet the application requirements."
In the future, Mogilevliftmash plans to increase its production volumes and to implement design and construction ideas in new effects and colours with the help of Teknos paintwork materials and technologies.