Leeb - One step ahead of progress
Embedded in the Gurktal Alps and the mountains of the Nockberge Biosphere Park, the community of Gnesau is located. For more than 60 years, this has been the place where Leeb Balkone have been developing and producing their unique portfolio which makes them Europe's leading balcony producers. When it comes to coating wooden and aluminium balconies, Leeb has been relying on Teknos solutions for years.
Europe's leading balcony producer
The company started in 1904 with a small sawing mill. When the demand for balconies increased and there was no balcony producer in their area, the Leeb family decided to specialise in balcony production. And they were successful.
With their never ending innovative power and creativity, and their ambition to constantly provide their customers with added value, Leeb developed their unique portfolio and made it to the top of Europe's balcony producers. Up to now, Leeb has produced more than 1,500 km of balconies and fences. This distance covers the way from the Gnesau headquarters to Barcelona. And it is getting more every day.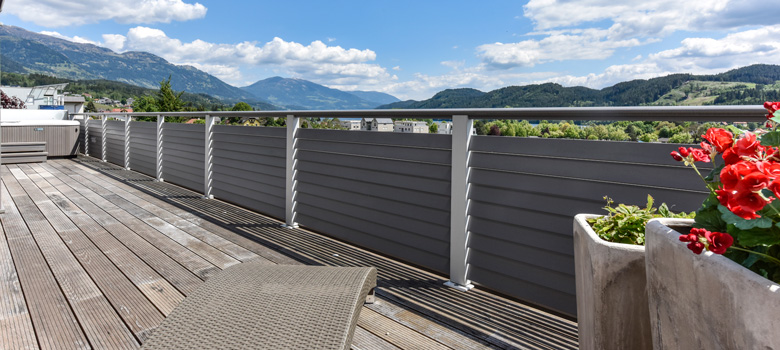 Leeb Balkone has always been a family enterprise, which is in the meantime run by the fourth generation. Managing director Mag. Markus Leeb says that the company owes its success mainly to the more than 150 employees. "With their profound special knowledge and their passion, they are continuously pushing innovations in production and processing."
The broad range of products offered by the Austrian market leader includes balconies made of aluminium and wood, fences and screens, as well as roofs and balcony/terrace floors. In the beginning, Leeb produced balconies only made of conifers such as spruce and larch. With times and market requirements changing, they added aluminium balconies to their portfolio. Today, only around 10 % of the balconies produced by Leeb are made of wood.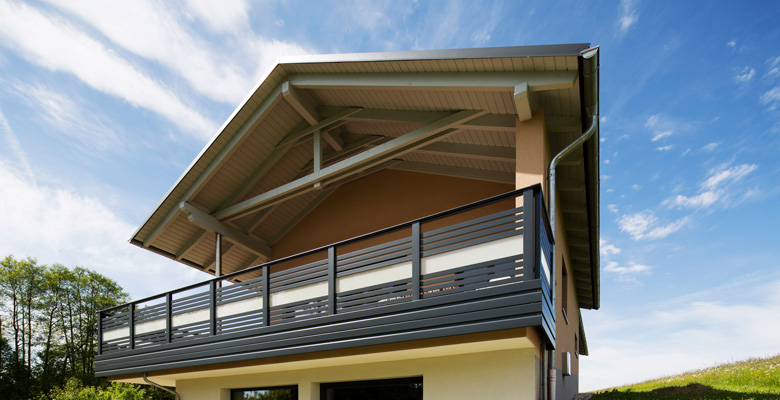 The products are sold far beyond the Austrian borders. The main exporting countries include Germany, France, Italy, Switzerland and Slovenia. With more than 80 sales partners, the company is always close to their customers providing them with support and service. The company strategy speaks for itself. The company doubled its sales within the last ten years and has more than 100,000 happy customers.
Leeb relies on the coating solutions offered by Teknos
For many years, Leeb has been relying on the coating solutions offered by Teknos. Their partnership started 15 years ago with GORI Industry.
"In the beginning, we only supplied coatings for wooden balconies", recalls Reinhard Aberger, area sales manager at Teknos, who has supported Leeb right from the beginning.
"After the acquisition of GORI Industry by Teknos in 2009 and the broad range of products offered by Teknos, we finally could also supply aluminium coatings." In 2013, Teknos could finally convince Leeb with their super durable polyester powder INFRALIT PE 8791. Since then, they have also been the main supplier in the aluminium range for Leeb.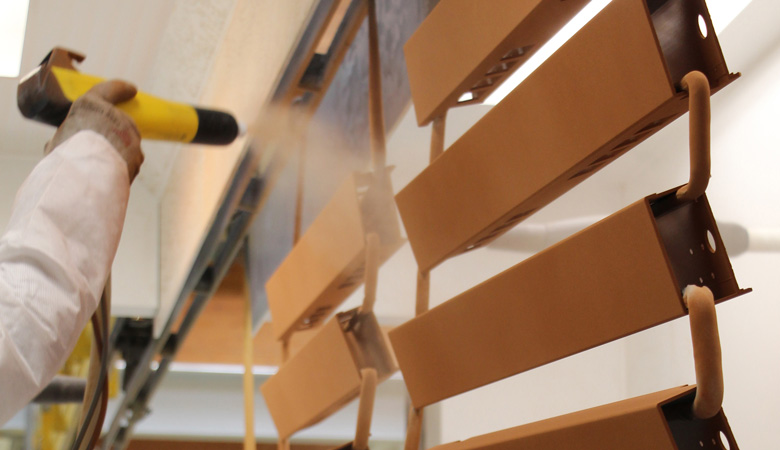 Leeb relies on persistence and durability which makes them so unique among their competitors. For reasons of improvement in this sector, Leeb was researching new coating solutions for aluminium.
"There were mainly two reasons why we decided to choose Teknos as our new main powder supplier. On the one hand, Teknos was one of the few suppliers which was in the position to provide our complete colour range in highly weather resistant quality. On the other hand, the long years of reliable cooperation with Teknos and above all the excellent support by Reinhard Aberger were the decisive aspects for us", says Markus Leeb.
Well-proven and innovative coating process
In order to maintain control of the quality of their products, all components are coated in a state-of-the-art powder coating plant which uses a powder coating method patented by Leeb only for this purpose: ALU Comfort Plus®.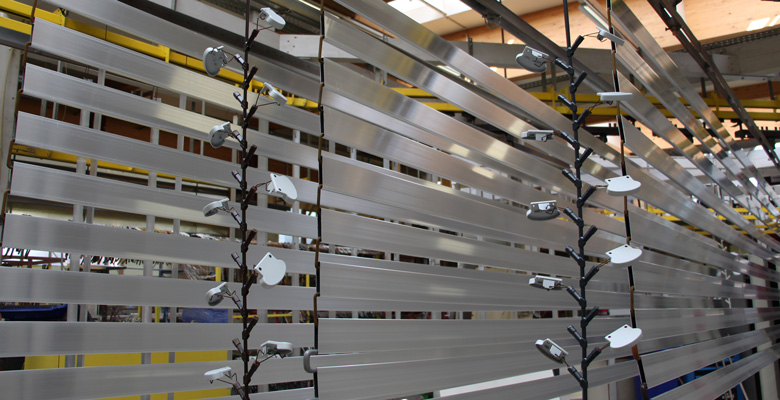 Pre-treatment is decisive for the impeccable adhesion of the coating on the base material. An automatic conveyor transports the untreated aluminium profiles to the etching cabin, and then they are rinsed with water (1x) and with deionised water (3x). After passivation, they pass through the retained water dryer.
Then the aluminium profiles are coated with INFRALIT PE 8791 using an automatic system or by the manual gun. The coating thickness is between 70 and 110 µm. After a curing time of 15 minutes at 190°C, each profile undergoes a critical inspection at the in-house quality laboratory.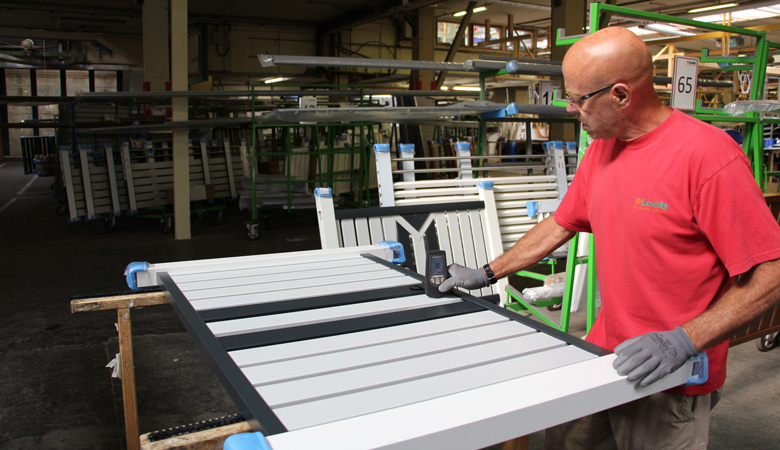 When it comes to coating wooden profiles, Leeb relies on a technology which has proven its quality over the years. After cutting and profiling, the individual parts are vacuum-impregnated. Vacuum impregnation provides an excellent basic protection against fungi which would stain and destroy wood. Moreover, it has a water-repellent and dimension-stabilising effect.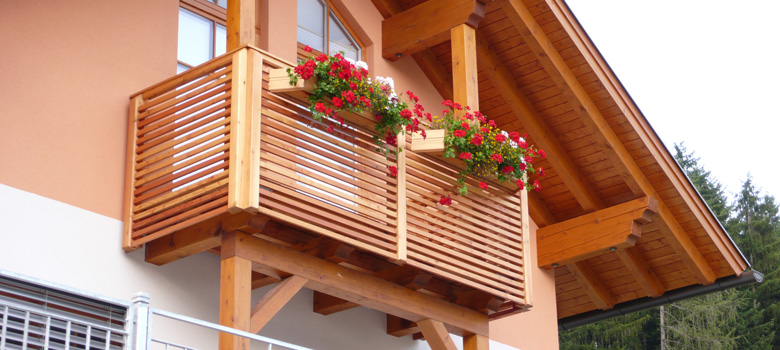 The impregnated parts then undergo 3 flow coating cycles during which they are coated with water-dilutable, high-quality industrial Teknos products. For the first flow coating cycle, the TEKNOPRIMER 2949 primer is used. Then, two more flow coating cycles are carried out using the water-dilutable final coating TEKNOTOP 2980. The coating provides a flexible surface with extra UV protection. Both the primer and the final coating are specially designed for the coating of balconies; they are available in numerous opaque and glazing colours.
Continuous progress for the future
Leeb Balkone want to maintain their position as a market leader also in future and continue their growth. To achieve this goal, the technology leader permanently works on innovative designs and constructions and, together with Teknos, on even better surfaces.
"Teknos is proud of the long years of cooperation with Leeb which are shaped by reliability and the mutual desire for innovation and development", says Reinhard Aberger. "We are looking forward to continue working together with an enterprise which permanently challenges itself and others and is thus always one step ahead of progress."
Product
Variant
Type
Gloss
Curing time / substrate temp.
Approvals
INFRALIT PE 8796
-00
Solid
65 - 85
15 min / 180°C

QUALICOAT Class 2

GSB MASTER
-09
Metallic
10 min / 190°C
INFRALIT PE 8735
-00
Solid
23 - 33
15 min / 180 °C

QUALICOAT Class 2

GSB MASTER
-09
Metallic
12 min / 190 °C
INFRALIT PE 8791
-00
Texture
8 - 18
15 min / 180 °C
QUALICOAT Class 2
-09
Metallic
10 min / 190 °C