Hubtex shines with Teknos paints
That Hubtex special fork-lifts have been painted with Teknos paints has a long tradition. Since the 1980s the expert in materials handling equipment and logistics relies on paint systems from Teknos.
Hubtex is a leading manufacturer of customized industrial trucks, sideloaders and special equipment for handling difficult and bulky goods. The company was founded in 1981 and employs around 280 staff in Fulda, with over 35 engineers and technicians. This continuously growing company had a turnover of €85 million in 2014. Besides the main location in Fulda, Hubtex also manufactures in Münsingen and Meschede.
High performance vehicles meet customer wishes
The product range of Hubtex includes 60 series types and special vehicles. Development and production takes place at a high engineering level. The vehicles are tailored to the customer's requirements and are also designed to be flexible and multifunctional.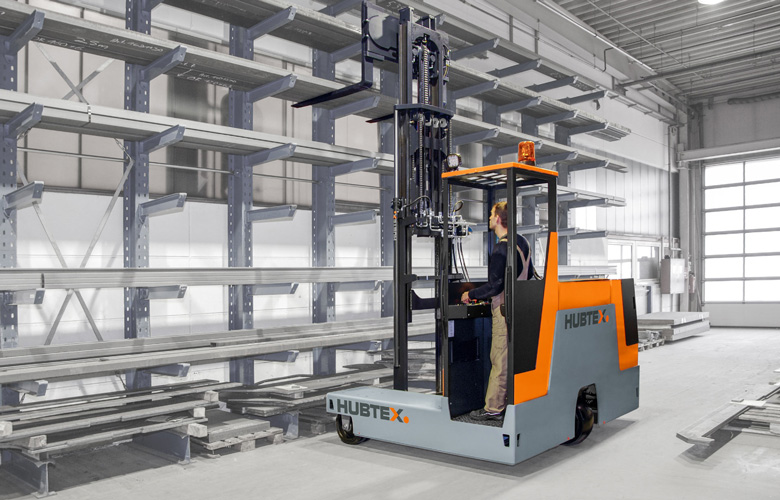 "Hubtex take over where the manufacturers of standard products finish", says Jürgen Keller, General Manager for Development, Production and After-sales. "We have an equally high quality demand on the paints for our vehicles. From the start, Teknos was a competent partner on our part, and we have implemented numerous, successful projects together".
From standard to speciality
Not only the local connection was an important factor in deciding on the paint supplier. The good networking with the Teknos technicians and the short communication channels have also played a fundamental role. Over the years, many joint development projects have been carried out, and the products have been tailored to the needs of Hubtex.
After pre-treatment, the parts are mainly painted with the polyurethane top coat TEKNODUR 9201 and the high solids polyurethane top coat TEKNODUR 9204. The products feature high finish quality as well as good weather resistance. Further requirements are colour shade and batch-to-batch consistency and adequate chemical resistance (e.g. to diesel fuel).
"In addition to the technical characteristics, the high spreading rate has been an important point in choosing the ideal paint system for us. The paint allows application in very thin layers, which makes the costs per square metre very attractive", says Michael Pfeifer, head of surface at Hubtex.
Anti-slip improves the work safety
In daily business, there are always special requirements on the paint. One demand was, for example, to make accessible machinery parts and constructions safer and slip-resistant and thus to improve the work safety on the machines. For this reason, Teknos has developed the paint TEKNODUR ANTISLIP 9204-01.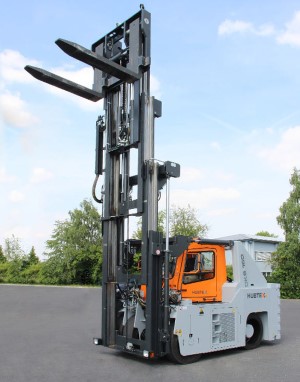 TEKNODUR ANTISLIP 9204-01 is a two component, high solids polyurethane paint with a very rough surface for slip-resistant coating of accessible machinery parts and constructions. The paint has a low solvent content and is VOC-conform for low-emission processing. In addition, the paint features quick drying and good weather resistance.
Good basis for further projects
Together, Hubtex and Teknos have successfully managed numerous projects; e.g. Hubtex has built several installation platforms for Boeing, the world's largest aerospace company, which are used for the installation of aircraft and spare parts. To make the platforms safe and slip-resistant, anti-slip paint from Teknos was used.
Also for a forklift, built for the transport of weak-radioactive materials, Teknos had the right product – from the especially developed product range for use in a nuclear power plant.
The latest project is a rail wagon for the rail transport of heavy loads in factory halls or in an outdoor area. For such objects, the coating must be highly abrasion-resistant, as they have to withstand a high mechanical stress. Our newly developed paint, TEKNOSILOX, is particularly suitable for these requirements. Due to the special formulation based on polysiloxane, the result is a hard surface with extreme weather-, water-, stain-, acid- and alkaline-resistance.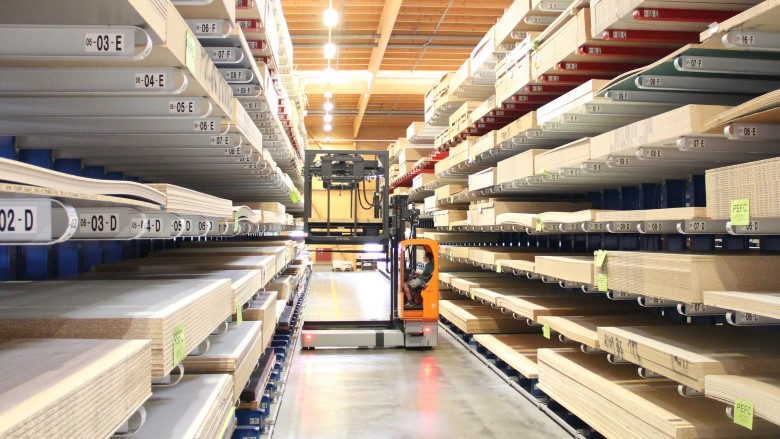 "Teknos is proud of the long-term cooperation with Hubtex which is built on trust and a common desire for innovation and development", says Martin Mehler, Responsible Sales Area Manager in Germany. "We are looking forward to a further good cooperation and interesting projects."