Long-term and reliable protection of GAZPROM objects
Pipeline protective coating must be resistant to harsh climatic exposures, but also make the painting work possible in "the fields" or in the conditions of building sites.
In 2010 GAZPROM introduced requirements and certification regulations for anticorrosion coatings. The established registry now includes about fifty different coating systems. Certification has been successfully passed by paint types like alkyd, acrylic and vinyl, but the majority is epoxy-polyurethane systems.
To cover the various application areas and conditions TEKNOS has certified two coating systems: fast-drying alkyd and highly durable epoxy-polyurethane.
Alkyd system
| | |
| --- | --- |
| TEKNOLAC PRIMER 0168-100 | 1x60 µm |
| TEKNOLAC COMBI 50 | 1 x 60 µm |
| Total dry film thickness | 120 µm |
One-component alkyd materials have several advantages: they are easy to work with as there is no need for the hardener, therefor not risk for mixing errors. They can be used at low and high temperatures. For example, on a sunny summer day the temperature of the painted object often reaches above 40 °C. Such heat causes significantly reduced pot life of two-component chemically curing paints, which increases the probability of failures with the spraying equipment.
Problems do not occur when using one-component alkyd TEKNOLAC materials. Primer and topcoat have thixotropic properties, which makes them easy to apply and reduces paint runs. Also at low temperatures the use of alkyd materials is less difficult compared to two-component paints.
Epoxy-polyurethane system
| | |
| --- | --- |
| INERTA MASTIC MIOX | 1 x 100 µm |
| TEKNODUR 0050 | 1 x 60 µm |
| Total dry film thickness | 160 µm |
Epoxy-polyurethane system INERTA MASTIC MIOX + TEKNODUR 0050 has been proven by certification testing to meet all GAZPROM requirements. The expected service life of the coating system is above 15 years. The coating systems high service life is due to special properties of paints.
INERTA MASTIC MIOX is a liquid epoxy resin based primer. Formulation increases the paint's ability to penetrate and wet the surface roughness and layer of tightly coupled rust. Material efficiently insulates metal surface and has excellent adhesion. Paint's special flake pigment, micaceous iron oxide increases the barrier effect. The paint is easily applicable by standard airless spray equipment, with a small dilution also by conventional pneumatic spray. The material allows working in a wide range of temperatures. At low temperatures down to -5 °C special hardener has to be used.
Polyurethane finish coating TEKNODUR 0050 has excellent weather resistance, stability of color and gloss with good hiding power. It dries quickly and allows working at low temperatures even with a standard hardener. When paint film has reached dry-to- touch condition, surface is not sensitive for changes caused by air humidity. Material can be applied by airless or pneumatic spraying.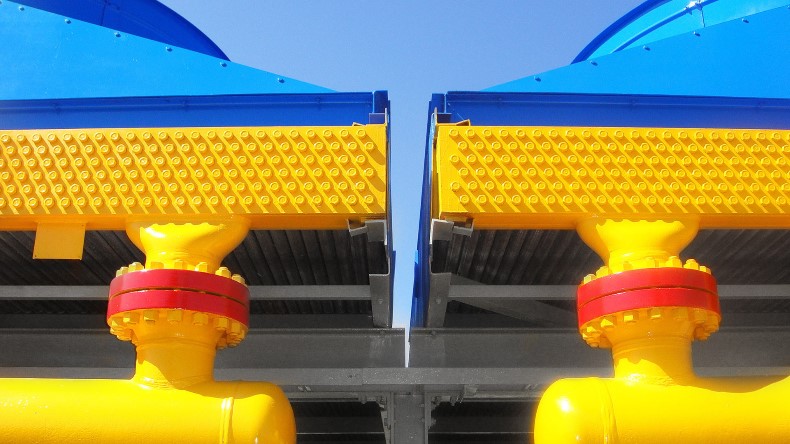 Application and drying condition considerations
There are several practical difficulties when applying paints. High and low ambient temperature and high humidity are among them. High temperature can cause such defects as dry spray, porosity, orange peel and decrease of pot life (with two-component paints). Possible solution to the problem can be addition of solvent or carrying out painting work at another time of the day. At low temperature the viscosity of the paint increases significantly, making paint difficult to spray. Drying time increases as well and therefore the time during which the coating is vulnerable to external influences get longer, slowing the pace of performing of painting work.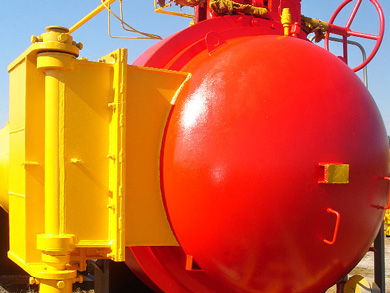 But most severe problem at low temperature is a combination with high humidity, which contributes to the formation of ice and frost on the substrate and on the freshly applied paint. Frost and ice deteriorates the properties of the paint films. Allowed maximum relative humidity during application and drying of the coating is usually specified in the technical data sheet. However, the measurement of relative humidity at low temperatures is ambiguous and requires some explanation.
Relative humidity is defined as the ratio of the partial pressure of water vapor to the saturated vapor pressure at a given temperature and air pressure, expressed in percent. Ambiguity in the definition of saturated vapor pressure occurs in negative temperatures region. Water vapor can be saturated relatively over "flat ice surface" as well as "flat water surface". The latter case implies the possibility of existence of water in liquid phase in supercooled state at temperatures down to -50ºC. Probably, many of us have observed this phenomenon when supercooled pure water in a plastic bottle turns into a block of ice in a few seconds after a light blow. Similar phenomena occur within abnormal weather phenomenon called "freezing rain".
It should be noticed that in the old (valid until 2005) GOST 8.221-76 norm "SSM. Humidity measurement and hygrometry. Terms and definitions", the concept of "frost and ice" as an alternative to "water and dew" were missing. This caused a lot of confusion, because in practice under the terms of the relative humidity and the dew point, was widely used relative humidity over water and over ice, and dew point and frost point. It is still difficult to understand, what units express humidity values at negative temperatures in the regulations issued until 2005. Despite the fact that the new document RIS 75-2004 "SSM, Substances humidity measurement; Terms and definitions" included clear definition of determining the relative humidity, there are still questions in practice.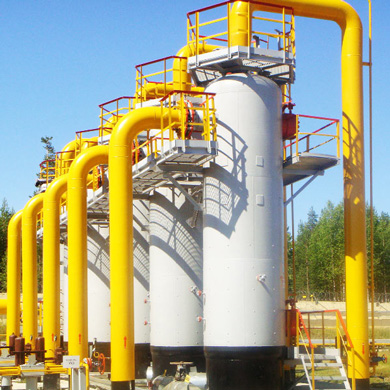 It is important to understand that at negative temperatures the vapor pressure over water is higher than the vapor pressure over the ice. Therefore, the presence of any crystallization point such as parts of ice, dust, surface irregularities initiates the frost formation from the air.
Usually devices, including electronic items, measure relative humidity "over water", but to obtain the value "over the ice", we should multiply the reading by a certain factor. And the lower the temperature, the bigger the factor is. At a temperature of -10 °C the difference is about 10%.
Based on our experience, the application of the materials at temperatures below -10°C is not only inappropriate, but results in coatings of low quality. In such cases painting work is necessary to be carried out in a shelter, where one can maintain the desired temperature.
TEKNOS paint systems have been used for protection of the outer surfaces of oil tanks, a variety of equipment like valves etc. for many years and have proven to give an effective anticorrosion resistance.
For protecting objects of gas infrastructure TEKNOS offers certified paint systems which allow working under all reasonable environmental conditions, providing excellent coating quality and long service life. TEKNOS also offers extensive expertise and knowledge of our technical specialists at your service.