WOODEX WOOD OIL
WOODEX WOOD OIL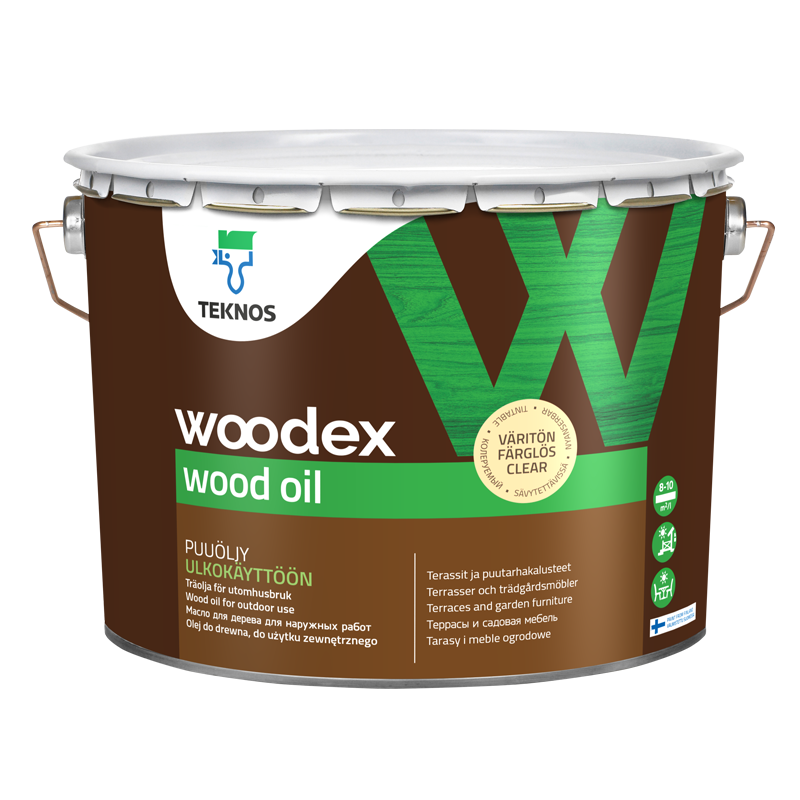 Solvent-borne penetrating and drying oil for outdoor use.
Used for surface treatment of new and press-impregnated wood, wood treated by penetrating wood stains, and also for surface treatment of teak, oak, mahogany and hardwood. Typical objects are garden furniture, jetties, fences, trellises and doors. Protects the wood from drying, cracking and soiling and when coloured from UV radiation of the sun. Optimum durability is achieved by renewing the WOODEX WOOD OIL treatment yearly. Not suitable for greenhouses, hotbeds or shelters for livestock.
Directions for use
Surface preparation
Remove from the surface all loose matter, dirt and dust. Use RENSA TERRACE deck cleaner on surfaces to be treated, when needed. Rinse the surfaces thoroughly with water and allow to dry. Remove old paint or varnish layers before the treatment.
Application
Before use stir the product thoroughly down to the bottom of the can. The product must also be repeteadly stirred down to the bottom of the can during the application. Apply WOODEX WOOD OIL by brush, sponge or spray. Dipping can also be used. Renew the treatment according to the quality of wood until the surface doesn't absorb more oil. Wipe off possible excess oil abt. 30 min after the application.
Application conditions
The surface to be treated must be dry. The relative moisture of the wood must be below 20 % of the weight of the wood. During the application and drying period the temperature of the ambient air, the surface and the product shall be above +5 °C and the relative air humidity below 80 %.
Technical data
| | |
| --- | --- |
| Solids | abt. 30 % by volume |
| Volatile organic compound (VOC) | The product is not included in the EU VOC directive. |
| Tinting system | Teknomix |
| Density | abt. 0.85 g/ml |
| Drying time – touch dry | after 8 hours |
| Drying time – dry to use | after 16 hours. |
| Thinner | To be used without thinning. |
| Clean up | The equipment is washed immediately after use with TEKNOSOLV 1621 (solvent naphtha). |
| Weather resistance | For surfaces that are continuously exposed to weathering a renewed treatment is necessary once a year. |
| Packages | Clear, brown and grey: 0,9 L, 2,7 L, 9 L |
| Safety markings | See Safety Data Sheet. NOTE! Because of the danger of self-ignition, any waste from the product, spray mist and soiled rags etc. are to be kept in a fire-proof place in air-tight containers. Immersion in water is also recommended. |
Technical data sheet
Safety data sheet
Product colour chart